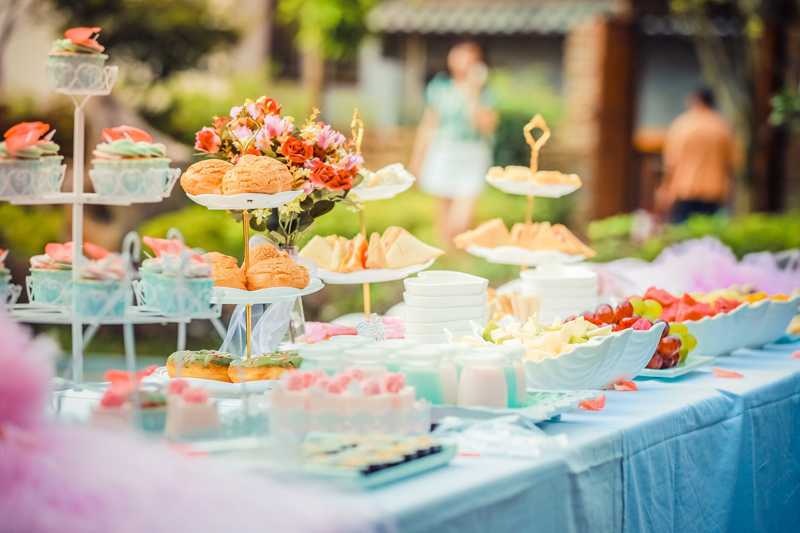 Hosting a crawfish boil is simple, just crack, eat, and clean up with a paper towel! Set up your backyard for a party, and invite a large group of guests with a taste for spicy shellfish, and you're ready to have a crawfish boil. Here's what you will need to host a family-friendly crawfish party.

Supplies
Besides the standard items for an outdoor party (tables, plates, cups, napkins, cold beverages, etc.) these few things are necessary for a successful boil:
-Large pot (30- to 60-qt) with lid and basket insert
-Outdoor high-pressure propane cooker (for cooking crawfish outdoors)
-Heavy-duty rubber kitchen gloves
-Lots of newspaper (to cover tables, those crawfish can get pretty messy)

Ingredients
Crawfish doesn't have to be the only thing you serve, but it's definitely the main attraction. By hosting a potluck-style boil, your guests can bring all the side dishes, so all you have to worry about are the ingredients that go into the big pot. Some foods that are recommended are:
-Cajun Seafood Boil Spice (necessary for seasoning)
-Corn
-Button Mushrooms
-Potatoes
-Carrots
-Onions
-Garlic heads
-Smoked sausage
-Shrimp with the head on
-Butter

Preparation
When purchasing seafood, order at least two to three pounds of crawfish per guest. If you have 20 guests attending, purchase 40 to 60 pounds of crawfish. When storing your crawfish, keep it in a cool place, until you are ready to start cooking. Live crawfish can be kept on ice, but make sure the temperature stays between 36–46°F and frequently drain water as the ice melts. Allow the crawfish to return to room temperature before boiling.

How to Cook Crawfish
Fill your large pot with enough water to cover all the seafood. Add your seasoning mix and bring the water to a roaring boil. Let the spices cook for two to three minutes so they are completely mixed in with the water Add the crawfish and any other shellfish and boil for 5 minutes. Turn fire off and let the crawfish soak for 15 to 25 minutes (depending on your desired spice level). Add ingredients that take longer to cook first, crawfish only need to boil for about five minutes and soak in the seasoning broth for another 20–30 minutes with the heat off.

How to Eat Crawfish
Hold crawfish on both sides of the tail joint, your thumbs on one side of the shell and your index fingers on the other. With a twisting motion, snap the head away from the tail. Use your thumbs to peel away the shell from the widest part of the tail, pulling back from the center, just as you would peel a shrimp. Hold the tip of the tail and gently tug out the tender meat. Enjoy!

The casual atmosphere that is apart of a crawfish boil seems to relax people. As guests peel and eat the crawfish, they chat, tell jokes, and enjoy each other's company. The typical rule at a boil is to eat, take a break, then return to the table to crack and pull again. The food's messy nature is also a part of its appeal. Guests can eat their fill, feasting not only on the tasty crustaceans, but also on other foods from the pot, including corn on the cob, potatoes and smoked sausage. Use these tips to try your hand at hosting a crawfish boil.








Related Articles
Editor's Picks Articles
Top Ten Articles
Previous Features
Site Map





Content copyright © 2018 by Shalia Hayes . All rights reserved.
This content was written by Shalia Hayes . If you wish to use this content in any manner, you need written permission. Contact Shalia Hayes for details.