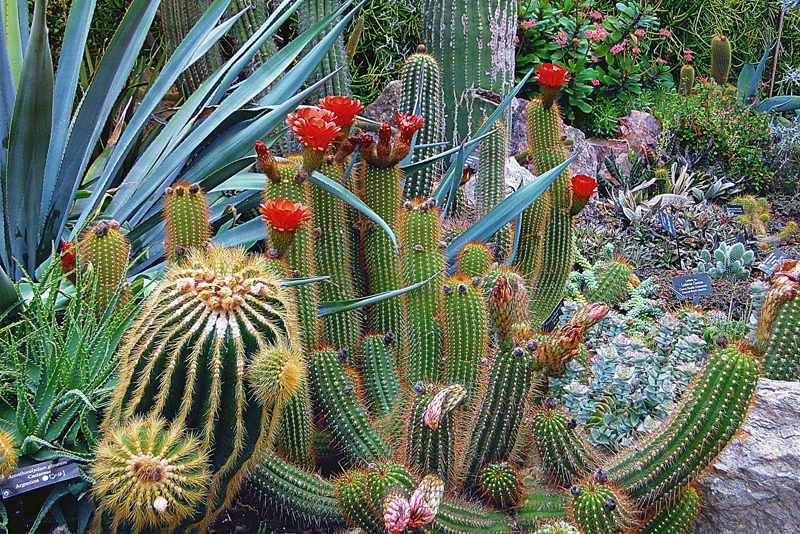 The majority of succulents are native to warm climates. The ones that are winter hardy are limited in number. In the U.S., Northern gardeners have two choices. We can either grow non-hardy ones in pots, which can be brought indoors or put in a greenhouse during the cold months. Or we can limit ourselves to growing the winter hardy species.

The hardy ones are represented by several genera. These include the Sempervivums, the Sedums, Yucca, and the Lewisias.

The Sempervivum are known as the houseleeks or hens-and-chicks. However, some sources may still list some species as Jovibarba rather than Sempervivum. The species include Jovibarba hirta, also known as Sempervivum hirta, and Jovibarba sobolifera, also called Sempervivum sobolifera. These two species are especially hardy, and are native to the Soviet Union. Generally, most Sempervivums are hardy in zones 3 through 8.

Any number of stonecrops or Sedums are suitable for cold climates. These were originally native to Europe. Some have become naturalized in parts of the U.S.

Some sources list Rhodiola as a separate genera, while others say it belongs with the Sedums. In any case, Rhodiola rosea or Sedum rosea goes by several common names, including midsummer-men, and roseroot. This robust plant does resemble a Sedum. Noted for its fragrance, the root was once used as a medicinal plant, and was known as rosea radix in the apothecary trade. It blooms from May to August. Roseroot is native to mountainous areas in northern parts of Europe.
Yet is also grows in mountainous areas of western North Carolina, and can be found on rocky cliffs at high elevations on Grandfather Mountain. It also occurs in Avery County, and Mitchell County, and the Roan Mountains in North Carolina. According to Gray's Manual of Botany, it occurs in the Arctic regions south to Maine, Vermont, New York, and northeast Pennsylvania. There may be some confusion regarding the identification of this plant, since Britton listed it as Rhodiola roanensis. In this Latin name, note that it makes reference to the Roan Mountains.

In general, the sedums are hardy to zones 3. However, there are exceptions, with some being winter hardy only to zone 4, including whorled stonecrop (Sedum ternatum) and Aizoon stonecrop (Sedum aizoon), which is native to Siberia.

A number of the Lewisias are hardy to zones 3 or 4. Members of the Portulaca family, these plants like hot, dry summers. Lewisia cotyledon is commonly grown. This is a native alpine wildflower in the Northwest. Several cultivars are available, including 'Siskayou Pink,' which is said to be hardy to zone 3. Lewisia rediviva is recommended for zones 4 through 8. Somewhat finicky, these plants require a quick draining soil.

In addition to these fleshy-leaved succulents, northern gardeners will find some of the yuccas are very winter hardy. These plants have sword-like, bold foliage, and add an architectural look to the landscape. Generally, they are about two to five feet in height with a spread of about two to three feet.

Some are native to the eastern United States. In western North Carolina where I gardened for a number of years beargrass (Yucca filamentosa) was a native plant. It could be found in dry places, especially in open, thinly wooded areas. It bloomed in early June. I tried growing it from seeds, but couldn't get them to germinate. Perhaps they needed stratified or scarified.



This site needs an editor - click to learn more!


Editor's Picks Articles
Top Ten Articles
Previous Features
Site Map





Content copyright © 2023 by Connie Krochmal . All rights reserved.
This content was written by Connie Krochmal . If you wish to use this content in any manner, you need written permission. Contact BellaOnline Administration for details.