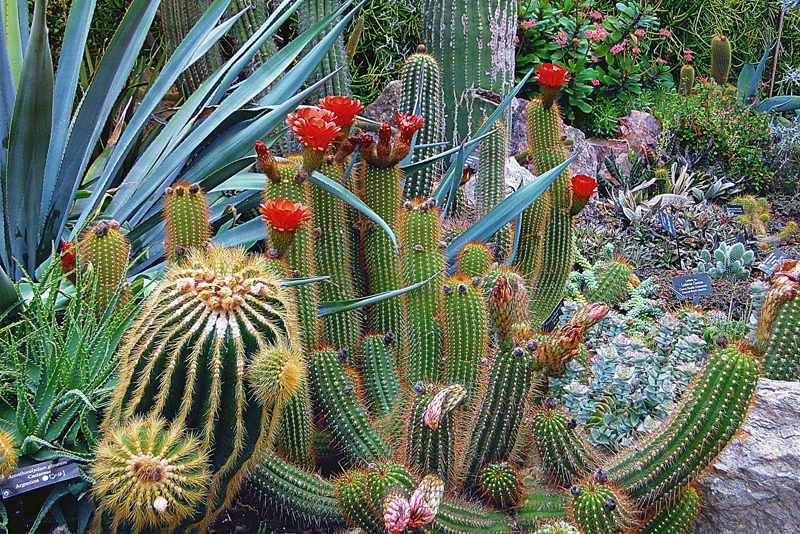 Most people grow cacti for their beauty. But these plants can serve various practical purposes.

For example, they can deter would-be burglars. No thief in his right mind would try to sneak in windows when these prickly species are used as foundation plantings and in front of the windowsills. Plant them along fences and property lines to keep out those with bad intentions. You can even make a living fence by planting the cacti close together.

Apart from their ability to deter thieves, cacti have other practical uses. Holes in the columnar species are used by desert birds for nesting purposes.

Cacti flowers are wonderful sources of nectar and pollen for desert animals, particularly birds and bats. The fruits are important sources of food for some desert species, such as bats.

Though it isn't high on my list of preferred activities, edible cacti can be a source of fluids on an emergency basis only. Typically this happens only if people find themselves stranded in the desert. On an emergency basis, these plants have sustained people for short periods. Beware! Three cacti are inedible, since they are known to contain poisonous substances. These include the hedgehog cactus, the living rock, and peyote.

The Opuntias are one of the most useful groups. These plants are sometimes called tuna. The fruits are delicious both raw and cooked. They're often made into wonderful jellies and jams. This is often for sale in some areas of the southwestern U.S.

A syrup can be made by boiling fruits of the prickly pear and the saguaro.

Cactus candy is made from barrel cactus by using the partly dried strips and boiling it with saguaro fruit syrup.

Seeds of prickly pear are dried and ground into flour by Native Americans.

Other parts of the Opuntias, or prickly pears, are edible. The pads or nopal are eaten as a vegetable. These are sometimes called nopalitos. They are sold fresh and canned in major supermarkets.

Luther Burbank promoted the use of prickly pears. He found many creative ways to serve the pads and fruits. These uses are featured on the Luther Burbank Gardens site. He suggested boiling or frying the young cactus shoots just as we do eggplant. This can also become the basis of a pickle.

The Hotel Butler in Seattle served an entire meal based on cactus. These dishes were prepared from Burbank's spineless cactus. The dishes included pickles, soup, pancakes, sherbet, tartlets, and various other vegetable treats. The actual menu can be seen at the Burbank website, though parts of it are hard to read.

Burbank found the fruits were the source of a wonderful natural dye. Those concerned about chemicals in their food will find this to be a great food coloring. In addition, the dye can be used for yarn.

Prickly pears are used to raise cochineal, a kind of insect--used as a natural food coloring. Before synthetic dyes were available, this was used in lipsticks.

Burbank also found numerous uses for the juice he extracted from the pads. Now that the West Nile virus is such a threat, one of these uses is very interesting. He spread the juice on the water's surface, and it smothered the mosquito larvae. It can also be used as candles, made into chewing gum, and used as a home remedy on bruises and wounds.

Native Americans mixed prickly pear juice in mortar for their adobe dwellings. They scooped out the center of the barrel cactus, then dried it to use as pots.

The skeleton of the cholla is used in flower arrangements.

One of the original reasons he bred the spineless cactus was as a cattle feed. This was one of the major uses for which he promoted the plant. It can also be used as poultry feed.

The Burbank website also says the pads can be used as hot water bottles. Be sure you use a spineless one for this.

After the prickly pear plant dies, the wood-like remains can be made into country-style furniture.

Dried powder made from prickly pear plants are used in teas and for medicinal purposes.
This site needs an editor - click to learn more!


Editor's Picks Articles
Top Ten Articles
Previous Features
Site Map





Content copyright © 2023 by Connie Krochmal . All rights reserved.
This content was written by Connie Krochmal . If you wish to use this content in any manner, you need written permission. Contact BellaOnline Administration for details.