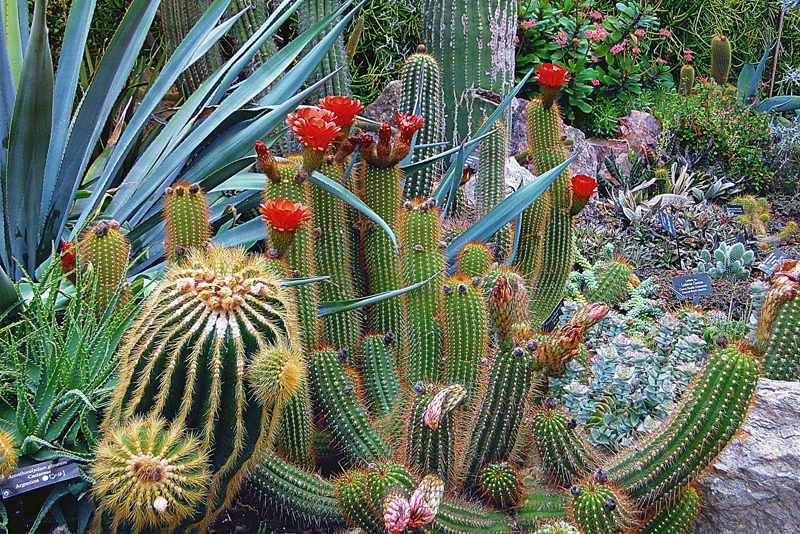 Though we may not like it, cacti spines do exactly what they are supposed to do. They protect the plants from humans and browsing animals.

Beekeepers come to expect a few stings from their bees. It's the same with cacti lovers. We know we may get stuck. So, we find ways of protecting ourselves against injury as much as possible.

How can we plant cacti without getting hurt? With small ones, it is an easy matter. The simplest method is to use tongs of some sort. For tiny cacti, an ordinary kitchen tongs will work just fine. In other cases, a longer, barbecue tongs is safer. Some people wrap a thick layer of newspaper around the cactus plant before picking it up. This may work, but I find it isn't always easy to maneuver the bundle into the exact spot you've chosen for the plant.

For larger indoor cacti and outdoor ones, gloves are the answer. Ordinary gloves aren't puncture-proof, so they will offer minimal protection. You are sure to be safer if you buy a pair of special cactus gloves. Various brands of these are available.

Protect yourself with a pair of double palm cactus gloves. These are available from the Arizona Cactus Sales website.

SuperFabric Cactus Handling gloves from HDM Inc. have been on the market for several years. They are used by professionals. They're made from the LJ line of SuperFabric brand material. They are highly resistant to cut and punctures. According to HDM, these are made from a revolutionary new material with over 25 times the puncture resistance of heavyweight knit gloves and over four times the puncture resistance of coated rubber gloves. They have dramatically reduced cactus-related injuries. In addition, the gloves are resistant to chemicals and UV exposure, so they won't degrade if exposed to oil or gasoline. The washable gloves are durable. They can also be used when you are working with roses, briars, and other thorny plants.

Watering cacti can pose hazards too. If you only have a few pots indoors, this isn't so critical. But many cacti lovers have extensive collections in greenhouses. For watering large numbers of plants, a long watering wand is essential. With these you can keep your hands and arms at a safe distance from the plants at all times.

The danger comes when you least expect it, as when you're trying to maneuver around the plants in front to reach the ones in the back row. A moment of inattention while you're doing this is enough to cause injury. You may hear the phone ring and get distracted, or someone may be trying to talk to you. I speak from experience. So, don't let this happen to you. Now I know to use an appropriate watering tool.

If you have tall ones, the safest thing is to put them on the back of the greenhouse bench with short ones in the front. What if that isn't possible? Leave part of the bench unused. Don't take chances.

If you're careful and use the proper tools, gear, and gardening aids, you can keep cactus spine injuries to a minimum. Most of the time minor first aid is all that is needed when injury does occur. However, in some instances you might end up with an infection.

According to the Botanical Dermatology Database, allergic reactions can also occur. Apparently, this may be due to fungal contamination of the spines. The Database lists different species of cacti and the hazards that are associated with each.

This site needs an editor - click to learn more!


Editor's Picks Articles
Top Ten Articles
Previous Features
Site Map





Content copyright © 2022 by Connie Krochmal . All rights reserved.
This content was written by Connie Krochmal . If you wish to use this content in any manner, you need written permission. Contact BellaOnline Administration for details.