Desert vs. Epiphytic Cacti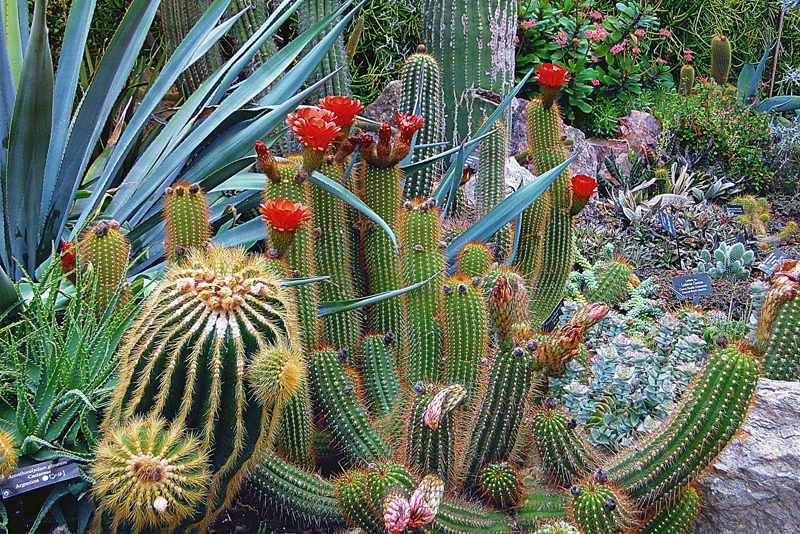 Cacti are commonly available. Walk into a big chain store, and you'll see them for sale. There are different kinds of cactus, and it's important to know which kind you're buying in order to give it the proper care it needs. Plants aren't always sold with tags telling you what to do.

The desert cactus and the epiphytic ones are as different as night and day. They've evolved under totally different environments. They differ in their needs for water, light, and potting soil.

Epiphytic cactus are also known as jungle cactus. They evolved in the jungles where it was warm, and humid. Often, it will rain every day in the tropics. To survive, they became adapted to growing in trees, so they tolerate shady conditions.

On the other hand, desert cacti are native to habitats where the humidity is low and where rainfall is scarce. These plants are adapted to full sun.

When we're growing these plants indoors, we need to match the exposure to their needs. Desert cacti need to be in sunny windows. If we can't give them full sun all day, they can survive on four hours of direct sun every day. On the other hand, we can grow epiphytic ones in bright, indirectly lit spots.

The two groups differ in their needs for water. The potting soil of desert cacti should be allowed to dry out between waterings when the plants are actively growing. During their resting period, they should be watered very sparingly.

On the other hand, the epiphytic cacti need to be kept very moist when they are actively growing and blooming. The rest of the time the potting soil should become dry between waterings.

Both kinds of cacti are generally tolerant of average indoor humidity levels.

Epiphytic cacti don't mind breezes, but desert cacti don't like drafty places.

So far as fertilizer is concerned, the plants have similar needs. For the epiphytic ones, their needs depend on the growing cycle of that particular species. They need fertilizer when they are actively growing, but none should be used during their resting period. Since the time of dormancy differs for Christmas/Thanksgiving and Easter cactus, be sure you know which one you have.

The Easter cactus requires fertilizer and more water during late winter and the early spring months when it is actively growing and producing flower buds. The rest of the time their needs are minimal.

On the other hand, the Christmas and Thanksgiving cactus are active during the fall and winter months. They rest during the summer.

The desert cacti and epiphytic cacti differ in the kind of potting soil they need. Desert ones can be grown very successfully in the commercial cactus potting soil that is sold in most garden centers. This mix tends to be very well drained.

On the other hand, the epiphytic ones need a richer soil that can hold water. Most of these do fine in a regular soilless potting mixes. The commercial ones are well drained, and contain large amounts of peat moss.

There are many kinds of desert cacti. Just listing the different genera would require lots of space. On the other hand, there are fewer kinds of the epiphytic ones available.

The Christmas and Thanksgiving cactus are usually hybrids of Schlumbergera.

Easter cactus are somewhat different from the other holiday cactus. It will bloom around Easter, and will sometimes bloom in the fall as well. Beautiful upright or horizontal blooms are produced from the joints and the stems.

The orchid cactus (Epicactus) is less well known than the holiday cactus. It is just another kind of epiphyte. This is often grown indoors in hanging baskets. The flat branches usually have an arching habit, and arise from a central area. The sensational blooms open any time from spring to summer.


This site needs an editor - click to learn more!


Editor's Picks Articles
Top Ten Articles
Previous Features
Site Map





Content copyright © 2023 by Connie Krochmal . All rights reserved.
This content was written by Connie Krochmal . If you wish to use this content in any manner, you need written permission. Contact BellaOnline Administration for details.