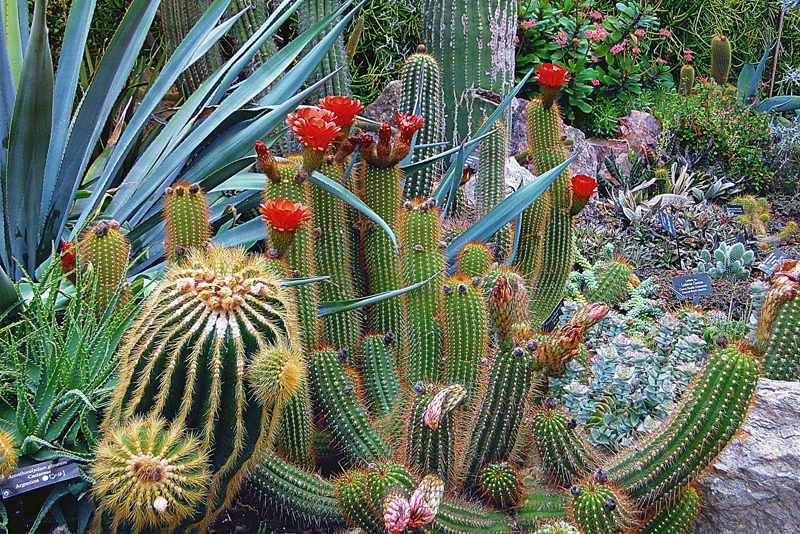 Milkweeds aren't succulents, and neither are the ubiquitous red geraniums in pots dotting American landscapes during the summer.

Yet, both of these have relatives that are truly succulent. Despite the common name, geraniums are in the Pelargonium genus. In South Africa, there are a number of species of succulent geraniums. The one most commonly seen is Pelargonium carnosum.

These plants have a swollen thick stem that is succulent. This is covered with a waxy or corky coating that prevents moisture loss. The leaves are so finely toothed that they have a feathery appearance.

To my mind, the foliage resembles that of certain scented geraniums. These plants are deciduous, meaning they shed their leaves. The foliage will only be present in the winter, when the plants are actively growing. The succulent geraniums do produce flowers, but these aren't particularly noteworthy. They look much like those of my scented geraniums.

In a popularity contest the succulent geraniums wouldn't rank very high. The real reason may be that they aren't the easiest plants to grow. They require exacting conditions year round. In the U.S., they're challenging because their growth period is in the winter. Here in the Northeast they must spend the entire year indoors, mainly because they need to stay dry in the summer just when we are having summer showers.

I garden in USDA zone 5, and winters here can be quite cloudy. We have about the same number of cloudy winter days as you would find in the Northwest. Succulent geraniums do not like this. So it is necessary to supplement the occasional sunny winter days with fluorescent lighting.

Though the plants need some water when they are growing during the winter, it is very easy to over-water them. Do be careful.

Succulent geraniums need a somewhat rich, porous soil. For that reason, I use a standard commercial potting mix, and add some sand.

These plants can be grown from seed, but cuttings can also be used.

In addition to Pelargonium carnosum, there are several other species in cultivation. These include the succulent geranium (Pelargonium erithmifolium). Often the stem will spread along the top of the potting soil or along the ground if it is growing outdoors. This species features fleshy, grayish green, lacy leaves, appearing at the ends of the branches. Its small blooms are produced in round clusters with each petal having a red spot.

Pelargonium echinatum is called the sweetheart or cactus geranium. Native to South Africa, it is a low bush in its native habitat. The succulent stem features thorn-like structures. Its gray-green foliage is white and hairy on the underside. Its white blooms, which are single, feature a unique, heart-shaped maroon spot.

This site needs an editor - click to learn more!


Editor's Picks Articles
Top Ten Articles
Previous Features
Site Map





Content copyright © 2023 by Connie Krochmal . All rights reserved.
This content was written by Connie Krochmal . If you wish to use this content in any manner, you need written permission. Contact BellaOnline Administration for details.