Sansevieria-the Snake Plant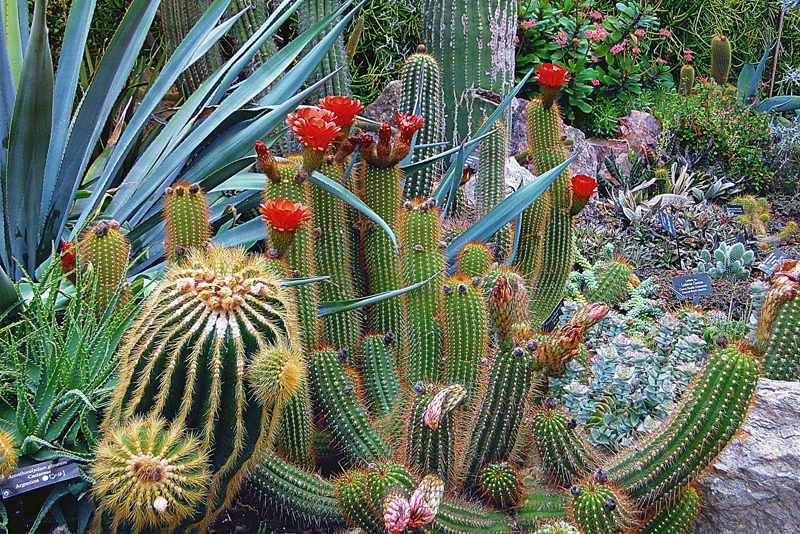 Most succulents are forgiving plants. They aren't going to mind if you forget to water them, or if growing conditions aren't absolutely perfect. Sansevieria, also known as the snake plant, seems indestructible. Other common names include bow-string hemp, zebra plant, and mother-in-law's tongue.

You don't need a green thumb to succeed with this plant.

For the most part, gardeners think of Sansevieria as an indoor plant. But in fact, they are hardy outdoors in USDA zone 10.

Native to tropical Africa, these plants don't seem to fit our usual definition of a succulent. Though this is a commonly grown houseplant, some gardeners may not have realized it is really a succulent.

The leaves aren't plump and succulent, but nevertheless they are true succulents. As a matter of fact, they're members of the Agave family, which includes Agaves and Yuccas. Their leaves are especially modified to conserve water.

The Sansevierias tend to be upright spreading plants with erect stiff leaves that arise from the thick short rhizome. The linear foliage can be up to five feet in height. Plants may be 2 ½' feet wide. The flat, stiff foliage is fairly thick and fibrous with crossbands of contrasting colors.

The actual height and spread of the plant depends upon the cultivar or species. The bird's nest sansevieria (Sansevieria trifasciata 'Hahnii') is only about seven to eight inches tall. Its handsome foliage with yellow bands is arranged in an attractive rosette. This lovely dwarf plant was discovered in 1939 in New Orleans.

Some sources list Laurentii as a cultivar, while others say it is a subspecies of Sansevieria trifasciata. In any case, it has golden yellow bands of color along the margins of the leaves. The plant can be nearly five feet tall.

Ceylon bowstring hemp (Sansevieria zeylanica) is known as devil's tongue. This shapely plant has grayish-green leaves with bands of green, arranged in a lovely rosette. The leaves are slightly curled.

Sansevieria cylindrica is known as the spear sansevieria. About five feet in height, it has rounded leaves with pointed ends.

Blue sansevieria (Sansevieria ehrenbergii) can reach 4½ feet in height. This elegant plant has angled foliage in the shape of a fan. The leaves are edged with white.

When grown outdoors, Sansevierias have numerous landscape uses. The low growing ones are often used as ground covers. Taller ones are used to add vertical interest to flower beds and borders. Because Sansevierias will tolerate lower light conditions and dry soils, they can be planted under the eaves.

Sansevierias are tolerant of a broad range of growing conditions. So far as exposure is concerned, they thrive in sunny locations as well as more shady ones. The plants do need a well-drained soil. In addition, they are tolerant of salty soils and drafts.

Though Sansevierias aren't grown for their blooms, the greenish-white, tubular flowers are noted for their fragrance. They occur as clusters on a two-foot tall stem. Under good growing conditions, the flowers will result in a cluster of berries.

Though I've never had any problems with my plants, Sanseverias can suffer from thrips and mites when they're grown outdoors. Root rot can occur if the plants are overwatered.

Sanseverias are very easy to propagate. I mostly use leaf segment cuttings. They can also be divided and grown from suckers produced around the mother plant.

The name Sansevieria comes from that of Raimond de Sangro, the prince of Sanseviero.

In Italy, he was a faithful patron of horticulture during the 18th century.



This site needs an editor - click to learn more!


Editor's Picks Articles
Top Ten Articles
Previous Features
Site Map





Content copyright © 2023 by Connie Krochmal . All rights reserved.
This content was written by Connie Krochmal . If you wish to use this content in any manner, you need written permission. Contact BellaOnline Administration for details.