Enchantment, magic even, is everywhere during a German Advent and Weihnachten. There is commercial hype but it's minimal, although these days the traditional seasonal specialties Stollen
and
Lebkuchen
do begin to appear in the stores by October, nevertheless deeply entrenched Christmas traditions, religious and secular, the importance attached to the celebration of Advent, and to family and friends, means it is a reflective as well as a joyful festival.
Advent begins on the Sunday nearest to November 30, St. Andrews Day, so it starts on a different date each year and ancient German
Christmas
customs and festivities fill the four Sundays it covers.
Although originally a time for Christians to be baptized, prepare for the "second coming", or fast from November 12 after the feast of St. Martin until Christmas Day, Advent is now a period of
contemplation, anticipation, traditions, Advent wreaths
,
Advent calendars
,
Weihnachtsplaetzen
(Christmas Cookies), and
Weihnachtsmaerkte
, the German Christmas markets.
On the First Sunday of Advent children write and decorate Christmas letters for
Christkind
, the Christ Child who in many regions of Germany brings the presents and family Christmas tree on Heiligabend, Christmas Eve, and when these are finished they are posted or put onto a windowsill for the Christ Child to collect.
Another essential element of German Christmas celebrations appears on the same day.
An Advent Wreath, Adventskranz. The original symbol for Advent, Weihnachtsbaeume (Christmas Trees) came later, they hang in churches or sit on a flat surface in most homes on that Sunday.
And making the annual Advent Wreath is an unmissable Christmas tradition for many.
Fronds of evergreens, conifer or box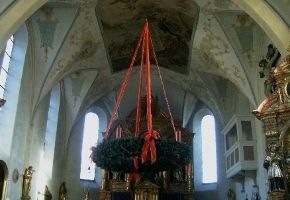 , purchased, or from the countryside or garden, are bound onto a straw or twisted twig ring base to make an evergreen circle.
A symbol of eternity and the triumph of life over darkness.
Often included are sprigs of
laurel
as a symbol of Christmas and courage,
rosemary
for fragrance and remembrance,
holly
and
ivy
for good luck and eternal life, together with small pine cones and berries for the harvest.
In keeping with what used to be Advent's days of "fasting and piety", colored decorations are not added until Christmas Day when the wreath becomes a "Christmas wreath", and for Advent four candles are attached securely with special pins with one lit on each of the four Sundays leading to Christmas. By the fourth Sunday all four will be burning.
Originally the Adventskranz had 28 candles. Four large and twenty four smaller. Three in purple symbolized
Hope, Love,
and
Peace
, with one rose colored candle representing
Joy
lit on the third Sunday.
Now it is usual to see four of the same color, red, blue, green, white, gold or silver, although a fifth and white candle is often placed within the wreath.
This is the "Christ Candle" representing angels, the birth of Jesus, and the light of the world, and is lit on Christmas Eve and every day until
Epiphany
.
Lighting the candles is known as the "Adventstunde", which in some homes means prayers and a blessing of the Adventskranz, and traditionally families gather around the wreath with a large plate of Weihnachtsplaetzen, some
Gluehwein, Pharisaeer
or another favorite seasonal drink at hand.
Lights are turned out, the candle lit and it flickers to a background of Christmas stories, Christmas carols or old and much loved German Christmas poems.
Wonderful times.
Advent, Advent, ein Lichtlein brennt,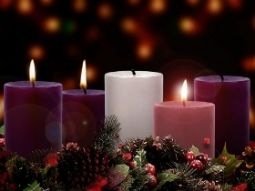 Erst eins, dann zwei, dann drei, dann vier,
dann steht dan Christkind vor der Tuer
which loosely translated means:
Advent Advent, a little light burns,
First one, then two, then three, then four,
Then the Christ Child stands in front of the door
The candle will be allowed to burn for an hour or during the evening meal, and large candles for a short time each evening for the following week, then re-lit together with a new one the next Sunday until all four burn.
This particular tradition is thought to have begun in Hamburg at the beginning of the 19th century, but wreaths originated in the north of a pagan Europe where in the cold dark months leading to Winter Solstice evergreens were gathered into round piles, then candles placed upon them.
A circle with no beginning and no end, green leaves and light from the candles became associated with the yearly cycle, the continuation of life throughout winter and thankfulness for light from the sun.
A folk tradition leading to the Advent Wreaths that until relatively recently supplied the color, festive atmosphere and aroma in German homes during the days leading up to Heiligabend. It's a tradition that is no longer followed closely, but it was not the custom to have a Christmas tree inside the home until Christmas Eve when, decorated with ornaments, it was delivered by Christkind.
Throughout Germany and German speaking countries, even on some lakes, an Adventskranz with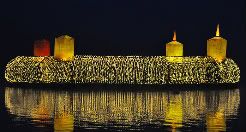 its four candles marking the four weeks of Advent and symbolizing the coming of Christmas remains at the heart of most Weihnachten celebrations.
Have a wonderful 'Adventszeit'.
Illustrations: Adventskranz Katholische Pfarrgemeinde St. Margaretha Frasdorf – Erzbistum Muenchen und Freising - Floating Adventskranz on the Woerthersee, Carinthia, Austria courtesy "TVB Woerthersee".
For topics in the news

And you can follow German Culture on Facebook
For young and old, to bring the atmosphere of a Frohliche Weihnachten both for those who have experienced one and those who would like to. Filled with Songs, Traditions and Stories, this German Book & Audio CD Edition has easy to follow translations throughout
Many Christmas Cookies in Germany are made with Cookie Molds, and Baking with Cookie Molds: Secrets and Recipes for Making Amazing Handcrafted Cookies is a wonderful step-by-step book which will help you to create beautiful cookies all year round, not only handcrafted Christmas treasures