Beethoven's 9th Symphony and The Ode to Joy
Ludwig van Beethoven's 9th Symphony
was a masterpiece, considered by many to be his finest accomplishment. Composed towards the end of his life despite being totally deaf, it was a passionate, emotive symbol of his democratic idealism and longing for a peaceful world. At the time a revolutionary romantic symphony, and one that captures a feeling of happiness and celebration, it lasts more than an hour, longer than most in those days, and is divided into four movements; but it is the fourth movement which is the most famous.
Described as a symphony within a symphony, because it retraces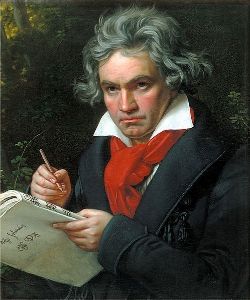 the complete structure of the composition, its choral finale, this was the first time a major composer had used voices in a symphony and it is still a rarity, was the realization of Beethoven's goal from 1792. He was 22 when he decided he wanted to compose a musical setting for German poet
Friedrich von Schiller's
idealistic poem with its vision of the unity of all mankind,
An die Freude, Ode to Joy
. A vision and ideals that Beethoven shared.
Ironically, as it is a musical symbol of idealism and universal brotherhood, the choral finale, "Ode to Joy", has been motivational or favored music for examples as diverse as:
Communists
who thought it represented the spirit of their cause;
Hitler
because he interpreted it as characterizing his way of thinking; in
Japan
it gave kamikaze pilots courage. But it is now a New Year's Eve tradition; was played as a wartime symbol of democracy in the USA; used in the Die Hard film franchise, in 1989 chosen to mark the celebrations for the dismantling of the Berlin wall and fall of communism.
And since June 29, 1985 Ode to Joy has been recognized by the European Union heads of State and governments as the "European anthem", representing the community that has brought peace and freedom to its member countries.
It had been the official anthem of the Council of Europe from January 19, 1972. An organization based in Strasbourg, France, which represents over 40 European countries in promoting human rights and cultural diversity, the number of languages involved meant it was not possible to include Schiller's text.
Using music as the universal language Herbert Von Karajan, a famous conductor of the time, wrote three instrumental arrangements of the composition, for symphony orchestra, solo piano and for wind instruments, and conducted the first official recording.
Although played increasingly, including for official events and visits, treaty signings, some international sporting fixtures after a European team has won, and every year on
Europe Day
9th May, Ode to Joy as the European Anthem does not replace anthems belonging to the individual European Union countries.
Instead it is one of the symbols celebrating their mutual values, as well as their unity in diversity.
The prelude to "Ode to Joy", the fourth movement of Ludwig van Beethoven's 9th symphony, inspired by a fellow German poet Friedrich von Schiller, an idealist who believed in the brotherhood of man, peace and unity. The music composed by a man no longer able to hear but who shared Schiller's vision, and who when young had been inspired by the poet's words.
Ode to Joy's first verse in English, together with Friedrich von Schiller's original German version



Joy, bright spark of divinity,
Daughter of Elysium,
Fire-inspired we tread
Thy sanctuary.
Thy magic power re-unites
All that custom has divided,
All men become brothers
Under the sway of thy gentle wings.


Freude, schoener Goetterfunken
Tochter aus Elysium,
Wir betreten feuertrunken,
Himmlische, dein Heiligtum!
Deine Zauber binden wieder
Was die Mode streng geteilt;
Alle Menschen werden Brueder,
Wo dein sanfter Fluegel weilt.

'Beethoven and Schiller's Ode to Joy'
, the beautiful and evocative piece of music that symbolizes the ideals of a United Europe.
Those of
Peace, Freedom and Solidarity
.
Portrait Ludwig van Beethoven when composing the Missa Solemnis circa 1823, currently to be seen in Beethoven-Haus Bonn, Germany. Courtesy de.Wikipedia
For topics in the news

And you can follow German Culture on Facebook
You Should Also Read:
Ludwig van Beethoven
15 Fast German Music Facts
Oberammergau Passion Play


Related Articles
Editor's Picks Articles
Top Ten Articles
Previous Features
Site Map



Follow @GermanKultur
Tweet





Content copyright © 2021 by Francine A. McKenna. All rights reserved.
This content was written by Francine A. McKenna. If you wish to use this content in any manner, you need written permission. Contact Francine A. McKenna for details.