Guest Author - Elizabeth Darrach
Hello, and welcome back! I hope you´re all staying toasty warm with some new romances. I´ve been reading like crazy--in between making my packing list and doing laundry and actual packing for the RT convention this week--and have three new books to share with you, all by authors you´ve seen here before, so let´s get started.

First up this week is Judie Aitken´s latest,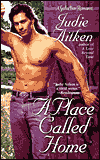 Place Called Home (Jove Seduction). It´s been a while since Ms. Aitken has given us something new, but this was worth the wait. Cody Butler is hanging onto his family ranch by the skin of his teeth. His new neighbor seems to be a land-grabbing sort, and Cody´s is on the top of his wish list now. The attorney he sends to negotiate a deal with Cody isn´t quite what Cody expects, though. Shaye Frazier is not simply a shark in a skirt, she´s friendly and lovely. And possibly involved with her client? But that doesn´t stop Cody from falling for her. Cody is a man you´ll fall in love with--smart, sexy and real. A definite keeper, this one earns four and a half of Cupid´s five arrows.


Barbara Bretton´s latest,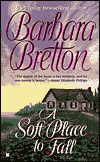 Soft Place to Fall (Berkley), is out now, too. Set in small-town Maine (one of my favorite settings), Annie Galloway is starting fresh. Well, as fresh as you can without leaving your hometown. She´s moving into a tiny cottage that holds no leftover memories of the life shs led with her late husband. Sam Butler has just moved into a nearby house, hiding from his own past. These two obviously have a lot to overcome, but you´ll be cheering for them all the way. Their struggles are things we´ve all been through, in one form or another, and their love story is very tender. I´m giving this one four arrows.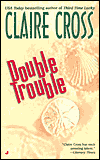 Double Trouble is Claire Cross´s latest venture into contemporary romance (Jove). Along with sassy Maralys O´Reilly and her brother-in-law James Coxwell, you´ll find some characters from her last trip into contemporary-land. Maralys´s sister has disappeared, leaving Maralys to clean up part of her mess--her two children, who she´s failed to pick up--and husband James to deal with the bigger aspects of the situation. Despite the history between Maralys and James (which you won´t find out until too late in the story), I was extremely uncomfortable with the idea of Maralys and her sister´s husband. Gave me a case of the ickies. While there were parts of the story I did enjoy--Maralys´s humor is a tad twisted--there were others that I really didn´t. This one only gets two arrows. I hope Ms. Cross ventures into historical territory again under her Claire Delacroix persona.

While I´m in Orlando this week at the RT convention, I´ll be thinking of those of you stuck in the cold.

Until next week, happy reading!