Guest Author - Elizabeth Darrach
Hello, and welcome back! I hope you´re all getting in a little reading time among the rush of holiday activities. Just a little while alone, with a great romance by an author you like.

First up this week, I have Nora Roberts´s latest,

Heaven and Earth (Jove), the second book in the Three Sisters Island trilogy. This time out is Deputy Ripley Todd´s turn for romance, though she´s not too keen on that idea. When she gets a closer look at MacAllister Booke, PhD, she decides she may up for a little casual thing anyway. Mac realizes sooner, though, that things between them are going to be far from casual, and they have to take their part in warding off the curse from three centuries ago, despite Ripley´s reluctance to be a witch. Darn it, but this author just gets better and better. The reader in me is thrilled--wonderful, realistic characters; stories that pull you right in and make you hate every second you spend away from them and dread the end of the book--but the writer in me can´t help but be envious, as well as inspired to try harder to improve my own writing. Ms. Roberts never has an off day, at least as far as I can tell from my reading, adn I can´t wait for the next book in this trilogy. I´m giving this one four and a half of Cupid´s five arrows.


Next up is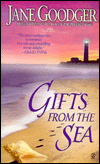 Gifts from the Sea by Jane Goodger (Signet). Rachel Best´s seafaring husband has been missing and given up for dead by everyone but her. and when a man washes ashore, she can´t help but hope. However, the man who´s been rescued is Jared Mitchell, and he´s far from a grateful rescuee/patient. Nonetheless, the longer he stays, the more this pair changes their initial assessment of each other. Jared is a pretty miserable man in the beginning, but he´s also sympathetic. I had a bit harder time taking Rachel´s unflinching grip of the love for her husband that she refuses to give up despite some of his past deeds. But I really enjoyed this couple. This one´s earned three and a half arrows.


Finally, we have Lori Foster´s

Winston Brothers (Jove), with the collected, reprinted stories of the first three brothers, Mack, Cole and Chase. If you´re a Lori Foster fan and missing any one of these tales from previous anthologies (at least one of which I´ve reviewed here in the past), you´ll want to pick this up. If you´ve never read Lori Foster before--she´s one of my automatic buys these days--and are in the mood for some sexy romances, these men will definitely fill the bill. You´ll also get a taste of Zane whose book is coming in January.

Until next week, happy reading!