Germany's Black Forest, the
Schwarzwaeld
, is a tourist hot spot bordering France and Switzerland in the far south west of Baden Wuerttemberg. A mixture of wild romantic landscapes, woods, vineyards, hills, mountains, lakes, waterfalls and thermal springs, it's scattered with ancient wide roofed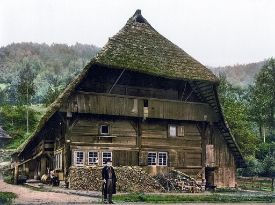 farmhouses, castles, palaces, baroque churches and monasteries.
And is famous for traditional wood carving including the Black Forest
Cuckoo Clock
. The carved wooden pendulum driven clocks that use small bellows and pipes to mark time with the sound of a cuckoo and strike of a gong.
When the tradition of making cuckoo clocks began isn't known, although there is a 1629 description of one belonging to a Prince Elector and a 1650 musical handbook has an illustration. Although often claimed that cuckoo clocks came from Switzerland, which is just across the border, the Black Forest was where the cuckoo clock industry first began and it developed during the 18th century.
Long snowbound winters together with a plentiful supply of trees, initially even the clock's parts were wood, meant making and carving Cuckoo Clocks was a profitable way for farmers, and others whose work depended on the seasons, to use the winter months.
When spring arrived the completed clocks would be sold from a rack mounted on the back of a member of the family or a clock peddler,
Der Uhrentraeger
"clock carrier", who sold them door to door wearing the traditional smock and hat still worn by some guides in the Black Forest.
Originally it would take the clock maker a week to make a clock but by 1780 teams of two were able to produce ten clocks a week, and by the mid
19th century three people, two craftsmen and an apprentice, could make 18 clocks in the same time.
A form of mass production had developed in an industry which by 1808 had grown to involve almost 700 clock makers and 600 clock sellers.
Germany is crisscrossed with
theme routes
, from
The Romantic Road
to
sign posts
of the life of former Pope Benedict XVI, and one of them is the
Deutsche Uhrenstrasse
, the circular 320 kilometer
German Clock Road
. Beginning and ending in the city of Villingen-Schwenningen, it explores and highlights the traditions and history of Black Forest clock making with workshops, museums, clock face painting studios and the world's largest Cuckoo Clock.
A journey into the world of clocks it travels through medieval villages and beautiful areas of the central and southern Black Forest, as well as the eastern edge of the Baar area mountain range.
It is one of the most scenic of Germany's routes and passes
Titisee
, the largest natural lake in the Black Forest formed by the glacier from a 1493 meter, almost 5,000 feet, peak Der Feldberg, and is believed to be named after Roman Emperor Titus. He lived in Germania briefly and parts of the region were under under Roman Empire control for centuries.
A hundred years ago Titisee was just a few farm houses, but as a now popular health resort it has joined the region's historic thermal springs, valued since the Roman era and a center for health cures and spa treatments for centuries.
The Gutach, a small river flowing from Lake Titisee, joins another forming the foaming 'Wutach' and then travels through a gorge. A nature reserve since 1928 the thirteen kilometer long trail passes
Flora and Fauna
that have died out long ago elsewhere, and where 1200 rare species are protected. From moss and ferns to more than one hundred different kinds of birds, 500 species of butterflies and 1,000 different beetles.
Triberg
, a "picture book" old town, has spectacular waterfalls that make unforgettable backgrounds to the annual Advent Christmas market, and a traditional clock maker, who continues to produce an entire cuckoo clock himself from the clock movements to making and carving its brown stained case.
Old customs are still alive in the whole of the Black Forest, including the costumes from throughout the clock making area, which are
not only for the tourist industry but worn on Sundays, Christian holidays and special occasions.
The
Bollenhut
is a hat decorated with large red poms worn after a Roman Catholic confirmation for as long as the wearer remains unmarried, then red is replaced by black. About 2 kilograms (4 pounds) of wool is used for each hat and they have become a symbol of the Black Forest, but officially Bollenhute belong to only three villages, Gutach, Kirnbach and Hornberg-Reichenbach.
Other villages have their own costumes and 158 different styles of hat.
Just to make a change from clocks there are 14,000 "Kirschwasser" distilleries, the majority artisanal and producing the sour cherry liquor which for centuries has been one of the regions specialty fruit schnapps. While also originally made from wild cherries is the delicious, if made correctly, "Schwarzwaelder Kirschtorte",
Black Forest Gateau
, a layered combination of chocolate, cherries and cream.
Schnapps joins many regional specialties found on the clock route as the Black Forest offers a real treat for food lovers. There is
Black Forest Ham
, Schwarzwaelder Schinken, spiced and cured as it was in the days when salting or smoking meat was the only known way to preserve it to last throughout winter, and fitting perfectly to rye breads still baked in wood fired ovens, a huge variety of specialty sausages, cold cuts, honey and chocolate, as well as Michelin starred restaurants using local produce.
The Black Forest and the Deutsche Uhrenstrasse, the German Clock Route, filled with tradition, history, scenery, thermal springs and old fashioned inns. A feast for not only for the mind, eyes and health but also the appetite.
For topics in the news

And you can follow German Culture on Facebook
Germany (Eyewitness Travel Guides): The Eyewitness Travel Guide for Germany is absolutely the best travel book available for anyone who wants to visit the country, either from the comfort of their armchair or in person. It has stunning illustrations together with easy to read descriptions, and is my personal favorite.
Illustrations: Black Forest Farm house from 1900, typical of those still found in the area, Library of Congress, Watercolour depicting 18th century home based Cuckoo Clock Makers, courtesy de.Wikipedia Tracht, trachtenkapelle-gutach.de