Knut, a Sad End for Berlin Zoo's Star Polar Bear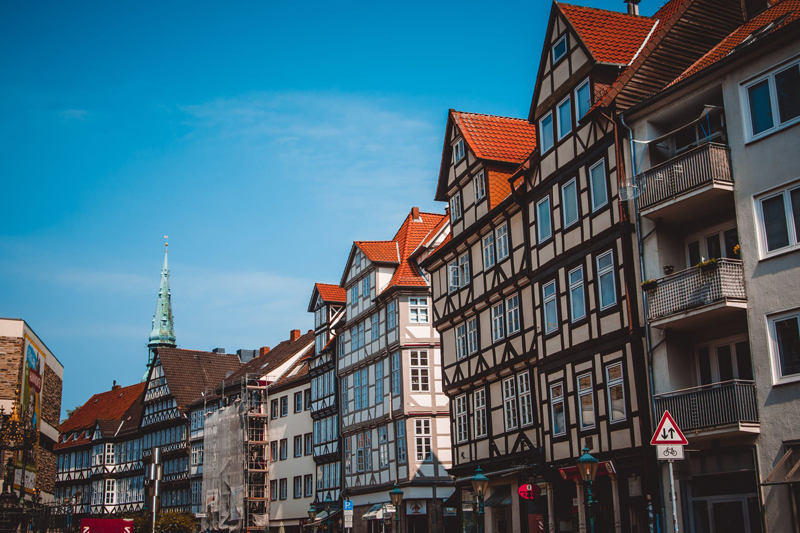 Iced fish, vegetables and fruit, with a large carved wooden candle designed to strengthen teeth and jaw, are not usually featured in a gourmet first birthday cake, but then with the worlds press, and thousands of spectators, in attendance neither was it the normal first birthday celebration.
December 5th 2007 was the birthday of a polar bear that,
in the year since his birth in Germany's capital city, had captured the hearts of millions around the world, Berlin Zoo's
Knut
.
Using an angler's net, Berlin zoo staff had whisked the four day old polar bear Knut to safety from the enclosure he and his brother had shared with their mother Tosca, whose rejection of both cubs at birth resulted in the death of one.
Knut amazed Zoo staff as he clung to life for 44 days in an incubator and the bottle fed cub, whose keeper
Thomas Doerflein
gave him round the clock care, massaged him with baby oil and sang Elvis Presley songs to lull him to sleep, captured the hearts of millions and became a global celebrity.
The first polar bear to be born and survive in Berlin's Zoo for 30 years, and against the wishes of activists whose opinion was that this was a violation of animal protection legislation, the little polar bear should have been euthanized rather than raised
as a domestic pet
.
Instead an Annie Leibovitz shot of Knut together with Leonardo DiCaprio made the cover of Vanity Fair in 2007, millions came from all over the world to visit him, and he was nicknamed the "milliobear" because of the revenue raised since his birth from which the entire zoo benefited.
But on Saturday, March 19th, Knut died in a pool of water surrounded by hundreds of spectators but alone in his enclosure, and at only four years old very young for a polar bear who normally have a life span of least 15 years.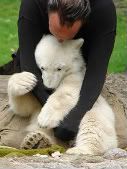 Knut and his keeper had forged a close relationship which the zoo had attempted to break to minimize the bear's ties to human beings, and it was noted at the time that the young polar bear became listless and struggled with the separation, then, aged 44, Thomas Doerflein died before Knut's second birthday in 2008, and once again it was observed that the bear appeared to suffer from some type of depression after his keepers death.
Berlin zoo had some years previously said they could not afford to pay for a separate large and more appropriate area for Knut, and planned to find a Zoo that had more of the necessary living space. Nevertheless nothing came of this.
However for ten months the solitary bear was given a companion whose playful company he really seemed to enjoy, a young female, Gianna, but when she was returned to her own zoo in Munich in July 2010 Knut was put into an enclosure together with Tosca, the mother who had abandoned him, and two other older female bears. It appeared they did not accept him, he was mobbed and one bear in particular often attacked Knut, which, not surprisingly, seemed to put the him under stress while there was no way for him to make a permanent escape.
Knut had not appeared to be ill and the three female bears had just been shut away. There was an immediate and thorough enquiry into the cause of his death, which caused sadness and headlines throughout Germany, the zoo's keepers called him their
baby
, a feeling echoed by Berlin's mayor Klaus Wowereit who described it as
awful
.
We all held him so dearly,
he told the Berliner Zeitung,
He was the star of Berlin Zoo
.
At over 200 kg and two and a half metres tall when standing on his back paws Knut was of course no longer the little furry, cuddly polar bear of 2007, and the life he had was short but had appeared in the main to be happy, although now questions will be raised about his upbringing and his recent enclosure living conditions.
An necropsy revealed that he died from encephalitis, an irritation and swelling of the brain probably brought on by an infection, causing him to collapse and fall into the pool.
It is unclear what the infection was, but Professor Achim Gruber, from Berlin Free University Veterinary Medicine Department, stated that it was perhaps a virus and that,
We believe that this suspected infection must already have been there for a long time, at least several weeks, possibly months
.
As his father Lars, who is at another zoo, had suffered epileptic seizures as late as 2010 but been rescued and treated in time, it is difficult to understand why the much loved
Star of Berlin Zoo
had not, even without these known risks, been more closely checked or monitored.
Knut's
life was too brief but he has left a positive legacy because the publicity his personality, and that of his original keeper Thomas Doerflein, attracted over the last years lead to an increased awareness of the natural world throughout Germany, with the polar bear also becoming the icon of the climate-change movement, and the second most popular animal, after Orangutans, to be adopted through the World Wildlife Fund.
De. Wikipedia photo of Knut taken March 2007 by courtesy Jensk369, photo of Knut playing with his keeper Thomas Dörflein May 2007, by courtesy Jean-Luc 2005
You Should Also Read:
Hedgehogs, Candlemas and Groundhog Day
Rabbit A La Berlin, Film Review
Fifty years Berlin Wall


Related Articles
Editor's Picks Articles
Top Ten Articles
Previous Features
Site Map



Follow @GermanKultur
Tweet





Content copyright © 2019 by Francine McKenna-Klein. All rights reserved.
This content was written by Francine McKenna-Klein. If you wish to use this content in any manner, you need written permission. Contact Francine A. McKenna for details.