Egg Roll Recipe - Pork and Cabbage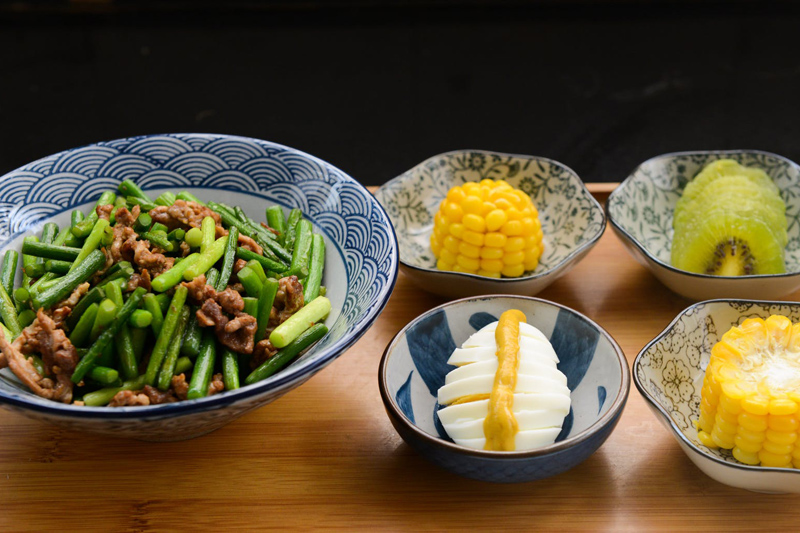 These egg rolls make an easy and delicious appetizer, and are perfect for those upcoming holiday cocktail parties. Try this amazing recipe and let me know what you think in the Chinese food forum. Enjoy!
To see a video of these instructions click
here
.
3 boneless pork chops (about 1 lb)
1 ½ lbs bagged pre mixed coleslaw
4 tbsp stir fry oil
1 tsp garlic salt
½ tsp ground ginger
½ tbsp soy sauce
15 egg roll wrappers
4 cups peanut oil
Marinade:
1 tbsp soy sauce
1 tbsp sherry
Remove all of the fat from the pork chops and cut each one into thin strips about 1 to 1½ inches long. Place these strips in a container with a tight fitting lid.


Add the marinade ingredients to the pork and using your hand mix everything together thoroughly. Then place the lid on the pork and let it sit at room temperature for about 20 minutes while you prepare the other ingredients.


Pre mixed coleslaw is usually sold in 1 lb bags. We will need one and a half of these bags. Place the coleslaw in a large microwave safe bowl.


To the coleslaw add just 3 tablespoons of the stir fry oil, garlic salt, and ground ginger. Mix everything together thoroughly and microwave it on high for about 4 to 5 minutes, or until the cabbage is soft.


Once the coleslaw mixture has cooked it should shrink down to about ½ of its size. Stir it a few times, and then set it aside.


Prepare to cook the pork. Heat the wok on high and once hot add the remaining tablespoon of stir fry oil.


When the oil is hot, add the pork and stir fry for 3 to 4 minutes or until it is lightly browned and cooked through.


Once the pork is cooked, remove it from the heat and let it cool for about 5 minutes.


Then add it to the coleslaw mixture, making sure not to add any of the liquid from the wok. Mix it in thoroughly, then add the soy sauce and stir until everything is mixed together.


Now it's time to fill the egg rolls. Start by setting up a work station with the egg roll wrappers, a board or plate to wrap on, a bowl of warm water, and a plate to place the finished egg rolls on.


To wrap the egg rolls, lay out a wrapper with one of the corners pointing toward you. Then place some of the filling in the middle, but more towards the corner that is pointing towards you. Wrap that corner over the mixture. Then bring in the side corners. Next, using your fingers, wet the sides of the remaining corner. Then roll up the rest of the egg roll and place it on the plate with the sealed side down. Continue to roll until all of them are complete.


Once all of the wrappers are filled, heat the peanut oil on high.


When the oil is hot, add 4 to 5 egg rolls to the wok. Remember, we don't want to overcrowd the wok. Depending on the size of your wok, these will probably have to be cooked in batches.


Let them cook for about 6 minutes, or until brown, turning them over half way through.


When they are finished, remove them with a slotted spatula and place them on a plate lined with paper towels to drain and continue cooking the remaining egg rolls.


Serve them immediately. These are great with a side of duck sauce and hot mustard. Makes 15.
To see more delicious Chinese appetizers click
here.


Related Articles
Editor's Picks Articles
Top Ten Articles
Previous Features
Site Map





Content copyright © 2023 by Lila Voo. All rights reserved.
This content was written by Lila Voo. If you wish to use this content in any manner, you need written permission. Contact Lila Voo for details.