Sweet and Sour Meatballs Recipe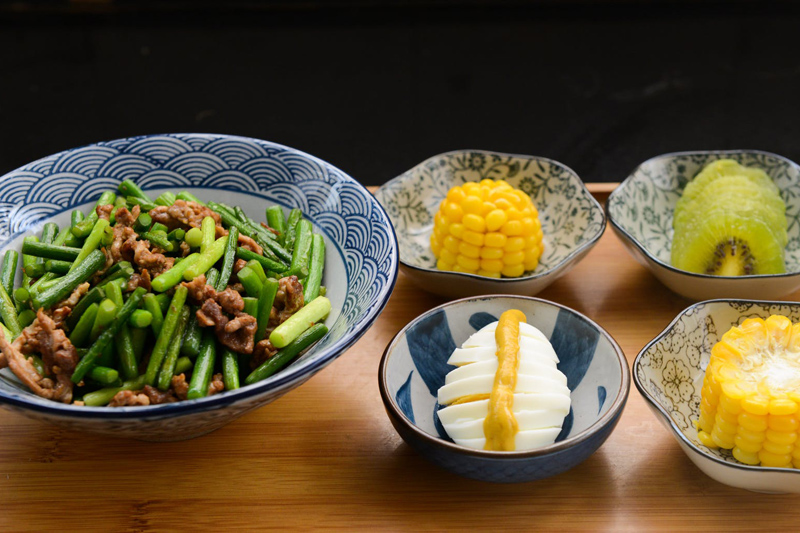 Sweet and sour meatballs make the perfect party appetizer. The combination of ground beef and pork meatballs tossed in an amazing sweet and sour sauce is sure to be a cocktail party favorite. Made smaller, these meatballs can also be served as a delicious meal over white rice. To see a video of these instructions click
here
. Enjoy!
½ lb ground chuck
½ lb ground pork
1 large green onion
1 tbsp soy sauce
½ tbsp shao hsing wine
1 medium egg
¼ tsp ground ginger
1 tbsp cornstarch
Peanut oil for frying
Sauce:
½ cup beef broth
¼ cup rice vinegar
¼ cup sugar
1 tbsp soy sauce
2 tbsp ketchup
1 tbsp cornstarch
Using your hand, mix together the ground chuck and the ground pork and then set the meat mixture aside.


Rinse the green onion under cold water and dry it with paper towels. Then dice it into small pieces and set them aside.


To the meat mixture, add the soy sauce, shao hsing wine and egg. Use your hands to mix these ingredients in thoroughly. Then add in the ground ginger and chopped green onion, again mixing them in thoroughly.


Next, slowly add in the cornstarch, just a little at a time and mix it in until all of it is evenly distributed throughout the meat mixture.


Once the cornstarch is mixed into the meat, we can begin making the meatballs. Set aside an ungreased cookie sheet to place the finished meatballs on. Then using your hands, take about a tablespoon full of meat and roll it into a 1 inch sized ball and place it on the cookie sheet. Then continue rolling the rest of the meatballs. Make smaller meatballs, about ½ inches in diameter if you are planning on serving this as a dish instead of an appetizer.


Once the meatballs are rolled, prepare the sauce. In a large cup, mix together all of the sauce ingredients except for the cornstarch and set this mixture aside.


In a small cup, mix the cornstarch with just a little water until it dissolves and then set it aside.


Add ¼ inch of peanut oil to the bottom of a regular large non stick pan and heat it on high.


Once the oil is hot, turn the heat down between medium and medium high. Then add the meatballs, cooking about 9 at a time depending on the size of your pan. The key is not to overcrowd the pan so that they can cook evenly.


Let them cook for about 1 minute, or until brown on the bottom. Then roll them onto another side and let them cook another minute and roll them again. Continue cooking and rolling them each minute for a total of 4 to5 minutes. The key to cooking these is to constantly check them and roll them as they brown. If you have made smaller meatballs, they will take less time to cook, approximately 2 to 3 minutes.


Once they are browned and cooked through, remove them and place them on a plate. Then continue cooking the remaining meatballs in batches.


After all of the meatballs are cooked, remove the oil and wipe out the pan completely.


Then add the sauce mixture to the pan and bring it to a boil.


Once it boils, add in the cornstarch mixture and stir until thick.


When the sauce thickens, add in the meatballs and stir until they are thoroughly coated with the sauce. Then remove them from the heat.


To serve, place them on a plate and place colored toothpicks in the center of each meatball. This makes a delicious and fun appetizer. If you made smaller meatballs to serve as a dish, simply place them in a bowl and serve with white rice. Makes about 18 appetizers and 3 regular servings.


Related Articles
Editor's Picks Articles
Top Ten Articles
Previous Features
Site Map





Content copyright © 2019 by Lila Voo. All rights reserved.
This content was written by Lila Voo. If you wish to use this content in any manner, you need written permission. Contact Lila Voo for details.