Guest Author - Elizabeth Darrach
Hello, and welcome back! Things are beginning to get hectic here, with all the upcoming holidays--which require planning, shopping, cooking--my husband's busiest work season all year, and additional school activities. Who's got time to read? Well, if you're a real romance fan, you'll manage to sneak in some reading time, too, and I've got the last of the November releases, along with the first of the December titles to share with you this time out.
In the meantime, don't forget about the November giveaway, with all those goodies packed into a roomy tote. Also, there's still time to join our November Book Club discussion, both in the forum. Not to mention all the other discussions taking place over there.

So, secrets. In some cases, not a terrible thing. In a romance novel, though, secrets are almost always a make-or-break thing for a relationship, and usually the kind of secrets our characters keep are the "break" variety. First up this week is Jaclyn Reding's

The Secret Gift (Signet) with a hero keeping a big secret, and a heroine whose mother kept an even bigger one. Libby Hutchinson's trip to Scotland is spurred by her mother's death and a letter confessing a secret without actually revealing it. Graeme Mackenzie is hiding out in the little village of Wrath--hiding out from the husband-hunting women after him. Nifty setting, and enjoyable characters, though I think I enjoyed the setting more--with the Scottish Highlands as a backdrop, most stories can't go wrong, and with the village and villagers in the tale, you get an added bonus. I'm borrowing only three of Cupid's five arrows for this one.

Next is Stef Ann Holm's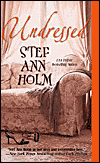 Undressed (Mira). Deputy Lanie Prescott is about to begin a new chapter in her life, except that her new job falls through the night before she's set to leave her small hometown. Which sort of leaves her in the lurch. Paul Cabrera thinks small-town living will help him get over the old case that haunts him still. Little does he know this small town isn't in for a quiet summer. I'm not sure what it was exactly about this one, but I didn't love it. I had a hard time staying interested enough in the characters and their dilemmas to finish reading it. Maybe it's an author's voice thing, or maybe I simply wasn't in the mood for this story. I'm giving it only two arrows.

Isolde Martyn's

Moonlight and Shadow (Berkley) is now out in mass market paperback now. If you like your historicals heavy on the history, this one's for you: Sir Miles Rushden has every intention of keeping his marriage secret until he can have it annulled, but he hadn't figured on his new bride, who has another secret, a very dangerous secret, showing up again. When I opened this one and saw a four-page list of characters in the front, I knew I was in trouble. So much history, very well-written, but not for me. For a true history buff, who doesn't mind wading in hip-deep with this lengthy cast of characters, probably a true prize. If you're looking for something faster paced, you may want to pick up something different.

Until next time, happy reading!