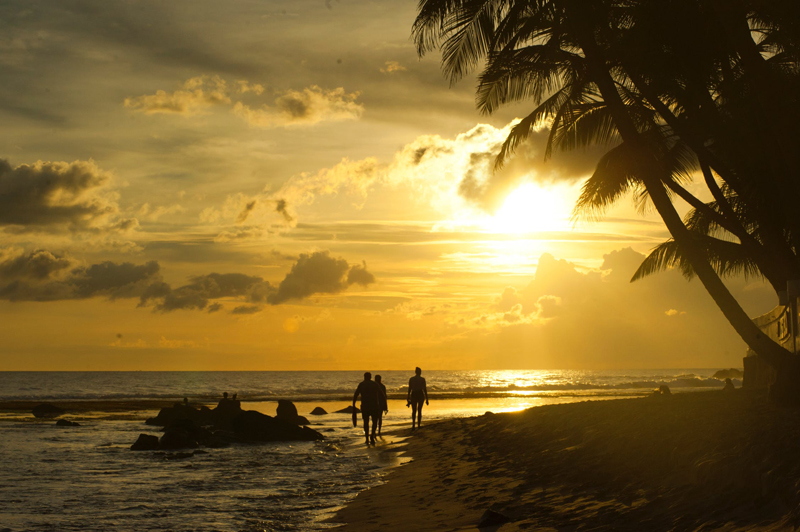 The threat, experience and legend of hurricanes is an unavoidable aspect of Caribbean living. Simply put, from June 1 to November 30, it is hurricane season, meaning that islands above 12 degrees latitude in the south all the way up to the Bahamas are technically at risk of a devastating dose of Mother Nature.
Hurricanes are meteorological monsters that convert warm water into a slowly rotating vortex of wind and rain, often bigger in size than Texas. They form during the summer months as the air and sea temperature rise, in those months when the trade winds disappear and the islands swelter in heavy, humid air. The most destructive type of hurricanes are the Cape Verde hurricanes, which form off the coast of West Africa and advance slowly, often around 10 miles an hour, gathering intensity in a graceful but lethal curve across the Atlantic, until they make landfall. Known as cyclones or typhoons in the Pacific, hurricanes pack winds above 74mph and can gust up to 200mph. One mitigating feature of hurricanes is that, unlike tornadoes, they form, develop and move slowly, giving the islands plenty of warning to batten down and prepare.
While there are almost no islands that have not experienced hurricanes (Bonaire and Curacao have been spared; the Abacos and Cuba take the most hits), those words "Take all necessary measures to protect life and property" that sign off the rolling emergency hurricane warnings never lose their chilling effect. All Caribbean islands have dedicated hurricane shelters, but the majority of residents choose to board up the windows, stock up on essentials and ride out the storm, which can last from a few hours to more than 24 hrs. Imagine bunkering down in a zinc roofed building in darkness for over a day as winds louder than a freight train tear at the windows, spinning shipping containers across the hillsides and stripping the foliage from vegetation. It's no coincidence that many islanders choose to indulge in one last 'hurricane party' as the storm approaches, fueling up on Dutch Courage.
Hurricanes are given names from a list prepared each year. Those that are particularly deadly have their names retired forever. Each island has its own hurricane timeline and everyone can reel off their own anecdotes about whichever hurricane caused devastation.
Paradoxically, the hurricane season is one of the best times to visit the Caribbean on a budget. While some islands have been hit by three hurricanes in as many weeks (Guadeloupe in 1995), overall there are rarely more than six per season in the whole region, and the further south you go, the less the risk. During hurricane season, the water is warm, the hotels run promotions, and you often have the island to yourself. Some islands, however, practically shut down with many restaurants and activities closed, so one rule does not fit all.
A good guide is the old sailor's poem: "June too soon, July stand by, August look out you must, September remember, October all over."

Legendary Caribbean Hurricanes
Inez (1966) Lasted almost three weeks in total and affected many islands.
David (1979) Devastating casualty toll.
Andrew (1992) Mainly impacted Florida, costing millions and still one of the main reasons exotic tropical fish and other species found their way into the ecosystem.
Luis (1995) One of three major hurricanes in the year.
Georges (1998) Hit seven islands.
Ivan (2004) A direct hit on Grenada, causing near total devastation.
Katrina (2005) Only affected the Bahamas island-wise, but one of the few hurricanes to make future history books.



Related Articles
Editor's Picks Articles
Top Ten Articles
Previous Features
Site Map





Content copyright © 2019 by Nick Marshall. All rights reserved.
This content was written by Nick Marshall. If you wish to use this content in any manner, you need written permission. Contact Nick Marshall for details.