Guest Author - Elizabeth Darrach
Hello, and welcome back! Just a few days now until our American celebration of Thanksgiving, and between the shopping trips for holiday gifts and the visits to the market for food for this week's feast, I got to thinking about things I am thankful for, and there are plenty in the world of romance novels.
First of all, I am thankful that romances continue to make up such a huge part of the book market, giving us lots and lots of choices of reading material each month. What other genre releases so many new books every month, every year? Luckily for us, ours does.

Secondly, I'm grateful for the authors who continue to write these books we love. For Nora Roberts, who's not only an amazing writer, but so prolific we only have to wait a month or two at most for a new book or re-release from her. For Linda Howard, whose heroes are among the sexiest ever to grace the pages of any romance novel, even if we do have to wait a whole year between books. For Sandra Hill, whose books will make you laugh out loud--not to mention her own very sexy heroes. For Sue-Ellen Welfonder and May McGoldrick, whose wonderful Scottish settings make me believe I'm back there again in the Highlands, surrounded by chilly mist. For Lori Foster, whose bad boys regularly steam up my reading glasses. For Susan Meier, whose characters experience many of the same things we do in life, which makes them all the more believable. For Robin Schone, who turned me into a confirmed erotic romance fan with her very first book.

I suppose I could go on and on about all the romance authors I'm thankful for, but that could take days (and likely far more time than you want to spend here at one time), so I suppose I'll stop there for now. I'm also thankful for all of you, popping in here regularly to see what's new, and for chatting with me over in the forum, or emailing me about an article. Thank you very much.

I've also got a new book to share with you, Jacqueline Navin's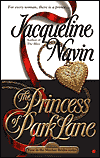 The Princess of Park Lane (Berkley). Michaela Standish has just been given the shocking news that her father isn't who she thought he was, and now her life will be turned upside down. Adrian Khoury is tempted by her, but she's not the sort of woman he intends to wed. All this propriety, and Michaela is just a little too good for me to really like her--much too annoying. I know I've enjoyed Ms. Navin's writing previously, but this one isn't a keeper for me at all. I'm giving it only three of Cupid's five arrows.

Until next time, happy reading! And enjoy your holiday!