Guest Author - Elizabeth Darrach
Hello, and welcome back! We might see our first snowstorm this week--the flurries a couple afternoons earlier in the week only whetted my appetite for a little seasonal weather--which thrills me to no end. My boys are looking forward to playing in the snow, and I only hope the weather man is right this time. Guess we'll see.
In the meantime, I've been putting together a little shopping list of ideas for you, as promised. It was quite difficult to narrow it down, so what I'm doing is separating it into two separate articles: one for the readers and other romance lovers on your shopping list, and one for the writers on your list. The second one I'll post in a few more days, but this should get you started.

First of all, what romance fan worth their salt doesn't want more books? No matter how full the bookshelves, or how little reading time there is, there are always more books on the to-buy list. Never mind that a shelf collapsed last month from the weight of all those books, or they're sitting in stacks now on the floor waiting for a new bookcase. We need more. So here are a few ideas....

Know a fan of "Outlander" who can't wait for the next book in the series? Diana Gabaldon's got a new mystery out now: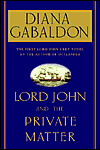 Lord John and the Private Matter

Or a reader who loves a good, sexy romance with a hero to die for? Lori Foster's got more than one that'll fit the bill, including,

Jingle Bell Rock. Or maybe your reader prefers historicals? Then how about the latest from Sue-Ellen Welfonder,

Master of the Highlands?

For the die-hard Nora fan,

The Official Nora Roberts Companion.

Hm...don't know what books to get because they buy new ones all the time? What about some music? Since his first appearance on Ally McBeal, Josh Groban has been making lots of new fans, and he's just released a brand new album, full of gorgeous music:
Closer. Or maybe something a little lighter? How about Daryl Hall and John Oates'
Do It for Love, which is a wonderful album.

No books or music? All right then, what about a movie with a guaranteed happy ending, plus it'll make you laugh out loud all the way through? Something like
Princess Bride, maybe? Or
Pretty Woman?

Nothing yet? What about candles?
Maybe something for you and your sweetie for a quiet evening at home or with friends?
Know a fan of our site? Then perhaps something identifying them as such, with things like t-shirts, or mugs....
I could go on, but this is a long enough list to get you started, I think. If nothing here strikes your fancy, email me. I have lots more ideas.

Until next time, happy reading! And happy shopping!