Have you ever had that awful experience of dyeing roving and it ends up matting and becoming difficult to spin? With all of my trial and error of different dyeing methods, I must admit that it has happened more than once. What can be done with this roving? Honestly, it depends upon a few different factors. How much did it felt? How difficult is it to pull apart? Do you really love it enough to add the extra time and work?
First, determine how matted the fiber is. Is the clumping limited to one area? Often this will occur where it was tied to keep it organized in the dye pot. What happens when you pull the fiber? Does it grudgingly separate, or do you hear the fibers snapping and breaking? If the fiber is breaking, I would skip to the "what to do with rope" section at the end of this article.
If the roving is only slightly matted, you can simply pre-draft the entire batch before you begin to spin. This will allow you the chance to remove any severely felted sections while making the rest of the fiber a pleasure to spin rather than a nightmare. Hang on to those felted sections! They can be used to needle felt designs over holes in jeans or wrapped around soap to make scrubbies.
If the roving is felted a little more than slightly, it is time to break out the flick carder. Grab a basket or tub. Place it on the floor at your feet. Begin at an end. Grasp the fiber far enough back that you won't flick card your hand. Flick the fiber a few times and put the wisps that the flicker draws off into the basket. This can also be done with a lap board, but it is more difficult because of how frequently the board needs to be emptied.
Okay, now we'll look at the worst possible scenario. You have ended up with rope. It is a really pretty rope, but still a rope nonetheless. When the dye pot hands you rope, try a new technique! You can coil it and stitch the coil to make a trivet to hold hot dishes on your table. If you really get into this, the same method can be used to create handbags, table toppers and throw rugs.
Another option for a felted beyond repair roving is to go ahead and knit it. Find a basic pattern and some "big honkin' needles" and knit away. The knitted project can be felted even more once it is finished which will strengthen it while preserving a shadow of the knitted detail.
So, when life hands you lemons, or the dye pot hands you a mess, you know what to do. This is the hat that I made for Lindsay knitted from roving that had felted in a plastic bag: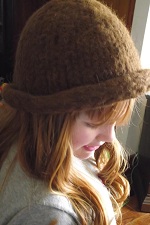 This site needs an editor - click to learn more!


Related Articles
Editor's Picks Articles
Top Ten Articles
Previous Features
Site Map





Content copyright © 2018 by Laun Dunn. All rights reserved.
This content was written by Laun Dunn. If you wish to use this content in any manner, you need written permission. Contact BellaOnline Administration for details.