Known as 'Fluessiges Brot', liquid bread, brewing beer was a specialty of monks and served with their meals, while special brews were prepared for drinking during their 'Fasts' because its food and vitamin value helped combat their
"fasting fatigue"
.
And interestingly, for the monks, during the middle ages those who brewed the beer were allowed to drink five liters, about ten pints, each day.
For the original Germans, the Teutons, beer was so precious it was offered as a sacrifice to the gods. And Germans still like their beer; as a country they are third behind the Czech Republic
and Ireland in the amount consumed per person while, as Mark Twain once commented,
German beers are as different as hens in a farmyard.
There is an annual "Day of German Beer",
Tag des Deutschen Bieres
, on April 23rd, and some family breweries in Southern Germany brew a "Limited Edition Beer of the Year",
Jahrgansbier 23.04
, which is distributed 120 days later at the end of August. Each brewery is allowed to produce only 6,000 liters and every bottle carries a serial number.
To order one beer in Germany, raise one thumb
. Raising your first finger means that you are ordered two beers, one with the thumb and one with the finger. So be careful with those fingers and thumbs unless you really do want two beers, which, especially in Bavaria, can be dangerous because.........
Bier
is officially considered as food in Bavaria, even appearing as one on some menus, and the normal Bavarian beer glass, a krug, is a
Mass
, which holds one liter or about two pints.
Bavaria not only has over 600 breweries, it is also home to the oldest Brewery in Germany, which is still in operation and has its own
Brewmaster
degree program. The
Weihenstephan Brewery
, grounded in 1040 by the Benedictine monks in Freising and possibly the oldest functioning brewery in the world.
A law guaranteeing the purity of beer was in force in Bavaria from 1516 until 1988, by which time it had been adopted, perhaps unwillingly, by the rest of Germany, and it was later lifted by the European Court of Justice. Called the
Reinheitsgebot
, meaning 'purity order', the law stipulated that only water, barley and hops were allowed to be used, with yeast not being added until a later date. Some traditional brewers stay with the original ingredients and their beers are highly valued, but most do not although they don't always admit this,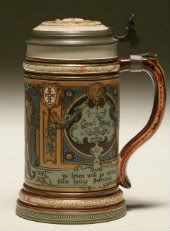 and now any permitted food additive can be allowed in the brewing process.
There are in fact some very 'different' beers these days. Gherkin Beer and Asparagus Beer for example.
They started out as protection against the bubonic plague and periodic widespread invasions of flies, but now the typical ceramic
German Beer Stein
is to be seen everywhere and often used to symbolize Germany. The original 14th century beer stein had no lid, and a permanently attached pewter top was created in the early 16th century protecting the contents of the stoneware steins from germs, flies, dust and anything else floating about in the air.
Even the smallest region will usually have its own brewery.
Which makes it easy to understand why Germany has over
1,300 breweries
. It would take rather a long time to try all the different beers, 13.1/2 years tasting a different one each day, and it is not over expensive, often cheaper than some mineral waters.
Incidentally there are over
500 types of mineral water
on offer.
Dark beer served colder than most beers is the preferred brew in Germany, but the variety available is broad, from the blond
Pils
, Pilsener, type to the very dark
DunklesBier
, Dark Beer, and
Schwarzbier
, Black Beer.
There is also a popular beer mix called
Radler
. The legend is that in the early 1920's the owner of a Bavarian beer garden was suddenly faced with a large group of cyclists, cycling being then as now a favorite pastime, and he knew he did not have enough beer to serve them all.
Despite a recipe for the mixture having been known locally since the beginning of the 20th century, he claimed to have invented a drink for them which would not only quench their thirst but also be less alcoholic, making it safer for them to continue their journey. The 50/50 combination of lemonade (lemon soda) and beer, then a dark beer but now a pale one, has from that time has been called Radler in southern Germany. A "Radfahrer" is a cyclist.
German beer gardens,
Biergaerten
, date back to the Middle Ages, when brewers planted chestnut trees over their underground storage areas to shade the contents of the beer cellars from sun. Some original chestnut trees are still in existence and in spring, summer or autumn, sitting in a shaded beer garden with a beer, and the local 'foodie' specialty - in Bavaria a
Brezel (pretzel), some
Obatzda
, a mixed cheese blend flavored with paprika, and thin slices of white or red radish - is a favorite way of spending time.
Twelve saints look after brewers, including St. Nicholas and St. George.
Beer is so much part of the culture in Germany there is even a popular expression:
Das ist nicht mein Bier
, "That is not my beer", and it means,
That is none of my business
or
That does not interest me!
And it probably originates from
"that beer is not to my taste"
, which, when there are around 5,000 varieties to choose from, is quite possible.
Courtesy de.Wikipedia: Photo Official Logo Tag des Deutschen Bieres from Deutschen Brauer-Bund e.V. scanned by Thgoiter, Mettlach German Beer Stein 1914.......Enjoying a beer in a Bavarian Beer Garden, via Dein Bayern,
And not quite "Beer Steins" but the glasses that you will find used in Beer Gardens and at Oktoberfest:
Exactly like those at the Munich Oktoberfest, this is a genuine 1 Liter HB "Hofbrauhaus Munchen" Dimpled Glass Beer Stein
And here you will find the Oktoberfest "Masskrug" or Mass krug with the traditional Hacker-Pschorr logo, 1 Liter Hacker-Pschorr Glass Beer Stein
They are the only two remaining of the original brewers from the days of King Ludwig I.

'Tasting Beer' a different type of book for beer enthusiasts. With great pictures and art, it covers beer history, tasting and styles, as well as historical and regional facts, taste and aroma characteristics for everything from many of Germany's varieties to American craft brews and Belgian Dubbels
For topics in the news

And you can follow German Culture on Facebook