Odd count bracelet with a twist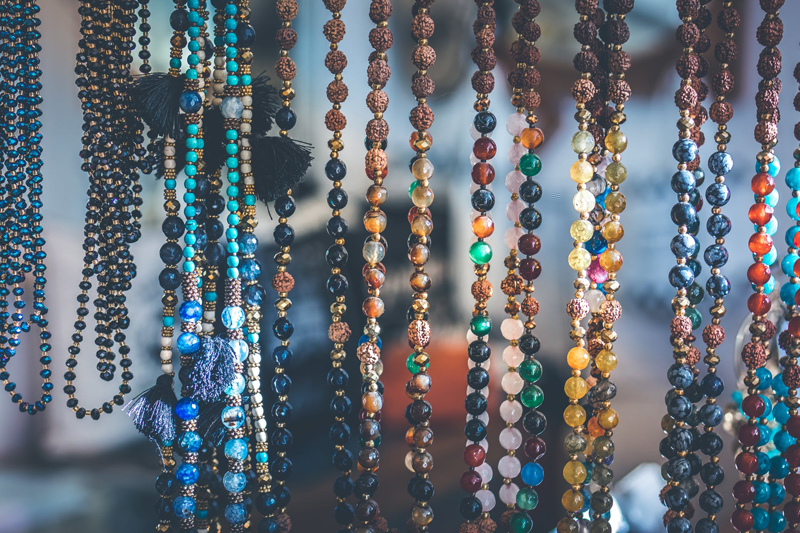 This bracelet was inspired by broomstick lace which is a crochet technique. Loops of thread are pulled up over a "broomstick" or a very large knitting needle, then those loops are joined with more crochet in a method that twists the loops to create an open lacy texture.
In this beaded version, the loops are size 11 seed beads joined with odd count peyote in size 8 seed beads.
You will need:
Size 8 Japanese seed beads, I used silver gray ceylon and gunmetal, both from Auntie's Beads
Size 11 Japanese seed beads- I used matte black and silver lined crystal
If you check Auntie's Beads
seed beads
page, you'll find some great color themed mixes in both 8s and 11s that would work great for this project.
needle
thread- I used K.O. Beading thread
a clasp of some sort- I used a button from my collection
There are a lot of turn arounds in this bracelet because it's an odd-count project and because as you join the loops to the next peyote set, you need to have your needle coming out in the right direction for the twist. So a quick review of turn arounds in odd count peyote might be helpful.
To start the peyote, put a stop bead on the end of the thread leaving a long enough tail to weave in later, and thread on 10 beads, pass the needle and thread through the 3rd bead from the end, add a bead, skip a bead and go through the next bead (peyote stitch), keep adding beads every other bead until the end.
Pull off the stop bead, and tie your two threads together, then pass needle and thread through the first bead added and add a bead between each "up" bead, at the end of that row, add a bead and finish that row as well.
So now you've got a bead essentially hanging free, and the thread in the wrong direction for the next row. So to fix that, you do a turn around. Pass the needle and thread through the bead directly under your "free" bead, and through the next bead and the next up bead from that one, pass needle and thread in the opposite direction through the bead directly under that.
Pass the needle and thread back through until you've gotten to the bead under the one added, go out that bead, then up and through the bead you added. It takes longer to explain and diagram than it actually takes to do it!
Now do the next row, and the row after that, when you get to the end of each of the 5 bead rows, you'll do another turn around. Do 4 5 bead rows and 3 4 bead rows total. Do a turn around on the last 5 bead row.
Now to make the loops, thread on 12 size 11 seed beads, one size 8, 12 size 11s, and go back through the bead on the peyote row, go through the next two beads and add another loop, continue across. One loop in each "up" bead.
Now for the fun part! The twist. Do another turn around when you finish the last loop, then pass your needle and thread through the loop to the top bead. The turn around puts you're needle and thread in the right position to twist the loop.Add a bead, and twist the next loop and pass the needle and thread through the size 8 on that loop, continue across, then do the next row of peyote. (refer to diagram)
My husband said that he thought people would love this project, but he was sure that some people would rather turn it into a flag bracelet, so here's a possible layout for an American flag variation.
Check out my review of
Stitch Workshop- Peyote Stitch
if you're very interested in a book with lots of great peyote variations using different sizes of beads.
You Should Also Read:
Stitch Workshop- Peyote Stitch


Related Articles
Editor's Picks Articles
Top Ten Articles
Previous Features
Site Map



Follow @shala%5Fbeads
Tweet





Content copyright © 2022 by Shala Kerrigan. All rights reserved.
This content was written by Shala Kerrigan. If you wish to use this content in any manner, you need written permission. Contact Shala Kerrigan for details.