Easy Colorful Friendship Bracelets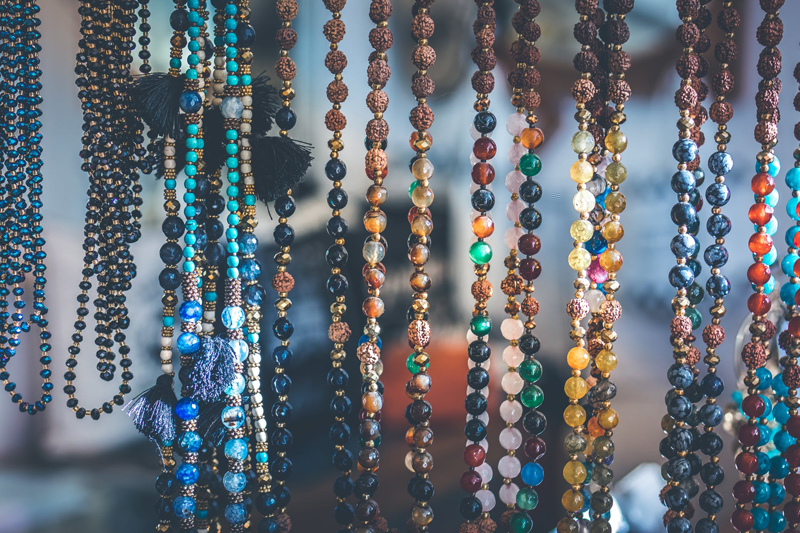 Recently while trying out different cords, I found one that I'd never tried before.
It's approximately 2mm cord, with nice elastic properties and comes in 4 colors. 3 of them, red, blue and green are translucent and the 4th color, yellow is opaque. It takes knots incredibly well. It does have some limitations, the length is less than ideal, it comes in pre-cut lengths. So it's best used in bracelets. Although my son used one to make decorative knot like the kind he uses for his key fobs.
The name of this wonderful new cord is Rips Whips.
Since it's easy to work with and so thick, I recommend just a few beads, held in place either with overhand knots that are careful slipped down to flush with the beads to hold them in place or braids. Tie 3 pieces together in an overhand knot, then braid for a short length, slide up a bead to the middle cord, braid a bit, slide up a bead and continue until it's long enough for bracelet and tie another overhand knot. Because of the thickness of the material, I suggest tying it on as a bracelet by knotting a strand from each side 3 times for a total of 3 knots.
In the above example I used Kellogg's® Froot Loops®. Some of you may have worked with these classic beads when you were younger, but if you haven't worked with them in a while, they are a bit different than what you might remember. Now they have "sparkles" to add a bit of flair to your projects. The sparkles aren't shiny, but they do add interest and character. So do the slight inconsistencies in the texture of the beads.
To make the green knotted bracelet, I slid on 3 beads, a purple, a green and a purple. I held them in the middle of the cord and tied an overhand and slid that flush with the beads, then I tied a knot on the other side. To place the flanking beads, I used my thumb as a spacer, and placed knots equidistant from the center 3 beads and knots and then slid on a bead on each side and another knot.
You can find a lot more ideas for using
Rips Whips
on their website.
Happy April Fool's Day!
I have no affiliation with the makers of either Kellogg's® Froot Loops® or Rips Whips.
Rips Whips are a super flexible candy that comes in very bright colors and is very flexible and easy to braid and knot.
The demitasse cup in the photo is part of my personal collection of handmade cups. The artist is Ember Haynes of
Silverbear Sundries
You Should Also Read:
Converting Peyote Patterns to Loom
Macaroni Earrings
Simple Beaded Friendship Bracelet


Related Articles
Editor's Picks Articles
Top Ten Articles
Previous Features
Site Map



Follow @shala%5Fbeads
Tweet





Content copyright © 2019 by Shala Kerrigan. All rights reserved.
This content was written by Shala Kerrigan. If you wish to use this content in any manner, you need written permission. Contact Shala Kerrigan for details.