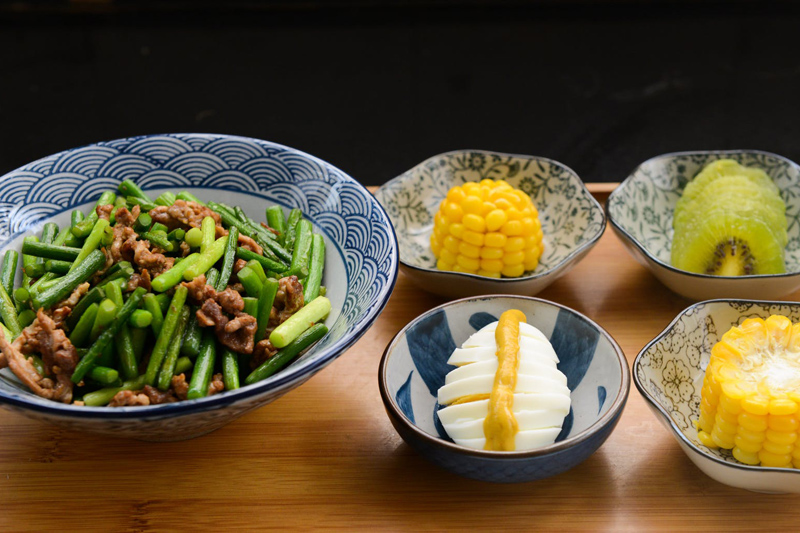 Chop suey literally means "mixed bits" and is made up of vegetables such as celery, cabbage, carrots, and others that are tossed in a simple sauce with meat. This is a great dish for leftover vegetables and meats. This beef chop suey recipe can be tailored to you own tastes by incorporating and/or eliminating any of the selected vegetables; making this an amazingly versatile meal. Enjoy!
1 lb lean beef
2 carrots
1 crown of broccoli
2 celery stalks
½ Napa cabbage
4 oz sliced white button mushrooms
½ inch piece fresh ginger
3 green onions
15oz can bean sprouts
8oz can bamboo shoots
3 tbsp peanut oil
1 tbp jarred pre chopped garlic
Marinade:
¼ tsp salt
1 tsp sugar
1 tbsp sherry
1 egg white
1 tbsp cornstarch
½ tbsp oil
Sauce:
1 ½ cups chicken broth
3 tbsp Shao Hsing wine (Shaoxing)
3 tbsp soy sauce
2 tbsp sugar
2 tbsp cornstarch
Remove all of the fat from the beef and cut it into thin rectangular slices. Make sure to cut across the grain. This means to cut perpendicular to the lines that are visible within the beef.


Once the slices are cut, place them in a container that has a tight fitting lid and begin to add the marinade in the following order.


First sprinkle in the salt and sugar while stirring the meat. Then slowly stir in the sherry.


Next add the egg white and using your hand, gently stir to coat each piece making sure not to froth the egg. Frothing the egg will cause the beef to become hard after cooking it. Then sprinkle in the cornstarch again using your hand to coat each piece.


Finally, add the oil, stir to coat, and cover. Let the meat marinate for 30 minutes at room temperature.


While the meat is marinates, prepare the other ingredients. Peel each of the carrots and cut off the ends and discard them. Then cut them into thin 1 inch match stick pieces. Place these pieces in a large microwavable safe bowl and set them aside.


Rinse the broccoli under cold running water. Then cut off the florets and either discard the stalk or save it for a future recipe. Break any large florets into smaller pieces and then place them in the bowl with the carrots.


Rinse and cut the ends off the celery stalks. Then cut them into ½ inch pieces and place them in the bowl with the carrots and broccoli.


Cover the broccoli, carrots, and celery with hot water and then microwave them on high for 3 minutes. This is comparable to parboiling them. Once they are done, drain them in a colander and set them aside.


Rinse the cabbage under cold running water then slice the leaves into 1 to 1 and ½ inch pieces and set them aside.


Rinse the sliced mushrooms quickly under cold running water using your hand to remove any excess dirt. Then dry them with paper towels and set them aside.


Using a knife, remove the peel from the ginger. Then dice it into small pieces and set them aside.


Rinse the green onions under cold running water and dry them thoroughly with paper towels. Then cut off the white base and about an inch from the top of the greens of each green onion and discard. Then cut the remaining stalks into thin slices and set them aside.


Open the cans of bean sprouts and bamboo and drain them thoroughly.


In a large cup mix together all of the ingredients for the sauce except for the cornstarch and set this mixture aside.


In a small cup, mix the cornstarch with a little water just until it dissolves.


Once the meat has marinates, bring a pot of water plus one tablespoon of peanut oil to a boil.


Once the water boils slowly add the meat to the pot and cook it for just one minute. Then remove it with a slotted spoon and place it on a plate and set it aside.


After all the meat is cooked, heat the peanut oil in a wok on high.


Add the garlic, ginger and green onion and stir fry for about 30 seconds or until fragrant.


Then add the cabbage and stir fry for about 5 minutes, or until crisp - tender.


Add the bean sprouts and bamboo and stir fry for another 2 minutes.


Add the remaining vegetables and stir fry for another 2 minutes.


Add the sauce and beef and bring it to a boil


Once it starts to boil add the cornstarch mixture and stir until thick.


Then remove it from the heat and serve. Makes 3 to 4 servings.




Related Articles
Editor's Picks Articles
Top Ten Articles
Previous Features
Site Map





Content copyright © 2021 by Lila Voo. All rights reserved.
This content was written by Lila Voo. If you wish to use this content in any manner, you need written permission. Contact Lila Voo for details.