Wonderful recycled materials for making jewelry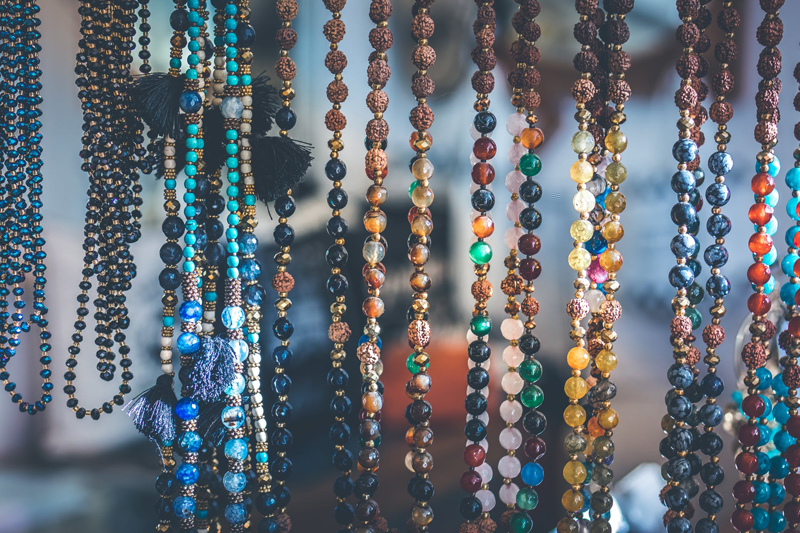 For the last week, I haven't been doing much in the way of beading because instead, I've been very carefully taking apart a leather jacket for the leather.
So I decided to make a list of some of my favorite almost completely free or free materials for beadwork and jewelry making.
Rubber- the bracelet made above is made with bicycle inner tube rubber. This wonderful material is one you can frequently get completely for free by calling your local bicycle repair shop. I wound up with about 50 from my local bicycle shop. Long strips of the rubber can be used as cords for necklaces and take a coiled crimp very well. It also makes an interesting backing for some bead embroidery techniques. I also like cutting out something like a lattice and then adding peyote tube beads to a couple of the bars in the lattice.
Burlap- Burlap can be found at your local coffee roaster. Some roasters sell the empty bags cheaply, others will just give you the bags. I was lucky enough to be given a stack of bags which are currently being turned into purses with wood bead accents, shopping bags and anything else my daughter or I can think of.
Leather- You know that nice soft leather can be a bit pricey at times. If a coat can be used, I would suggest donating it to a local charity instead of cutting it up. But local charities and friends sometimes have coats or clothing it's impractical to repair. The jacket and pants I'm carefully deconstructing were just that way. Torn with badly broken zippers. You don't have to use a seam ripper to take them apart. Just cut off pieces as needed. Talk to someone at a local thrift shop, and suggest that they put badly damaged leather clothing donations for sale to crafters, or offer to take them off their hands. Great for embroidery and for backing pieces like pins and barrettes.
Milk Jug Plastic- The perfect insert for barrettes and other bead embroidered items you want to have some structure, it's free, it's lightweight and just rigid enough to provide some form sandwiched between two layers of fabric or leather.
Bottle caps and bottles- if you have a local bartender you are friendly with, bottle caps can be used to make bottle cap pendants, bottles themselves frequently have very interesting shapes to bead around using peyote or netting. A pretty beaded bottle makes a lovely, one of a kind bud vase.
Sledgehammer heads- If you know people who are in construction or who might otherwise have access to these and are getting rid of them, let them know you might want one! What are sledgehammer heads good for? Anvils. If it's rusty, soak it in vinegar for a day, then use a crumpled ball of foil or a wire brush to remove the rust. If you want to polish it, you can do that. But these work great as a bench block, or even as very heavy bookends.
Axe handles- These occasionally break, but hardwood handles usually have curves that will work to form bracelets and other shapes on.
Knitting needles- while we are on the subject of mandrels, my daughter and I both knit, but I also have a bunch of orphan needles that I got from friends who knit. I use these to make jump rings, bead tubes and work helices on.
Scraps of lace- another thrift store or friends item. Lace or shirts with lace insertions can be put into embroidery hoops for fast and sweet earring displays.
What are your favorite recycled items for jewelry making? Please go to the
forums
and let us know!
You can find the template and instructions for the bracelet above on my blog,
Don't Eat the Paste
.
You Should Also Read:
Bottle Cap Pendants
Record Bracelets


Related Articles
Editor's Picks Articles
Top Ten Articles
Previous Features
Site Map



Follow @shala%5Fbeads
Tweet





Content copyright © 2022 by Shala Kerrigan. All rights reserved.
This content was written by Shala Kerrigan. If you wish to use this content in any manner, you need written permission. Contact Shala Kerrigan for details.