At the door to the Chocolate Museum in Cologne an intoxicating fragrance of chocolate greets you; a small chocolate bar comes with your ticket and chocolate's known "Feel Good Factor" certainly seems to work. There can be few museums where so many of the young and not so young visitors, and there are more than 2,000 each day, have broad smiles on their faces as they walk around.
It is somewhere for all chocolate fans; or simply history buffs.
Lying alongside the Rhine River, historic Koeln is fascinating to visit with its many museums, art galleries, and of course the unmissable Cathedral in Cologne, but when time allows "Cologne's Museum of Chocolate", the "Imhoff-Schokoladenmuseum", is another "must-see" tourist attraction. Everything is described in English as well as German and it is an interactive experience for all ages; a "hands-on" museum for children and a journey through the world of chocolate from bean to bar. Beginning with a cocoa tree.
Light and airy with floor to ceiling glass, and merged with a 1890's customs office, from a distance it looks like a ship docked in Rheingau-Harbor; a part of Cologne's medieval past,
The museum's three exhibition levels are a chocolate world. Covering its 3,000 year history beginning as a "Food Of The Gods" for the pre-Colombian Olmecs, Aztec and Mayans, with artifacts from their chocolate ceremonies, through to its commercialization and manufacture of present-day products.
Photographs, tools, and a life-size Ghanaian log boat with bean filled hessian sacks, illustrate the growing and harvesting process, and sharing space in the walk-in tropical greenhouse, with its 60 rainforest species as well as coffee and mango plants, is a mini cocoa plantation where flowers grow from cocoa plant trunks and make pollination easier in the jungle.
Although it was only recently that the first ever German grown cocoa fruit was successfully grown here, and that had only enough extracted chocolate to make one small bar.
Displayed in the historical exhibition area are 17th and 18th century porcelain and silver cups, drinking saucers and jugs used to serve what was an expensive luxury beverage enjoyed only by the rich, and privileged, after its introduction to Europe. However in those days chocolate was produced from beans grown on plantations that often used slave labor.
Along with old advertising posters, 18th century chocolate trading cards and restored original chocolate vending machines. An exhibit in the style of an "old fashioned shop" is a showcase for a collection of 19th and 20th century molds, tins and boxes, which was an era when chocolate had become more available after the invention of the molding machine in 1846, together with a growth in cocoa bean plantations.
Vintage television advertisements run continuously in a film room praising chocolate's virtues; including what were considered the major selling points of the time – its nutritional value and the fact it was "high in calories".
It is thanks to the founder of the Chocolate Museum, Hans Imhoff, born in 1922 Koeln, that many of these exhibits exist, because as a child he loved the aroma as it drifted from the nearby Stollwerck factory and at the end of WWII started his own chocolate factory.
In 1971 he became chairman of the failing Cologne Stollwerck Chocolate Company in what remains Germany's Chocolate Capital, and restored the reputation and fortunes of the world famous manufacturer; expanding it worldwide.
When the company moved in 1975 he found that much of what was thrown out as rubbish, having been stored and forgotten for years, was in fact irreplaceable "Chocolate History".
There was everything from prototype vending machines,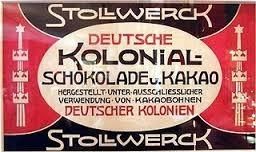 original chocolate moulds, letters between Kaiser Wilhelm and Thomas Edison to Ludwig Stollwerck, to beautifully hand crafted labels, artisan chocolate boxes and glass photograph plates.
On October 31, 1993 Hans Imhoff used what he had found, together with his own collection, to fulfill a lifelong and self-financed dream; opening a chocolate museum in Cologne's city center.
In March 2006 the museum partnered with Lindt, a major chocolate company. Now two levels of the museum are a miniature manufacturing area, "The Glass Chocolate Factory", which uses 400 kg of chocolate each day and is devoted to the processing, roasting and grinding of cocoa beans.
For the adventurous there is even an opportunity to discover that a raw cocoa bean tastes like gritty bitter cooking chocolate.
Viewing windows make it possible to follow all the steps that go into the various products; discover the mysteries of hollow cast chocolate rabbits and Santa Claus; follow the pathway different truffles take before they become a delicious calorie bomb, as well as tracking the bean as it makes its journey from "gritty" to "chocolate treat".
The Imhoff-Schokoladenmuseum is fun to visit, a unique German tourist attraction and not only one of the most popular museums for kids in Europe but also the most extensive chocolate museum in the world.
Courses in
chocolate, praline and truffle making are held throughout the year, and booked out months ahead for Christmas and Easter sessions; while every day there is the special area for children, where they can make, decorate and wrap their own chocolate creations.
From the museum shop, surrounded by an overwhelming choice of chocolate to eat and drink, is a beautiful panoramic view of Cologne with its soaring spires; framed through floor to ceiling windows and impossible to miss.
A fitting backdrop to the ten foot Cocoa Tree Chocolate Fountain, which, although it looks like a piece of modern sculpture, is where you can have as many vanilla wafers drenched in rich liquid chocolate as your heart desires.....or your appetite can handle.
Related link: The centuries old Cathedral in Cologne is a symbol from the past, as well as a beautiful World Cultural Heritage site standing alongside the Rhine River.
Outside view of Chocolate museum from shore by photographer Johannes Fasolt, Stollwerck chocolate packaging 1890 and Chocolate Fountain, photographed by Imhoff-Schokoladenmuseum
For topics in the news

And you can follow German Culture on Facebook