Wolf - Loki's Story - Wolf Care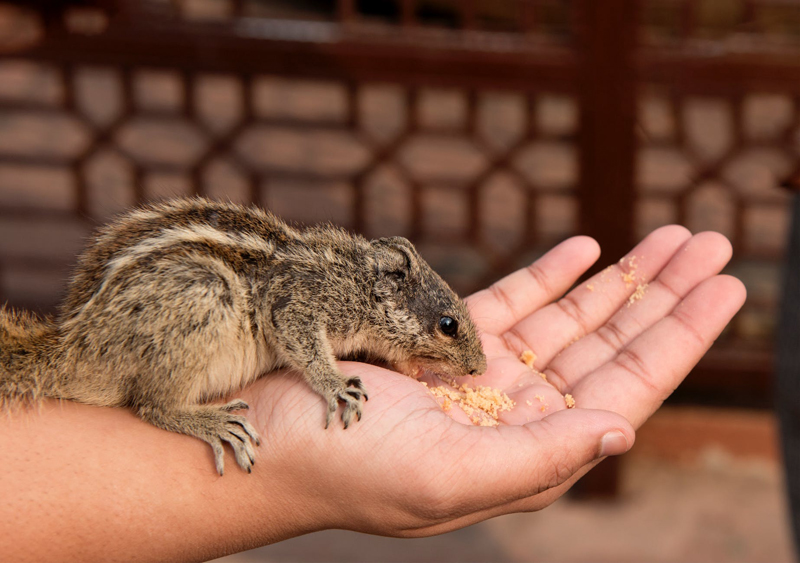 Wolf Care
Back to to wolves in general. They are not like dog; they have a very well organized pack / social structure. And will only feel comfortable if you can provide that. That means, you have to really work at setting up the rules. I.E. obedience training, social structure in the home, try and get them used to routines. These routines must include lots of time together; grooming, playing, feeding, and even just being with you, if you are just reading or watching TV. They HAVE to have a well ordered social structure. At first Loki was nervous of her shadow, unless she was actually touching me or me touching her. This was because she trusted me. But we had not developed our social structure that high yet.
The only time we were apart was when I was at work. The first few days this was terrible on her. But as soon as I got home, I would open the back door and let her in. I would spend close to half hour, just wrestling with her, working our training (i.e. sit, stay etc), grooming and brushing. (Yes this was done daily, and when she lost her winter coat, you could literally comb enough fur off her to outfit several generations of poodles). Then I would change her water again (as I did every morning), and give her 4 cups of food (4 in the morning, 4 in the evening – per vets, recommendation. I was told she will become a huge girl, and needed lots of food for her diet.) She got only dry food, or cooked food. NEVER, I repeat never any fresh meat or anything bloody. She is a wolf, and I did not want her having any taste for blood.
There will be times a wolf will test their rules, and you have to understand this is part of being a wolf. BUT, YOU MUST RECOGNIZE THE BODY LANGUAGE. You have to remain the Alpha at all times. This isn't a dog... There were two occasions when Loki tried to test authority. Immediately I put her on her back and held my hand on her throat, till her tail curled up over her belly, and she stopped being testy. That was immediately followed by her snuggling up to me, and licking my chin. This is typical wolf behavior greeting an Alpha. Afterwards, it was followed by a very long wrestling and play session... Chase each other; get the tennis ball, etc.
She was the smartest animal companion I have ever shared any time with. As she grew up she did become the huge wolf that I loved. She topped the scales at 138 pounds, and when she stood on her hind legs, she could put her paws on my shoulder and look me directly in the eyes.
When I moved, I had to change vets. My old vet was so impressed by her; he "changed" her species to shepherd/husky mix. Because he said most vets will not work with wolves, or wolf-hybrids; as they can be unpredictable or even dangerous animals. But, Loki is the best canine, I have ever seen, and I will truly miss her.
The new vet... Scene: Vet waiting room, filled with other people and their animals. Loki is sitting between my legs, totally ignoring them all. Comfortable that she is with her pack, and they are not in her pack, nor are they a threat to us... So she ignored them. The vet called my name, as I stood, he said, can I peak to you alone. (Hmm, this sounds bad.) Loki, Sit. Stay. I dropped her leash, and walked over to him. I said what I can help you with:
"Sorry, John, I do not work on wolves".
"You must be mistaken, see she is listed as shepherd / husky mix".
"Don't lie to me, I recognize a wolf when I see one. I have been a vet for 25 years, and I have seen it all..." by this time, he is kinda ignoring me, and looking past me at Loki. I turn around and Loki is sitting there looking at us, but not moving, not leaning...totally ignorant of everything else, except us. He asks me, did you train her? I said yes, why? Bring her inside this room; I want to see you both. Clap my hand twice and say Come Here Loki. She promptly comes to my side and sits.
Inside the room, he asks me to put Loki up on the bench, as he stands in the corner; out of reach. No problem. I help her up and tell her to lie down (which she does). Give her a few scratchies, and a kiss, and say good girl.
The vet says, don't BS me, this is a wolf. Albeit unlike ANY wolf I have ever seen or heard of, but she is a wolf. You trained her yourself? Yes... Why? Remarkable, and writes a few things on his notes.
He pauses a second, then asks if Loki would let him look at her. I tell him no problem, but he calls in a helper with a muzzle just in case. Loki has her ears straight up, tail wagging as he approaches, and she looks directly at him. He reaches out and slowly lets her sniff his hand. She likes him, and puts her head under his hand so he can pet her :P (she is a smart girl, I told you readers). The vet relaxes, and proceeds to talk to me, all the while petting Loki.
"In all my years as a vet, I have never seen ANYONE successfully integrate a wolf into a home as you have. It shows you understand their needs, and have done a remarkable job raising her. I would be glad to *he winks* be your "shepherd / huskies" vet.
Next week will be the ending of Loki's Story. The end of the series will address issues in reference to the pet wolf, wolf temperament, wolf behaviour, and wolf hybrids. Stay tuned, you will LOVE it!
If you missed out on the beginning of Wolf - Loki's Story here it is
Wolf - Loki's Story
Here is part two
Wolf Training - Loki's Story
Part four
Wolf - Loki's Story - Temperament
Take on second and help me connect the new interface to Facebook. Push "like" please.
Exotic Pets BellaOnline on Twitter
Scroll
down a wee bit and subscribed to the Exotic Pets Newsletter; it's free, secure, and confidential!
If you have enjoyed my exotic pet articles I know you will enjoy my brand new EBook. Ferrets: A Complete Guide is an EBook
for novice ferret owners, experienced ferret owners, and people that are considering a ferret for the first time. Great as a reference guide or a standalone care book for ferrets.
Ferrets: A Complete Guide
Easy download, instant access, and inexpensive for one of the best books available on ferrets!
This is also a way to help support Exotic Pets BellaOnline. We donate our time and BellaOnline is a non-profit site, all revenue except for expenses (servers and whatnot - no salaries period!) is donated to charity. Paypal and credit cards! Only
$3.99,
big savings when books don't have to be printed, also saves our natural resources!
Baree, the Story of a Wolf-Dog Originally Published as Baree, Son of Kazan [Kindle Edition]
Baree, the Story of a Wolf-Dog Originally Published as Baree, Son of Kazan [Hardcover]
Baree, the Story of a Wolf-Dog Originally Published as Baree, Son of Kazan
Amazing price difference between the eBook (Kindle) and the paper product. Plus, you will be doing our environment a big favor! EBooks outsold traditional books last year!
This site needs an editor - click to learn more!

You Should Also Read:
Exotic Pet Site Map
Children's Pet House (For Kids)
Exotic Pet Shopping (the safest for your pets)




Related Articles
Editor's Picks Articles
Top Ten Articles
Previous Features
Site Map





Content copyright © 2022 by John David Mattson. All rights reserved.
This content was written by John David Mattson. If you wish to use this content in any manner, you need written permission. Contact BellaOnline Administration for details.