Beef Lettuce Wraps Recipe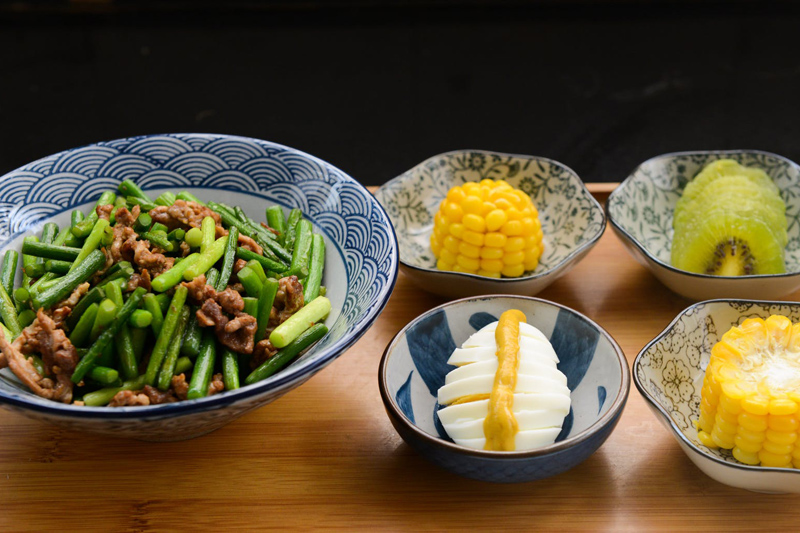 Lettuce wraps are found on most Chinese restaurant's menus and are similar to eating a Mexican burrito. These wraps use lettuce leaves, which are filled with a mixture of ground beef and flavorings and topped with a delicious dipping sauce.
To watch a video on how to make these beef lettuce wraps at home click
here.
1.5 lbs. ground beef
I head bib lettuce
2 tbsp peanut oil
1/8 tsp salt
¼ inch piece fresh ginger – diced
2 garlic cloves – minced
2 green onions – diced
3 dried Thai chili peppers –minced (seeds removed)
4 oz. sliced white button mushrooms
5oz can diced water chestnuts - drained
Marinade:
2 tsp sherry
2 tsp soy sauce
1/8 tsp salt
1/8 tsp pepper
½ tsp sugar
1 tsp cornstarch
1 tsp peanut oil
Cooking Sauce:
1 tbsp hoisin sauce
1 tbsp soy sauce
1 tbsp sherry
2 tbsp oyster sauce
2 tbsp water
1 tsp sesame oil
1 tsp sugar
2 tsp cornstarch
Dipping Sauce:
½ cup water
2 tbsp soy sauce
2 tbsp rice wine vinegar
2 tbsp ketchup
1 tbsp lemon juice
1 tbsp Chinese hot mustard
2 tsp hot chili garlic sauce
¼ tsp sesame oil and
¼ cup sugar
2 tbsp cornstarch
Place the ground beef in a bowl and add the ingredients for the marinade separately so that each one gets thoroughly incorporated into the meat before the next one is added. Then cover and let this marinate for 20 minutes.


Next in a large cup mix together all of the ingredients for the cooking sauce. Stir this thoroughly until the cornstarch dissolves and then set it aside. This is the sauce that the beef filling will be cooked in.


Then in a small pot mix together all of the ingredients for the dipping sauce except for the cornstarch.


In a small cup mix the cornstarch with a little cold water so that is dissolves; this will be used to make the dipping sauce nice and thick.


Cook the dipping sauce by heating it on high and stirring constantly until the ingredients dissolve and it starts to come to a boil. Just as it starts to boil along the edges of the pot, add the cornstarch mixture and stir until the sauce becomes thick. Then remove it from the heat, place it in a bowl and set it aside.


Next prepare the lettuce by rinsing the leaves under cold running water and drying them thoroughly.


Once the lettuce is dry cook the beef filling. Heat 1 tablespoon of the peanut oil on high and swirl to coat the wok.


Once it's hot add the ground beef, stir to break it up, and let it cook for about 7 minutes, or until it is cooked through.


When it's cooked through take it out of the wok draining it from any fat and liquid; place it on a plate and set it aside.


Then wipe out the wok, heat it on high, and add the remaining tablespoon of peanut oil and swirl this around the wok.


When the oil is hot, add the ginger, garlic, green onion, and chili peppers and stir fry them for about 30 seconds or until fragrant.


Then add the mushrooms and the water chestnuts and stir fry everything for about 3 minutes, or until the mushrooms are tender


Next add the 1/8 teaspoon of salt and mix it in.


Return the ground beef to the wok and mix everything together.


Then give the sauce a good stir and add it in. Stir everything until the sauce thickens and coats the beef and vegetables. Then remove it from the heat and serve. Serve this with the lettuce leaves and the dipping sauce on the side. Makes about 3 to 4 servings.


Related Articles
Editor's Picks Articles
Top Ten Articles
Previous Features
Site Map





Content copyright © 2022 by Lila Voo. All rights reserved.
This content was written by Lila Voo. If you wish to use this content in any manner, you need written permission. Contact Lila Voo for details.