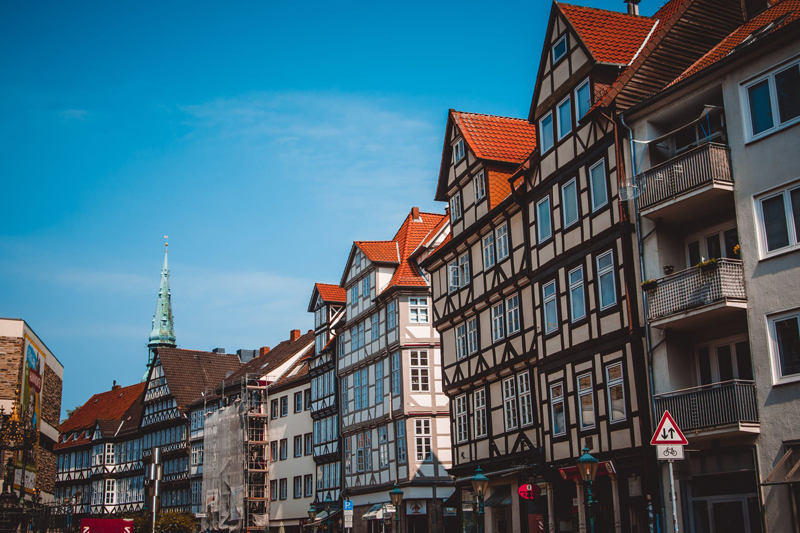 A journey back in time to a medieval past.
From Mannheim to Prague, Germany's Castle Road, die Burgenstrasse, is one of the most popular of Germany's Tourist Routes. 745 miles of fairy tale castles, romantic
palaces and living history, winding through picturesque scenery, ancient forests and medieval towns and villages.
There are thousands of German castles and over 90 Burgen, castles, some are medieval castles others much older, Paläste, palaces, Schlösser, mansions, and Burgruinen, castle ruins, are on The Castle Road. As different in age as they are varied in style, but with its own character and charm.
From classical renaissance grandeur, the grace and sophistication of neo-classicism, to colorful elaborate rococo and ornate baroque, German Romanticism. Some once impregnable fortresses, now landmarks dominating the landscape.
The origins of many castles and palaces go back over 1,000 years, and all date to the times when it was Emperors, Kings, and Princes who ruled over a patchwork of feudal states and principalities, and not only of those that are now a part of present day Germany but also other countries of Europe.
Linking the history of Germany with its culture, the journey that zigzags down the Castle Road is not only an opportunity to view castles from the outside, or with guided tours, medieval banquets, festivals and feasts, it is also possible to sleep in many of them.
Although as some also offer guided "Ghost" tours, many are reputedly haunted by everything from headless knights to tormented servant girls, that might add an extra dimension to the experience, but all give a sense of what life must have been like when they were the focal point of a town or area.
Especially those that are still run and lived in by the families whose homes they have been for centuries.
In 1994, after the borders to Eastern Europe were opened following the collapse of communism, the original 200 mile tourist route, which had been created in 1954 as a joint project between the southern German cities of Mannheim, Heidelberg, Heilbronn, Rothenburg ob der Tauber, Ansbach and Nuremberg, was extended as far as Prague in the Czech republic.
Eastward bound to what had at one time been a part of the Austro-Hungarian Empire with a large German speaking population, and where there were castles that had not been seen by Westerners for generations.
Well known castles have their place along the route
including Heidelberg Castle, once the embodiment of German Romanticism but now a spectacular castle ruin, and famous medieval towns, one of which is Rothenburg ob der Tauber, renowned for its appearances in Disney films, but there are many that are just as beautiful but less well known.
Bad Wimpfen with its half timbered buildings dates from the Neolithic and Bronze Ages, the Celts moved in, the Romans followed later, and by 1200 AD the ruling noble family Staufer had built castles throughout the area, including this Blauer Turm, Blue Tower, which was still in use as a watch tower until the 20th century.
Another of the Staufer buildings, Schloss Neuenstein, is a four winged moated Renaissance castle from that era, and a 700 year old oak tree that has been around almost as long as Schloss Neuenstein itself is close by.
While the history of Burg Colmberg in Bavaria, now an hotel and restaurant, is unusual as it can be traced to the 13th century, when two townswomen named Sophie and Gertrud are mentioned in connection with it in an official document. A sales contact dated 17th July 1318 shows the castle was acquired by Burggraf Friedrich IV von Nuremberg, who became the governor of the Burgraviate of Nuremberg, a Holy Roman Empire state.
Travelling along the Castle Route in both directions, first enjoying the scenery, medieval towns, Roman relics, and of course the regional specialties, then returning in the other direction to explore the castles, is one of the most popular German tourist attractions.
But not only for visitors from outside the country and not always with four wheels, as a special cycle trail for dedicated cyclists ensures that while nothing is missed out any journey they make will be safe.
Part of the route not in Germany is Loket with Loket Castle, a 12th century Gothic castle just across the border in the Czech republic town surrounded on three sides by a river shaped like an elbow. This is what earned it its name "Loket", which is elbow in English.
It is in the Sudetenland, the northern, southern, and western areas of Czechoslovakia that, as part of Austria until the end of World War I, were mainly inhabited by ethnic German speakers. The German population was expelled in 1945, after Nazi Germany had annexed the Sudetenland.
Germany's emphasis on culture and education includes attracting young people, even of kindergarten age, so there is a wide choice of attractions and events connected in some way to the castles, palaces and life in days past, which German children often attend as a holiday pastime or treat.
While there are additional tourist routes that focus around certain castles or aspects of history, among them "In the Footsteps of the Knights and the Electors", or "The Emperors-Bishops-Dukes Route".
Every journey down the Castle Road is a unique experience, surrounded by natural wonders, from cliffs and caves to valleys and miles of unspoilt nature, but also steeped in legend, myths and fairy tales.
It is a legacy from the past that leaves a lasting impression.
Photographs by courtesy Wikipedia.de photographers Rothenburg ob der Tauber, Ploenlein in the middle, Sieberstor left and Kobolzellertor right, Ulrich Oestringer - Blauer Turm in Bad Wimpfen, Peter Schmelzle, Umbra - Loket, SehLax
You Should Also Read:
Germany's Romantic Road
Cuckoo Clock Route
Germany's Tree Lined 'Avenues Route'


Related Articles
Editor's Picks Articles
Top Ten Articles
Previous Features
Site Map



Follow @GermanKultur
Tweet





Content copyright © 2019 by Francine McKenna-Klein. All rights reserved.
This content was written by Francine McKenna-Klein. If you wish to use this content in any manner, you need written permission. Contact Francine A. McKenna for details.