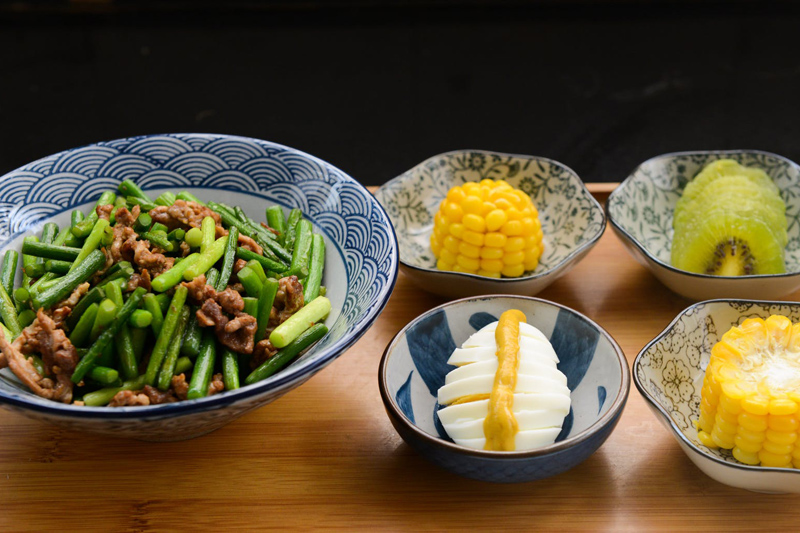 Hunan is a region in China that is known for its wonderful hot and spicy cuisine. This simple Hunan chicken recipe combines the traditional flavors of garlic and ginger with the wonderful spiciness of Thai chili peppers. Try this delicious Hunan chicken recipe and let me know what you think in the Chinese food forum found
here
. Enjoy!
3 boneless skinless chicken breasts (about 1.5 lbs)
4 large dried Thai chili peppers
1 small clove of garlic
2 tbsp peanut oil
¼ inch piece fresh ginger
Marinade:
1 tbsp soy sauce
1 tbsp cornstarch
½ tbsp peanut oil
Sauce:
2 tsp rice wine vinegar
2 tbsp soy sauce
1 tsp sugar
Remove all the fat from the chicken and cut each breast into thin 1½ inch slices.


Place these slices in a container that has a tight fitting lid and add all of the ingredients for the marinade. Using your hand, mix everything together thoroughly. Then cover and let the meat marinate at room temperature for 30 minutes.


While the meat marinates prepare the other ingredients. Cut the Thai chili peppers into tiny pieces, keeping the seeds as well. Once they are cut, set them aside. If you or a family member is not fond of hot foods, you can decrease the amount of peppers used and leave out the seeds as well.


Peel the garlic by first smashing it with the side of a large knife. This helps the peel come off more easily. Then dice the garlic into tiny pieces and set them aside.


Using a knife or a spoon, peel the ginger. Then cut it into small pieces the same size as the garlic and set them aside.


In a small cup mix together all of the ingredients for the sauce and set it aside.


After the chicken has marinated for 30 minutes, cook it by first boiling it. This process of pre cooking the chicken is called velveting. Bring a large pot of water with just 1 tablespoon of the peanut oil to a boil.


Once the water boils, add the chicken and let it cook for 1 minute. Then carefully remove it with a slotted spoon, making sure to drain off all of the excess water, and set it aside.


Next heat a wok or non stick pot on high. Once hot add the remaining tablespoon of peanut oil and let it get hot.


When the oil is hot add the chili peppers and garlic and stir fry them for 1 minute or until fragrant.


Then add the chicken, ginger, vinegar, soy sauce and sugar and stir fry everything for 1 more minute. Then remove the wok from the heat and serve. This is delicious served with a side of stir fried green beans and rice. Makes 2 to 3 servings.


Related Articles
Editor's Picks Articles
Top Ten Articles
Previous Features
Site Map





Content copyright © 2021 by Lila Voo. All rights reserved.
This content was written by Lila Voo. If you wish to use this content in any manner, you need written permission. Contact Lila Voo for details.