Not all Germans are happy with their popular national dish being called a
'noodle'
, considering it to be several levels higher in the culinary hierarchy. However a
Spaetzle
is basically pasta dough, although one containing a high percentage of eggs and, as with many meals that are popular in today's Germany, was originally a dish for poor country folk who had no alternative, so they were sometimes known as
Beggar's Noodles
, 'Bettelleits Nudla'.
These rough edged, curly noodles, ranging from white to yellow depending on how many eggs have been added, can be small or macaroni length and are super absorbent so all types of 'Spaetzle sauce' can be served with them.
There are several theories how their name came about but the main one is that originally Spaetzle were larger than now, pre-1725 paintings show this, and the small pieces of dough were shaped by hand then dropped into boiling water, with the cooked dough somehow reminding people of a little bird. So they were called Spaetzle, pronounced
SHPAYT-zlee
, and coming from
Spatz
sparrow, and Southern German dialect for
'small sparrows'
.
So having either made
your own Spaetzle
, or bought them, what happens next.
During the winter and autumn, with various seasonings or "au naturel", they are a frequent accompaniment to
roast
or
braised meat
,
beef rolls
,
poultry
or
game
, as an alternative to potatoes.
Or a quick and nourishing weekday meal with
cheese sauce, caramelized onions, mushrooms
,
grilled bacon
,
Black Forest ham
, or a mixture of all of these. Sprinkled with breadcrumbs which have been pan fried in a little butter until they are golden brown, they are served with the fresh salad which accompanies many meals in Germany.
But there are popular specialty dishes served at home as well as appearing on restaurant menus, and an 'all time favorite' German "Spaetzle" recipe is:
Spaetzle mit Champignons
-
Noodles with Mushrooms
- Serves four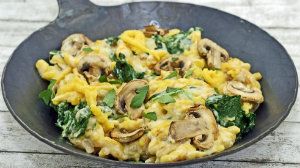 Ingredients
1 lb prepared Spaetzle – either homemade or from a packet
12 oz Mushrooms
1 to 2 Shallots or small onions
1.1/2 oz Butter
Glass dry white wine
1.1/2 cups cream
Pinch Salt
Freshly ground Pepper
4 heaped tablespoons mixed chopped herbs (2/3rds Parsley, the rest from Chives, Wild Garlic etc.)
Minced Garlic – optional
Chili Paste - optional
Grated Hard Cheese - optional
Caramelized Onion Rings - optional
Method
Clean and slice the Mushrooms. Peel the shallots and chop finely
Melt the Butter in a large casserole pan, add the Shallots and allow to soften
Cook sliced Mushrooms until beginning to soften in fat free pan. This will ensure that any extra moisture is absorbed.
Stir shallots and add sliced Mushrooms,
Add the minced Garlic or Chili paste if used, and White Wine, simmer for about two minutes
Add the Cream, season with salt and pepper
Cook the sauce over a low to medium heat until it reduces by about one third
Add the chopped Herbs and adjust seasoning, bring back to heat, leave for two to three minutes stirring occasionally
Meanwhile heat the prepared Spaetzle, divide into four bowls
Pour sauce over and as an option sprinkle with grated cheese, and/or with caramelized onion rings.
Serve with a fresh salad
This recipe can also be "ueberbacken" - spaetzle gratin.
Prepare the Spaetzle and put into large dish, add sauce and mix through, then add grated cheese and thinly sliced onion rings pan fried until soft but not colored. If using immediately grill until cheese melts, if cooking later bake at 400 degrees F, gas mark 6, 200 C for 20 minutes if the oven is preheated, 25 to 30 if cold.
Another popular
"ueberbacken"
idea is mixing cooked spaetzle with small cubes Black Forest ham which have been lightly fried until crisp,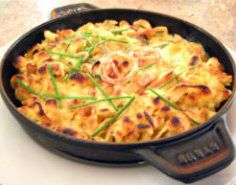 thinly sliced onions cooked until soft but not colored and finely chopped chives.
Place layers of ham mixture in an oiled or buttered dish and cover each layer with grated Gruyere cheese, salt and pepper.
Mix sour cream with grated cheese, salt, pepper or chili, crushed garlic if liked, spread this over top of mixture and put dish in a cold oven set to 400 degrees F, gas mark 6, 200 C.
Bake for 25 to 30 minutes.
The quantities are a matter of taste, but a good starting point is 1 lb spaetzle with 8 ounces of ham, 8 ounces of cheese and two onions.
Spaetzle fits easily to many things and two more popular meals are
'Spaetzle salad with feta cheese, bacon and tomato pesto'
and the typical regional dish from Swabia
'Spaetzle mit Linsen'
, Spaetzle as a side dish to cooked Lentils and 'Wurst' or pork cutlet.
If you have any of your homemade Spaetzle left over, or you want to prepare them ahead of time, they are easily frozen and re-heated. Just make sure they are well drained before freezing.
Enjoy your Spaetzle!
Spaetzle mit Champignons courtesy leckerli58 Kochbar,
For topics in the news

And you can follow German Culture on Facebook
| | |
| --- | --- |
| | This is the Spaetzle Maker I use. It is called a 'hopper' (spaetzlehobel,)does its job perfectly with a not too thick mixture, and doesn't cost the earth |
There are many different tools to help with your Spaetzle making, and here are just a few of them.