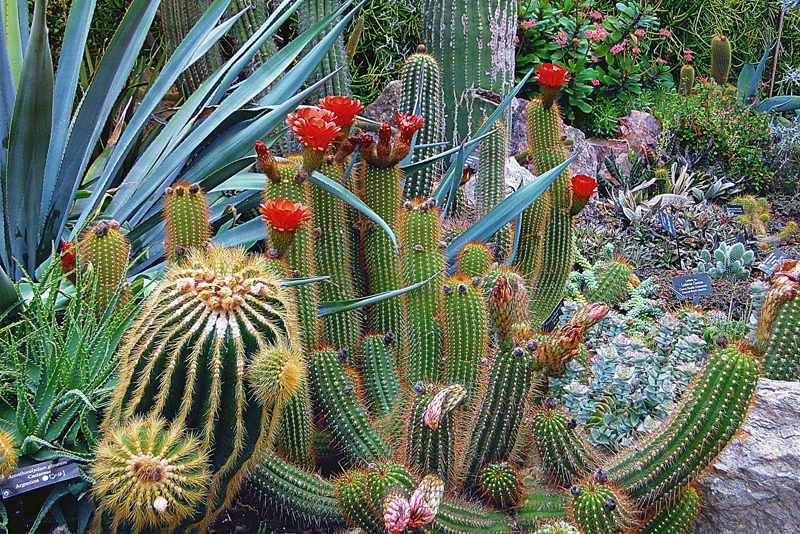 The crown of thorns (Euphorbia milii) hardly needs an introduction. It is one of the commonly grown Euphorbias. This old favorite has many admirable qualities.

This plant is interesting because it is one of the few succulents that actually have leaves. The foliage generally last for a few months.

In most areas of the U.S., the crown of thorns is by no means hardy. It can survive outdoors in zone 10 or higher.

These plants are very sensitive to cold. Anything below 55 degrees
Fahrenheit can cause the plant to drop its leaves prematurely.

In areas where crown of thorns can't be grown outdoors year-round, gardeners should consider using it as a container plant. This extraordinary plant would be a wonderful addition to mixed planters. Such pots are great for decorating patios and decks. For such container gardens, mix and match the crown of thorns with other species that will tolerate full sun, lots of heat, and dry conditions.

What works best for a mixed planter is to have an assortment of plants with different growth habits. The crown of thorns adds vertical interest, while a portulaca or moss rose would provide pendant stems that conceal the edges of the pot.

The crown of thorns is a tropical plant originally from Madagascar. These plants are actually shrubs that grow to be three feet tall. However, there are dwarf forms available that are less than a foot in height.

In addition, Euphorbia milii splendens, a variety, can easily top six feet. All of the features of this variety are slightly larger scale than that of the species, including the larger leaves.

There are improved varieties available now as well. Among these are the Super-grandiflora series from Thailand. They are available in a range of flower colors, including red, orange, yellow, and a bicolor—pink and blush. The Super-grandifloras bloom when very young, and the flowers are much larger (two inches wide) than those of the species plant.

As the name implies, crown of thorns has very spiny stems. The attractive green leaves are borne towards the top of the plant on the newest growth. It is perfectly normal for the lower leaves to fall and not be replaced.

What appear to be the flowers are actually the colorful bracts as is the case with its famous relative, the poinsettia. The true blooms are quite tiny, and occur in clusters. In the species plant, the vivid bracts range from red to yellow. Flowering occurs only on the newer growth. The blooming season usually extends from spring until fall, but if growing conditions are excellent they will continue to bloom.

When your crown of thorns plant is actively growing, fertilize it with the usual houseplant fertilizer at about half the recommended rate listed on the package twice a month.

Under good growing conditions (lots of sun and heat), the plants will need watering whenever the top inch or so of the potting soil becomes dry whenever they are actively growing. If optimal conditions weren't provided, I would reduce the watering somewhat.

Generally the plants are quick growing, and will need repotted about every year or so into a somewhat larger pot.

Insects or diseases rarely attack these plants.


This site needs an editor - click to learn more!


Editor's Picks Articles
Top Ten Articles
Previous Features
Site Map





Content copyright © 2023 by Connie Krochmal . All rights reserved.
This content was written by Connie Krochmal . If you wish to use this content in any manner, you need written permission. Contact BellaOnline Administration for details.