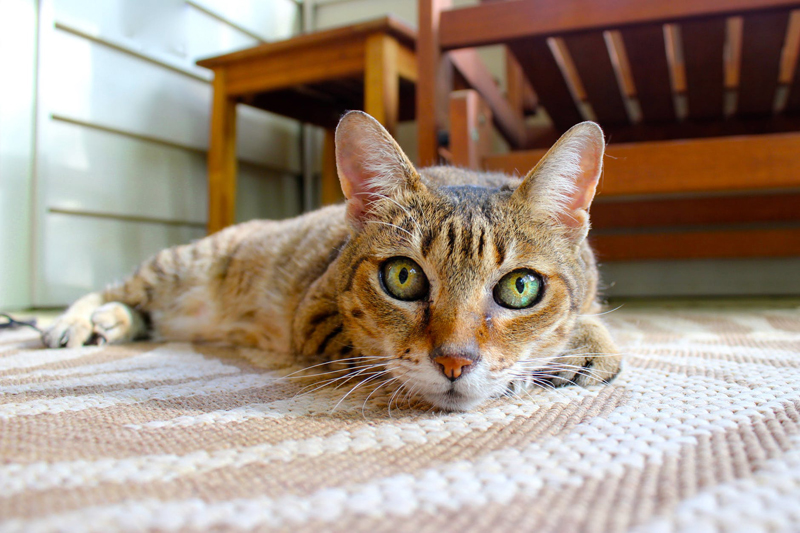 When and where did rug making find its beginnings? Awe, to have this insight would surely be one of the great answers honoring any trivia game. My closest guess, and mine is as good as any, would be the first time a woman set foot on the cold hard rocky ground and decided she didn't like being that uncomfortable. No, I am not sure it was a woman. I am sure the concept of rug was not the thought to jump to the foreground, but ground cover and warmer, more protected feet certainly would have been. Most likely grasses and leaves were the first ground covers actually gathered, somehow held together (or not) and moved by humans. Animal hides would have followed closely behind. The actual concept of a rug probably came into existence around the time humankind was able to stop and think of things other than their basic survival.

Creativity was able to develop as humankind had more leisure time to manipulate the environment rather than staying out of the jaws of predators. Creative thought in the beginning was tightly attached to practicality. We can assume early rug creations would have a primary focus on functionality. We know from research that rug making is an ancient craft and art form... how ancient, well that is up for debate. Much information is written on its beginnings possibly being in the Asiatic cultures and the Egyptian cultures.

Grass and leaf rugs would have probably been amongst the very first. Felted and woven rugs would have been some of the earliest discoveries with felting in all likelihood predating weaving. This is because felting is a natural occurrence among hair producing animals including humans. Weaving would probably have been discovered next in the world of the rug makers because weaving is so versatile and can incorporate so many types of fibers. Woven rugs can be produced from hair or grasses using no tools other than the fingers and toes to manipulate the fibers. Rugs and weaving fit naturally well together. Other forms of rug making would have to have come later because the base to build on for other types of rugs is often contingent on woven fabrics. Examples of this are, hook rugs, prodded rugs, embroidered and embellished rugs which all need a woven fabric to be built upon and or pulled through. Knitted, crocheted and knotted rugs would have come even later since these crafts were not developed until after weaving was around for some time.

So, it is safe to say there was a progression in the development of rug making. The complexity of the rug can be directly tied to the environment and advancement of cultures around the world. Let us use this basic history as a wetting of the appetite to continue the tradition of our rug making ancestors. Let us create rugs rich in tradition for our weary feet.

This site needs an editor - click to learn more!


Related Articles
Editor's Picks Articles
Top Ten Articles
Previous Features
Site Map





Content copyright © 2019 by Kim-Sandy Kline. All rights reserved.
This content was written by Kim-Sandy Kline. If you wish to use this content in any manner, you need written permission. Contact BellaOnline Administration for details.