Speculaas the Original Biscoff, Recipe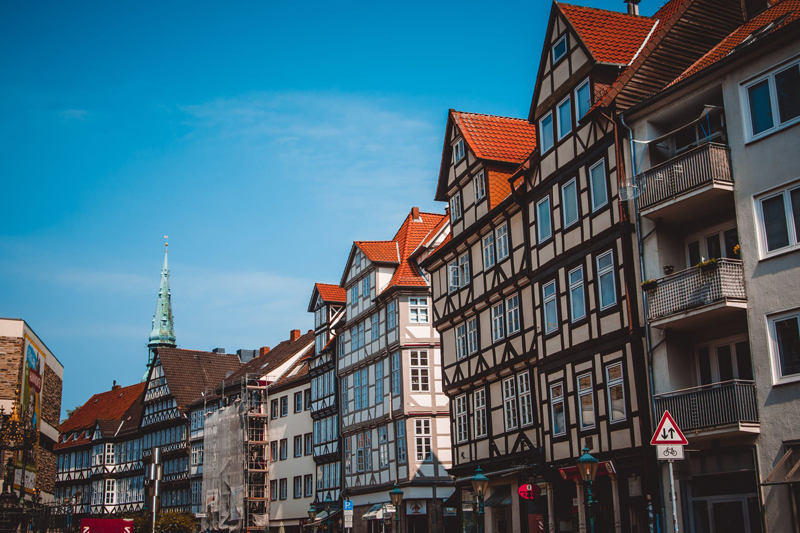 The type of cookie that makes it difficult to stop at just one. Fragrant, spicy, crisp, ideal for "coffee dipping", not too sweet and a favorite in Europe for centuries. What is often called the Delta Airlines Biscoff "airline cookie" in the US originated as Speculaas; a specialty for the St. Nicholas holiday in Europe's Low Countries.
Now the Netherlands and Flanders, the Dutch speaking region of Belgium.
In the Netherlands they are known as Speculaas, Spekulatius in Westphalia and the Rhineland, the regions of Germany near to the Dutch border where they have been popular for generations, and are more highly spiced cookies than Speculoos. The "Biscuit for Coffee, Biscoff, made in neighboring Belgium at Lotus of Belgium.
This version of the biscuit is thought to have a refined taste compared to the Dutch and German ones, which outside their home countries are often known as "Dutch Windmill Cookies", but it is just different. Belgian Speculoos are found throughout Europe and, despite the country having its own regional variety are also offered everywhere in Germany.
Years ago the thin caramelized cookie with its signature flavor was only available during the holiday season, but it has been enjoyed all year around for a some time now. Although they do become even more popular in one form or another during the lead up to the
St. Nicholas
holiday, 5th and 6th December, and throughout Germany's
Christmas celebrations
, when the image of the saint, or some other figure from the St. Nicholas legend is stamped onto the front of the cookies before they are baked.
The tradition of using images that fit to the occasion come from an ancient custom followed by Europe's Germanic tribes, who at the summer and winter solstices
used to make human, or animal, sacrifices to their God Wotan.
Luckily for any potential victims these were eventually replaced by specially baked bread and cakes made as a likeness, or bearing an image.
The origins of the words "Speculoos", "Speculaas" or "Spekulatius" are open to various theories.
One is that it comes from the Latin "Speculum" meaning mirror, so "a mirror image", the stamp used to decorate the cookie. Another that it is a cake with spices, so the root could be the Latin "Species", spices. Or it could be "Speculator", Latin for "bishop" the St. Nicholas figure, combined with "speculari" – to observe, peer, look closely. A description of Saint Nicholas peering through windows into homes of poor people during the evening, to see if he could help them.
But no one really knows.
Here is the recipe for a cookie tasting very similar to a Biscoff cookie, but with the extra ingredients needed to turn it into a Speculaas or Spekulatius:
RECIPE FOR SPECULOOS
.....
the original "Airline Cookie"
INGREDIENTS
:
1 cup butter, softened
1 cup granulated sugar
1.1/4 cups dark brown sugar – this is what gives the golden brown color (Muscovado if possible)
2 teaspoons vanilla extract
2 large eggs
3 1/4 cups all purpose flour
1/4 cup finely ground almonds
1/2 teaspoon very finely grated lemon zest
2 teaspoons baking soda
1 1/2 teaspoons ground cinnamon
1 teaspoon salt
1/2 teaspoon ground ginger
1/4 teaspoon ground nutmeg
1/4 teaspoon ground cloves
One part toasted soy flour to three parts wheat flour gives even more of a caramel flavor
The ground almonds can be left out, and the same quantity of flour added
Add 1/16 teaspoon ground cardamom for Dutch and German version
Add 1/16 teaspoon ground white pepper for Dutch and German version
For the Dutch and German version it is possible to use a Speculaas Spice Mix, or a pumpkin spice mix, and in Germany ground almonds are often replaced by ground hazelnuts
Optional for decoration:
125 g (4.4 oz) slivered almonds
Beaten egg whites (to glaze)
METHOD
:
Cream the butter, sugars, and vanilla until combined and fluffy.
Add the eggs one at a time, while continuing to beat the mixture until it regains its "fluffiness".
Mix the remaining dry ingredients in a separate bowl.
Gradually stir the dry ingredients into the sugar mixture one third at a time, until the dough is thoroughly mixed.
The dough is delicate and dry, but, if it is too dry to combine, add a little milk to the mixture, and make sure it is then completely blended. It should be possible to shape the dough into a ball without it sticking to your hands.
For crisp authentic speculoos it is best to allow a fairly long resting time before rolling or molding the dough, if possible for 24 hours or at least overnight. Wrapped in plastic wrap and chilled this allows the spices to mature and seep into the dough, adding to the flavor. The dough can be left for up to three days before baking, and also frozen.
BAKING: And soon gorgeous aromas in your kitchen will begin to make it feel like the inside of a gingerbread house.
A tip to ensure clean cut edges to your Speculaas, and makes cutting out easier, is to roll out the chilled dough, to a scant 1/8-inch (3mm) thick for authentic thin cookies, or to a 1/4-inch thickness to give a slightly crunchy version, and then put the pastry back in the fridge to cool down and "rest". Or form into a cylinder without rolling out, ready to cut into very thin slices once it has been removed from the fridge.
Preheat the oven to 350F and line a baking sheet with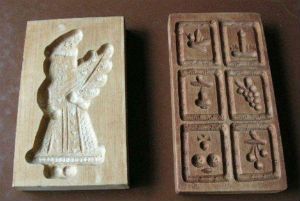 bakery paper.
Remove rolled out dough from fridge and cut into shapes by hand or with a cookie cutter.
If there happens to be a traditional speculaas mold, "planche à spéculoos", in the family, some of which are works of art, the chilled dough is pressed into this after it has been lightly oiled, the excess is cut away, and the mold inverted onto the baking sheet to release the cookie, design-side up.
Another option is to brush the top of the cookies with beaten egg white and add slivered almonds
.
Bake the cut or molded cookies for 10 to 12 minutes, until the edges appear set and are just begin to brown, but watch carefully as they can turn from golden brown to "burnt" quickly.
Allow the speculaas to cool for 5 minutes on the baking sheet, and transfer them to a wire cooling rack.
Speculoos, Speculaas, and of course Biscoff, are not only good for dipping coffee, they are used in all types of desserts and sweets. Including macaroons, truffles, as the base of cheesecakes, with ice cream or made into a Spread for toast, muffins, frosting for cakes and cookies or eaten straight out of the jar. And they are also served in sauces, for example with chicken, pork and venison.
As caramelized cookies they can be kept for several weeks in an airtight tin or jar...but don't stay around long enough for that to happen very often.
Guten Appetit!.......And enjoy your Speculoos
Illustrations: Lotus Speculoos, Lotus of Belgium - Spekulatius, photographer Zerohund - Spekulatiusform, photographer N_H.DE - de.Wikipedia
For topics in the news

And you can follow German Culture on Facebook
You Should Also Read:
St. Nicholas Eve
A Christmas in Germany
Weihnachtsmaerkte at Christmas


Related Articles
Editor's Picks Articles
Top Ten Articles
Previous Features
Site Map



Follow @GermanKultur
Tweet





Content copyright © 2019 by Francine A. McKenna. All rights reserved.
This content was written by Francine A. McKenna. If you wish to use this content in any manner, you need written permission. Contact Francine A. McKenna for details.