On New Years Eve many people wonder what the coming year will bring, so they try to look into the future, just as the Ancient Romans did, with
Bleigiessen
. Literally "pouring lead", it is a favorite German
New Year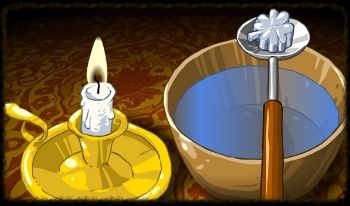 "Fortune Telling" tradition, passed down through generations and still used as a fun way to "determine the futur"' on
Silvesterabend
.
Small hollow chunks of lead formed into shapes such as top hats, four leaf clovers or horseshoes, were placed into a spoon and melted over a burning candle. Bleigiessen is the most popular way to try to gain
Ein Blick in die Zukunft
, a sneak preview into what lies ahead during the New Year, but lead is poisonous and has been phased out in Germany recently, replaced by alternatives.
As soon as the metal becomes liquid the spoon is turned sideways so it is poured out into a bowl of very cold water, and the shape that results from this is believed to forecast something of what the future holds. Everyone tries to identify what they
"see"
in their piece, often holding it up to a candle or other light to gauge the shadow it leaves.
It is a "Fortune Telling" game that has been a German New Year tradition for centuries, and if you would like to try "Bleigiessen" on New Year's Eve you can use small pieces of tin or pure wax, for example a bees wax candle, since both are harmless, melt at a lower temperature than lead and are just as effective.
There are over 1,000 Bleigiessen, (BLYE-ghee-sen),
"oracle"
interpretations and here are just of few of them, so:
Viel Spass!.......And Have Fun, with your Bleigiessen
Airplane
- luck in an open competition
Anchor
- you will receive help from others
Angel
- 'good' will come to you
Antlers
- misfortune in love
Anvil
- take care with your job
Apple
- your trust will be broken
Bag
- unexpected luck
Ball
- expect luck to roll your way
Basket
- lucky in love
Bee
- prospect of marriage
Beetle
- pleasant experiences in love
Bell
- inheritance, good news
Bird
- good luck on its way
Boat
- good luck in your intentions, plans
Bowling pin
- be careful in business
Bomb
- you will escape danger
Bottle
- happy times ahead
Bridge
- you will form new ties
Broom
- conflict or a small argument
Cake
- celebrations ahead
Candlestick
- 'seeing the light', sudden understanding
Camel
- new duties
Car
- promising venture or enterprise
Castle
- you wish for change
Chalice
- your future will be happy
Chimney sweep
- luck in love
Chrysanthemum
- someone needs your help
Church
- you will start a household soon
Cliffs
- much work ahead
Clover
- satisfaction and luck
Cow
- cure from sickness, healing
Cradle
- you will take part in a baptism
Cross
- an ending, perhaps a death, within your circle
Crown
- you will gain an official position
Dagger
- you will be victorious
Dancer
- don't take life so seriously
Eagle
- there will be progress in your job
Egg
- your family will grow
Elephant
- you have good powers of comprehension
Engagement ring
- you'll be engaged OR adventures ahead
Eye glasses
- you will live to be old, wisedom
Falcon
- someone is jealous of you
Feather
- a change in your home
Fish
- people are talking about you
Fist
- you feel that you have been pushed back
Flag waving
- heart and thoughts are in different places
Flowers
- new friendships will develop
Fork
- quarrels and arguments
Frog
- you will win the lottery
Fountain
- deep love for everyone
Funnel
- protect your strength
Gallows
- be on the look out for false friends
Garden
- new love in your path
Gate
- you'll move to a new home
Gondola
- an adventure lies ahead
Guitar
- secret longings
Hammer
- you will get your way
Hare
- hang onto your luck
Hat
- good news
Heart
- there is love in store for you
Hedgehog
- people are envious of you
Horseshoe
- good business
Hook
- obstacles will come into your path
House
- your ventures will go well
Island
- you are lonely
Jug
- unpleasantness
Key
- let others keep their secrets
Ladder
- advancement in your job
Ladder
- broken make decisions faster
Lamppost
- don't give up on your goals
Mouse
- a secret love
Moon
- you may expect honor
Mug
- luck and health
Nail
- better times coming
Pail
- satisfaction with relationships
Palm tree
- a long-cherished wish will be fulfilled
Pants
- you will be ridiculed
Pig
- luck in games and prosperity is on its way to you
Pipe
- be careful, there is danger ahead
Pistol
- you will cheat in love
Plate
- you'll have opportunity to be generous
Plow
- you must work harder at your job
Rooster
- be careful of fire
Ring
- wedding or engagement
Ring - broken
- separation
Sailboat
- good advancement in your job
Saw
- an advantageous separation
Scales
- success in business
Scissors
- important decisions on the way
Shoe
- there will be a lot of running around
Sled
- make your relationships fit yourself
Snake
- people are envious of your success
Spider
- your luck hangs on a silken thread
Spoon
- people are talking about you
Star
- luck
Steps
- new assignments are waiting
Stork
- you will travel
Swing
- make up your mind
Sword
- big change ahead
Table
- soon you will be invited to a party
Top hat
- serious issues lie ahead
Tower
- have more courage
Train
- departure of a friend
Tree
- growth in your capabilities
Triangle
- finances improve
Trumpet
- you will soon gain public office
Umbrella
- be hopeful, and avoid unpleasantness
Urn
- don't grieve about the past
Wall
- your perseverance will pay off
Wheel
- big changes coming
Wreath
- reconciliation in your circle of friends
And even if at first glance what emerges from the cold water bath looks like a blob, a closer look will surely prove that it resembles, however vaguely, at least one of the examples on the interpretations list. Then, or so they say, you will have some idea if it is "luck in love", career success, a new home or friendships, or something else that is waiting for you on the other side of midnight on New Years Eve.
Image courtesy kaiser-grafix
For topics in the news

And you can follow German Culture on Facebook