Theirs are not soft gentle tales that guarantee a dreamless sleep, but the
Fairy Tale Route
in Germany which follows in the footsteps of
Brothers Grimm
travels through a scenic and magical world of fairy tales, sagas and legends, down the route the brothers took to collect the stories, and inspiration, for what became their world famous collection of German fairy tales.
By bicycle, car, or of course seven league boots, the Fairy Tale Road zigzags for 375 miles through five different German states, 70 medieval towns and villages, passing stunning landscapes with ancient castles, fortresses, half timbered houses and grottoes.
It begins in Hanau, the Grimm brothers birthplace, which, although their home no longer exists, still retains much that the brothers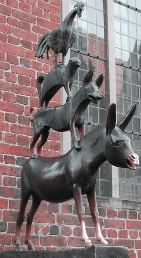 would recognize. Not however the bronze statue which has been standing in their honor on the historic market square since 1895.
The fairytale road ends in Bremen, famous for the
Town Musicians of Bremen
, the tale of four elderly and mistreated animals, a donkey, dog, cat, and rooster, who after escaping their masters decide to become musicians in Bremen. A city that at the time was known for its free way of life and thinking.
Of course in the fairy tale that has fascinated generations of children the animals never reached Bremen, having found a home in a cottage on their journey. Nevertheless surrounded by the Altstadt, Old Town, medieval buildings, and ancient crooked lanes with their intact 17th century fishermanís cottages, there, standing in a beautiful and atmospheric market square, is a bronze donkey.
With his shining front hooves, touching them is said to make wishes come true so they have been 'touched' for generations, he isn't alone because upon his back he carries a bronze dog, the cat with his arched back balancing on the dog and, completing the pyramid, rooster sits at the top surveying the world around him.
The miles in between Hanau and Bremen are filled not only with picturesque landscapes but with culture, history and fairy tales, and it's easy to relive those childhood dreams of long ago as, despite the passage of time, much of the Fairy Tale Road remains unspoilt and unchanged.
Steinau was the family home from 1791, a large turreted stone house that doubled as the local courthouse because their father was a district magistrate, and now it is a Brothers Grimm museum filled with manuscripts and memorabilia.
Cinderella, Snow White,
and
Sleeping Beauty
are some of the Grimms most famous fairy tales and the settings for those fables, and many others, are found on Die Deutsche Maerchenstrasse.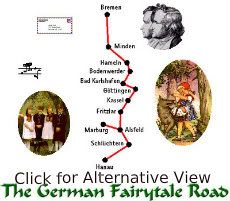 Lohr am Rhein is thought to be where Snow White, Schneewittchen, and the seven dwarves lived after she had escaped the evil queen, and the story is believed to be based upon Maria Sophia von Erthal. Her family castle still stands and she had stepmother who behaved much like the one in the fairy tale.
While the area from Alsfeld to Fritzlar, alongside the Schwalm River, is the setting for
Little Red Riding Hood
. There townspeople still wear traditional costumes, with red caps for unmarried girls, which, although they are not exactly like the one portrayed by Disney, were together with the local dark deep forests the original inspiration for the Grimm Brothers.
Jacob
and
Wilhelm Grimm
described their time in Kassel as being the most fruitful period of their lives, and it was here that they not only compiled Grimmís Fairy Tales but also began their study of German language and literature. In the stunning Palais Bellevue, built in 1791 as an observatory for a local Duke, is the Brothers Grimm Museum which covers their whole life story and achievements.
'Dornroeschenschloss Sababurg' is
Sleeping Beauty's
675 year old castle in the forest of Reinhardswald, between Kassel and Goettingen, and it is where she slept for 100 years before being saved,
'by a kiss from a Prince'
. It is also one castle where it is really possible to relive the story, as it no longer belongs to fairytale princes but is an hotel.
The brothers were professors at the University of Goettingen, and in the central square of the old town is a statue Ganseliesel,
The Little Goose Girl
, another of their tales.
She used to be the most kissed girl in the world as successful students would kiss her for luck, however now it is more usual to decorate the statue with flowers so it is often covered with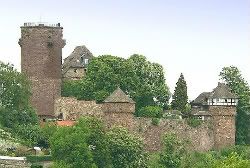 multicolored blooms.
Not to forget
Rapunzel
and Trendelburg Turm, the medieval castle with the tower a prince had to climb, using the long blond hair which she had let down, to save her from an imprisonment she had been forced into by the enchantress. It is still there and exactly as it was when the Grimms first saw it.
Even before there were television programs centered around fairy tales a tour down the
Deutsche Maerchenstrasse
was one of Germany's tourist highlights, a trip into fairyland and childhood memories for young and old. Never ending enchantment.
Meandering through central Germany to the sources of Grimmís fairy tales, with their picturesque and symbolic sights, the traveler could almost believe that hundreds of years ago witches, heartless stepmothers, musically inclined farm animals, wolves who could talk, gallant handsome princes and princesses with long blond hair were alive and well in the land beyond the seven hills.
But perhaps they were.
Illustrations: 'The Town Musicians of Bremen', in front of the Bremer Rathaus, photographer Gerhard Marcks, de.Wikipedia - 'Map of Fairytale Route', Expandable, Photoshop Postcards - Trendelburg, 'Rapunzel's Castle', Hessen, Photographer Presse03, de.Wikipedia
For topics in the news

And you can follow German Culture on Facebook