German Apple Crumb Cake Recipe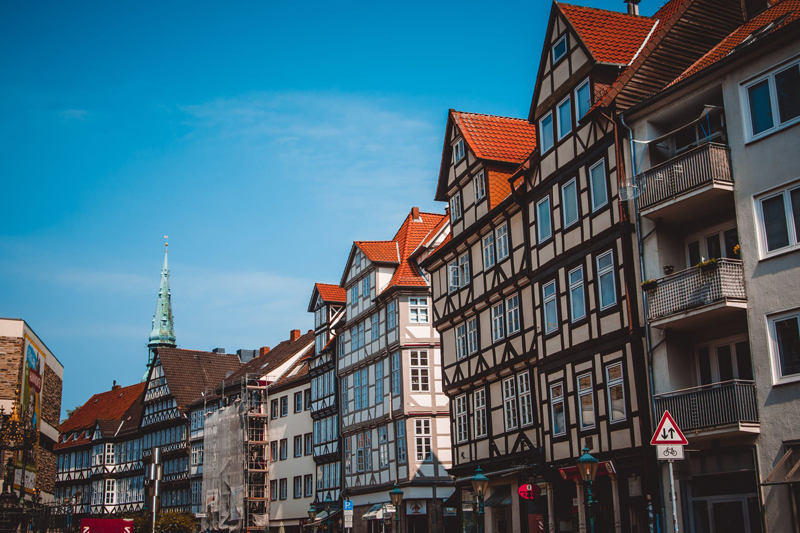 Coffee and cakes are an important part of European culture, and, as European food is as diverse as the languages spoken, each country has a cake that is popularly identified with it at coffee time. For France it is Madeleines, Ireland - Scones, The Netherlands - Tompoezen, Belgium - Waffles and Germany's "Coffee Cake" is a favorite throughout the country;
Streuselkuchen
,
literally "Sprinkle or Scatter Cake"...Apple Crumb Cake.
And this is despite the country having no real national cuisine but a variety of individual regional cuisines. Until the late 19th century there was no Germany, just a mixture of small kingdoms, principalities, dukedoms, cities, towns and dioceses, with little in common apart from the language, so favorite foods and recipes had developed in different directions, and for different tastes.
My late mother in law made great cakes that were produced at the traditional 4.00 pm, Kaffee und Kuchen Zeit, "Coffee and Cake Time"; a time to gossip, catch up or spend some relaxed hours with friends, family or guests, and there was no way I, or anyone else, ever stayed at just one slice. Streuselkuchen, especially the apple kuchen which is just the best apple crumb cake, was a favorite.
Have changed the measurements from metric, but otherwise this is a copy of the handwritten apple cake recipe that she gave me, and that had been in her family for as long as she could remember. The old German apple kuchen recipe was one of the memories her mother had brought with her when she left what had been East Prussia, Ostpreussen, after WWII; now a part of Poland.
"Streusel" is the German word for "sprinkle" or "scatter", so this is a "Sprinkle or Scatter Cake", as the topping, is sprinkled over the uncooked base and fruit. There are countless recipes for Streuselkuchen and many use yeast, but this is a yeast free version.
STREUSELKUCHEN
- Fruit Crumb Cake
INGREDIENTS:
For the Base
2 cups flour
1/2 cup granulated white sugar
1/4 teaspoon nutmeg
1/4 teaspoon salt
1/2 to 1 teaspoon lemon zest
1 teaspoon vanilla extract
1 teaspoon baking powder
1 egg
1/4 cup butter
3/4 cup milk
4 to 6 apples, peeled, cored, thinly sliced and not too sweet
(this is an "Apfelkuchen" but other fruit can also be used, for example plums, cherries, apricots, which it is better to "de-stone" first, soft fruits, even tinned peaches, and sometimes a tablespoon of raisins or sultanas are added to the apple slices when making the apple kuchen)
Für die Streusel: The Topping
1 cup raw cane sugar or granulated brown sugar
2 tablespoons flour
2 tablespoons butter
1 teaspoon cinnamon
METHOD
Base:
Sift flour, sugar, salt and baking powder.
Melt the butter a little until it is soft but not liquid and combine with flour mixture. (It seems to work better if the butter is melted a little first and then added to the flour, especially with American flour which is different from European. Otherwise the dough can become too stiff to knead thoroughly, especially in a mixer, and if more milk is added then the dough quickly becomes too soft)
Beat egg and put in measuring cup, filling cup with milk until it is the required level, mix well.
Add this to the basic mixture.
Spread the batter into a greased 7 inch x 11 inch pan, or 8 inch round, or spring form.
Cover with the sliced apples or other fruit.
Topping:
Mix sugar, flour, butter and cinnamon, until it is the consistency of bread crumbs.
Sprinkle over the top of the apples or fruit.
Bake at 360 degrees Fahrenheit for 30 minutes.
Reduce heat to 350 degrees until fruit is cooked through.
When the Streuselkuchen has baked it can be drizzled with honey diluted in water,
elderberry syrup
and/or melted butter, or covered with a sugar glaze icing.
It is delicious just as it is, but to add to the calories whipped or pouring cream, or vanilla ice cream, can accompany it.
Guten Appetit!...And enjoy your Streuselkuchen
Just another hint: In Germany the "Streuselkuchen" topping is often used on top of cheesecakes...Yummy.
You Should Also Read:
Spaetzle, German Noodles, Recipe
Friesentorte, a cream filled treat, recipe
Hot German Potato Salad Recipe


Related Articles
Editor's Picks Articles
Top Ten Articles
Previous Features
Site Map



Follow @GermanKultur
Tweet





Content copyright © 2021 by Francine McKenna-Klein. All rights reserved.
This content was written by Francine McKenna-Klein. If you wish to use this content in any manner, you need written permission. Contact Francine A. McKenna for details.