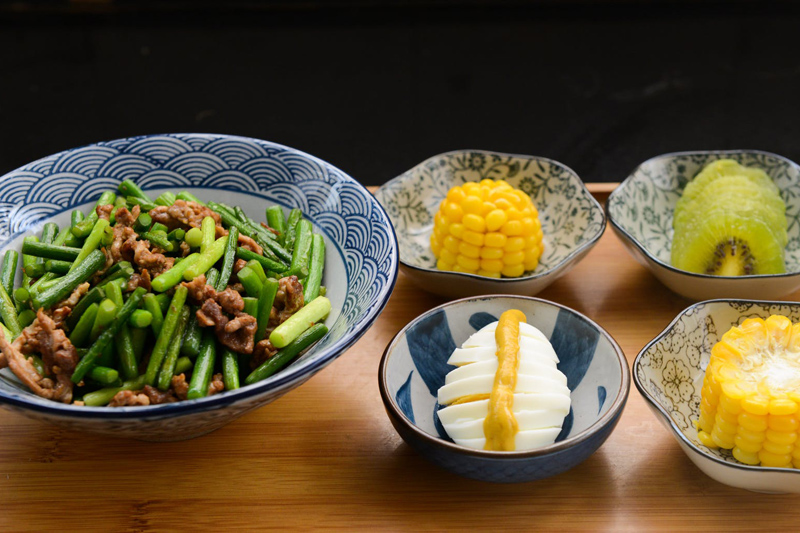 Moo shu or mu shu is a delicious Chinese restaurant favorite. A flavorful mix of shrimp, cabbage and mushrooms is wrapped in a pancake and eaten in a similar fashion as a burrito. This dish makes a fun and delicious meal for the whole family. Try this moo shu shrimp recipe and let me know what you think in the
Chinese food forum
. Enjoy!
15 dried wood ear mushrooms
1 lb medium shrimp
½ head napa cabbage
1 large carrot
2 green onions
¼ inch piece ginger
1 clove garlic
2 eggs
2 tbsp stir fry oil
¼ tsp garlic salt
moo shu pancakes
Sauce:
1 tbsp soy sauce
1 tbsp rice wine or cooking sherry
1 tsp sugar
Soak the mushrooms in warm water for 30 minutes or until they expand.


While the mushrooms soak, prepare the other ingredients. Remove the shells and tails from the shrimp. Then devein them and sprinkle them with the garlic salt and set them aside.


Slice the Napa cabbage into thin slices about 1 inch long and set them aside.


Peel the carrot and cut off the very ends and discard. Then cut it into matchsticks. These can sometimes be found already cut in the produce section of most local grocery stores.


Rinse the green onion under cold running water and dry it with a paper towel. Then cut off the base and about an inch or so from the tops of the greens. Chop the remaining stalk into tiny pieces and set them aside.


Using a knife or the back of a spoon carefully peel the ginger. Then mince it and set it aside.


Next, using the back of a large knife, carefully smash the garlic clove. This makes it easier to peel. Then peel it dice it into tiny pieces and set it aside.


Check to see if the mushrooms have expanded. Squeeze the excess water out of them and dry them with paper towels. Then slice them into thin slices and set them aside.


Crack the eggs in a bowl and beat them as if you were making scrambled eggs.


In a small cup mix together all of the ingredients for the sauce. Set this sauce mixture aside.


Heat a wok on high and add 1 tablespoon of the stir fry oil. Once the oil is hot, add the shrimp and stir fry it for 1 to 2 minutes or just until it turns pink. Then remove it, place it on a plate, and set it aside.


Without wiping out the wok, add in the eggs and stir fry them until they are cooked through about 1 to 2 minutes. Then remove them and set them aside with the shrimp.


Then add the remaining tablespoon of stir fry oil and let it get hot.


When the oil is hot, add the ginger, garlic and green onions and stir fry for 30 seconds or until fragrant.

Then add the cabbage, carrots, and mushrooms and sprinkle them with the garlic salt. Stir fry until the cabbage and carrots are just soft, about 3 to 5 minutes.


Next add the sauce, shrimp and eggs and stir until everything is mixed together and heated through.


Then remove it from the heat and serve. Serve with the moo shu pancakes and hoisin sauce.


To assemble the moo shu, place a pancake on a plate, spread a thin vertical line of hoisin sauce, and then top with the moo shu filling. Fold in the sides and enjoy. Makes 5 to 8 pancakes




Related Articles
Editor's Picks Articles
Top Ten Articles
Previous Features
Site Map





Content copyright © 2018 by Lila Voo. All rights reserved.
This content was written by Lila Voo. If you wish to use this content in any manner, you need written permission. Contact Lila Voo for details.