Chicken Egg Foo Young Recipe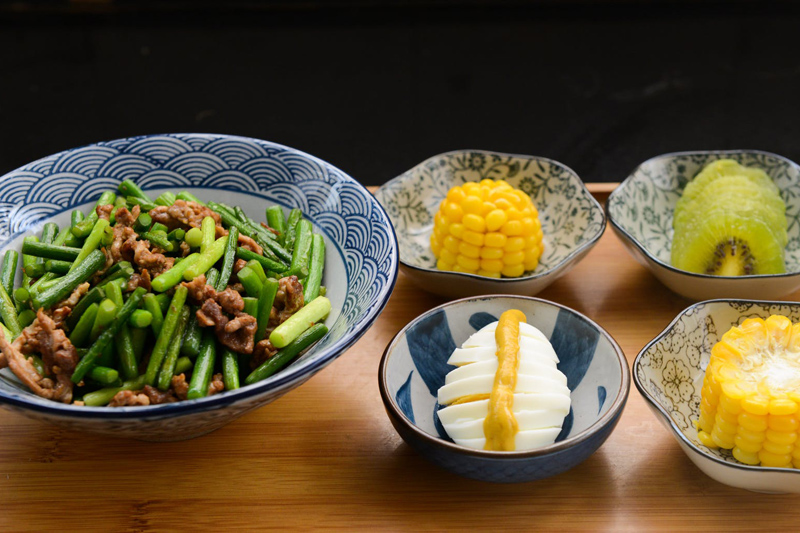 Egg foo young is a delicious favorite served at many of the Chinese takeout restaurants today. This chicken egg foo young recipe combines eggs with chicken, cabbage, mushrooms, and green onions in an amazing omelet like pancake topped with a delicious gravy.
To see a video on how to make the basic egg foo young click
here
.
2 boneless skinless chicken breasts
¾ tsp garlic salt
1 cup sliced white button mushrooms
2 green onions
¼ head Napa cabbage
6 large eggs
½ tbsp soy sauce
2 pinches of white pepper
peanut oil for frying
fresh parsley for garnish (optional)
Gravy:
1 cup chicken broth
1 tbsp soy sauce
1 pinch of white pepper
1 tbsp cornstarch
Remove all of the fat from the chicken and then cut each breast into small ¼ inch pieces and sprinkle them with just ½ tsp of the garlic salt and set them aside.


Rinse the mushrooms under cold running water, dry them thoroughly with paper towels and set them aside.


Rinse the green onions under cold water and dry them with paper towels. Cut off the base and the very top of the greens and discard. Then dice the stalks into small pieces and set them aside.


Slice the Napa cabbage into thin slices about 1 inch long and set them aside.


Heat a flat bottomed non stick pan on high. Then add 1 tablespoon of peanut oil and let it get hot.


When the oil is hot add the chicken and stir fry it for about 5 minutes or until it browns. Then remove it from the heat, place it on a plate and set it aside.


Add another tablespoon of peanut oil to the pan and let it get hot.


When the oil is hot, add the mushrooms, green onions, and cabbage and sprinkle in the remaining ¼ teaspoon of garlic salt. Stir fry everything for about 3 minutes, or until the cabbage is soft. Then remove them from the heat and set them aside with the chicken. Let the chicken and vegetables cool to room temperature while preparing the gravy.


In a large cup, mix together all of the gravy ingredients except for the cornstarch.


Then in a small cup, mix the cornstarch with just a little water until it dissolves.


Pour the gravy mixture into a small pot and heat it on high. Once it boils, add the cornstarch mixture and stir until it becomes thick. Then remove it from the heat, cover, and set it aside.


Crack the eggs in a large bowl and scramble them as if you were making scrambled eggs.


Next make sure that the chicken, cabbage, and mushrooms are cool to the touch and then add them to the egg mixture along with the soy sauce, and white pepper. Mix everything together thoroughly.


Add a thin layer of peanut oil, about ¼ of an inch or so thick to a non stick flat bottomed pan and heat it on high. For a low fat version you can simply cook these like you would an omelet using just a tablespoon or so of oil.


Once the oil is hot, using a ladle, add about 1/3 of the mixture into the center of the pan. Depending on the size of your pan, you may want to add more or less. Keep in mind not to add too much, or it may be difficult to flip over. Swirl it with the ladle to make a flat round surface, almost like a pancake. Let it cook for about 1 ½ minutes.


Then using a large flat spoon, pick up some of the hot oil and pour it on top of the egg mixture. This solidifies the top so that it will be easier to flip. As you do this, the top of the egg should turn white.


Once the entire top is white, then flip the egg over using a spatula. Let it cook another 1 ½ to 2 minutes.


After 2 minutes, remove it with a spatula and place it on a plate. Then continue to cook the remaining egg mixture.


Once all of the egg foo youngs are cooked serve them immediately topped with the gravy. I also like to add fresh parsley to the top just for presentation.


Makes 3 servings.


Related Articles
Editor's Picks Articles
Top Ten Articles
Previous Features
Site Map





Content copyright © 2018 by Lila Voo. All rights reserved.
This content was written by Lila Voo. If you wish to use this content in any manner, you need written permission. Contact Lila Voo for details.