Alles ist im gruenen Bereich
. Almost every day in Germany you will hear this much used German idiom describing some situation or another. An expression which, at that moment, could be referring to anything from successfully filling the gas tank without maxing out the credit card, baking a cake or booking a flight to some sub-tropical island.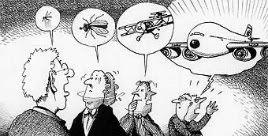 Alles ist im gruenen Bereich
, which is literally 'Everything is in the green area' and means
Everything is under control
.
Then there is another favorite German phrase
aus einer Muecke einen Elefanten machen
- 'to make an elephant out of a mosquito' =
to make something seem much bigger/more important than it is
.
Used by native speakers to cover just about every situation, idioms in German are heard in all social circles and circumstances, while idiomatic expressions are used in conversation as well as throughout the media and literature.
As with all languages some German expressions can be meaningless, even bizarre, if taken word for word, but are used to represent something: a feeling, a description, virtually anything. While, as idioms make up a major part of every day speech in Germany, they are sometimes a little confusing for anyone who has never heard them before and has no idea what they mean.
With their origins lying in its history, literature, religion and traditions, a country's colloquial expressions indicate a great deal about the community's way of thinking, so with
Kein Aber
= No But =
No Ifs Ands or Buts
, here to enjoy, and give you an insight into the German language and its people, are some of the most common sayings used in every day speech throughout Germany.
Achtung, fertig, los - Ready, set, go - On your mark, ready, go
Wenn der Kuchen spricht hat der Kruemel ruhig zu sein
- The crumble has to be quiet when the cake is talking - When grown ups are talking, children should listen/be quiet
Ich lach mich krumm
- I laugh myself bent - That is really funny
Du bist allererste Sahne
- You are the very first cream - You are the best
Sich pudelwohl fuehlen
- To feel as good as a poodle = To feel on top of the world
Mit jemandem unter vier Augen sprechen
- To talk with someone under four eyes - To talk privately with someone.
Nicht alle Tassen im Schrank haben
- Not to have all cups in the cupboard - Not the sharpest knife in the drawer
Or even worse:
Dumm wie Bohnenstroh sein
- To be as dumb as a bundle of bean straw -To be as thick as two short planks, to be very stupid
Ich habe keinen Bock
- I have no buck - I can't be bothered
Hummeln im Hintern haben
- To have bumble-bees in one's bottom - To have ants in the pants
Wo drueckt der Schuh?
- Where does the shoe pinch = What troubles you?
Ganz aus dem Haeuschen sein
- To be out of his/her house - To be really excited
Auch ein blindes Huhn findet mal ein Korn
- A blind chicken will find a corn eventually - Something good that happens by chance
Das ist nicht das gelbe vom Ei
- That's not the yolk of the egg - It's not exactly brilliant
Das kommt mir nicht in die Tuete
- That doesn't go in my bag - It's not my kind of thing
Du gehst mir auf den Keks
- You get on my cookie - You get on my nerves
Mit dem linken Fuss aufstehen
- Got up with the left foot - To have one of those days
Friede, Freude, Eierkuchen
- Freedom, Joy and Omelette - Everything's absolutely fine
Null acht fuenfzehn
- Zero eight fifteen - Nothing special
Ich seh Schwarz
- I see black - I have a bad feeling about it
Die Haare vom Kopf fressen
- To eat the hair from someone's head - To eat someone out of house and home
Geh dahin wo der Pfeffer waechst
- Go where the pepper is growing - Go take a long walk off a short pier
Jemanden durch den Kakao ziehen
- To pull someone through the cocoa - To pull someone's leg
Herz in die Hose rutschen
- The heart slides into the trousers - My heart sank
Die Sau raus lassen
- To let the sow out - To let your hair down
Just a few of the many idioms you will come across in colloquial German, but perhaps not all in one day.
Hope you enjoy them and that they give you some insights into Germany and Germans, and when you hear or even want to use one you will then...
Eine zusaetzliche Wurst haben
- Have an extra sausage = Have an advantage.
And will not have to think
Da bin ich ueberfragt
- I have been over asked = Hmmm, now there you have got me.
Mark Twain's A Tramp Abroad is a great book which has made me laugh out loud many times. It is absolutely timeless, the observations are insightful and witty while, to someone beginning to study German, his piece 'The Awful German Language' could be as relevent today as when it was written.

And you can follow German Culture on Facebook