For over a century the
Strandkorb
has been a part of
Germany's culture, a symbol for holidays, sun, sand and sea.
It is a cult object these days, but the first Strandkoerb was invented in 1882 for an elderly aristocrat, Elfriede von Maltzahn, who had rheumatism but no lack of energy, and loved to visit Warnemuende a northeast German sea resort on the Baltic Sea. In today's Mecklenburg-Vorpommern.
A beautiful mixture of sandy beaches, pine forests, lakes and history, following the restoration of the region after Germany's reunification it is known as part of the new 'German Riviera', but then as now along with the sun, seagulls and dunes it often 'enjoys' strong and chilly winds.
Doctors had agreed that sea air was good for Frau von Maltzahn health while at the same time she should not sit on the sand, a problem she put to Wilhelm Bartelmann, chief basket maker to the imperial court of Emperor Wilhelm I. He designed the Strandkoerb, literally a
'beach basket'
, for her, which looked something like a large armchair, and at the time was likened to an "upright wash basket", but which not only gave shelter from the wind, rain, sand and sun the occupant was also hidden from the view so, although voices from other beach users would be heard, it afforded some privacy.
Elfriede von Maltzahn's wicker "beach basket" was first used on June 15, 1882 and was so admired that Wilhelm Bartelmann began production at once, the next year designing a two seater while at the same time his wife Elisabeth opened the "Strandkoerbe Rental Service".
The idea spread along the German coast, first mainly with a single seat, but by the beginning of the 20th century there was the popular option of seating for two, beach chairs with padding to make the experience more comfortable, an adjustable roof and a small table to place a vacuum flask.
German beaches are now dotted with over 70,000 of the covered wicker beach baskets, and amongst many other options there are those with drawers at the base, these serve as storage away from the sand and can be transformed into foot rests. There are armrests with foldaway wooden airport style trays, roofs which tilt backwards, models adjustable for sunbathing, while others have seat heating and/or rainproof covers so it is possible to sit through the worst storms with no chance of becoming even slightly damp.
Of course special models exist for children, as well as for any pet dog who also might be enjoying some time by the sea.
Anyone staying for more than a day at the seashore usually books the beach chair for their whole holiday, often building low sand walls around "their" Strandkorb decorated with stones and shells, and with its gate put in place whenever they are not there it becomes their holiday 'home from home'.
The basic shape hasn't changed much since it was first invented,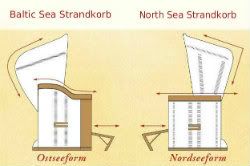 but two distinct variations have evolved, the straight angular North Sea beach chair which fits perfectly to the wild and stormy North Sea, but can be adjusted so it is possible to lie flat and sunbathe, and a round rolling Baltic Sea one.
This is the most popular basket chair on the beach, and in gardens where they appear from March until late Autumn, despite the fact that because it only retracts 45 degrees it is just a seat. Nevertheless it is the more "gemuetlich", cosy, chair and, also known as a
'Minilaube'
, Little Arbor, is the background to many romantic holiday memories.
Wicker beach chairs have become a successful export for German craftsmen, and their construction is a joint project needing the skills of a carpenter, basket maker, seamstress and upholsterer, with each Strandkorb taking two days to produce. Even those on sitting on a German beach have an expected twenty year life span, and this combination, together with the chairs being "in trend" and having colorful awing, is seen as a merging of old traditions with a modern image, and an example of something typically German.
It was a
'Super Strandkorb'
, seven feet high and twenty feet long, which was specially made to represent 'Germany' for the 2007 G8 Summit held in Mecklenburg-Vorpommern. The usually staid official "Family Photo" of eight world leaders, in this case including German Chancellor Angela Merkel and Presidents Bush and Putin, together with the president of the European Commission, instead shows them sitting in a blue and white upholstered beach basket in front of the Kempinski Grand Hotel in Heiligendamm, on the Baltic Coast.
Almost a symbol of sheltering from the winds of change.
A Brazilian beach has golden sand, azure seas and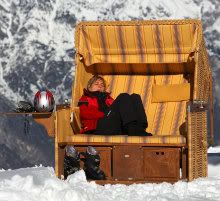 a
'Wow'
factor, an American one might conjure up slow motion images of red swim suited life guards running to the rescue, and perhaps hot dog stands, while for Australia it could be
'throwing something on the barbie'
, surfers and sharks, but for Germany's North Sea and Baltic Sea coasts it is the thousands of covered wicker beach chairs.
Germany's idiosyncratic "Strandkorb" has, along with sun, sand, sea, wind and even snow, for generations been an integral part of the country's culture and it shows no sign of going away anytime soon.
For topics in the news

And you can follow German Culture on Facebook