Guest Author - Phyllis Doyle Burns
In September of 1783, with the signing of the Treaty of Paris and the Treaties of Versailles, the American Revolutionary War was over and the United States of America emerged as a new nation with their own government and constitution. It was on July 2, 1776, that the Second Continental Congress of the Thirteen Colonies, voted and approved a resolution of independence from Great Britain, which was not fully realized until the end of the war.
On July 4, 1776, the Declaration of Independence was approved by Congress. It was the Committee of Five (Roger Sherman, Benjamin Franklin, Thomas Jefferson, John Adams, and Robert Livingston) from the Second Continental Congress, who drafted and presented their work to Congress. The Declaration was then debated, ratified, and approved.
On July 5, 1776, John Adams wrote to his wife, Abigale, an exuberant and memorable letter in which he stated that July 2, 1776 will become a memorable epoch day for American history. He referenced July 2, for that was the day that the Second Continental Congress approved a resolution of independence. It is a very astounding fact to know that both John Adams and Thomas Jefferson died on July 4, 1826. This is the same date that marked the 50th anniversary of the signing of the Declaration of Independence.
The following year, July 4, 1777, Independence Day was observed with thirteen gun salutes (for the thirteen colonies) in the morning and again at sundown, parades were watched, fireworks were set off and stirred crowds with excitement and pride and other patriotic ceremonial events took place in each colony. Ships were decorated in colors of the American flag, red, white, and blue.
Since the beginning of American independence that stemmed from the patriotism in the thirteen colonies that pulled together for one cause, there are celebrations throughout the entire nation on July 4th every year.
In Bristol, Rhode Island, their Fourth of July Parade is the oldest event in America that celebrates Independence Day. They have had this parade every year since July 4, 1785.
American patriotism still holds strong in small towns and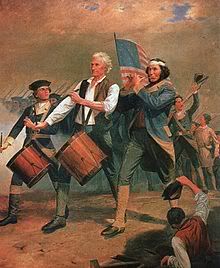 cities every where in America, and in the center of all the celebrations is the American flag which which stands for our freedom. We salute our flag with the Pledge of Allegiance.
One of America's favorite comedians, Red Skelton, once gave a speech about the Pledge of Allegiance which deeply touches the heart of any great American. It can be found on YouTube. Just type into your search engine: Red Skelton's Pledge of Allegiance, YouTube.
May your Fourth of July be a time of vigilance and diligence for the continued freedom of our country and peace for all Americans. It is a time to honor the memory of our forefathers who gave us the hopes and promises of freedom and also honor the memory of all who fought in the Revolutionary War for our independence.
Image Credits:
The Spirit of '76
Editor Pick: