Basic Beading - Choosing Needles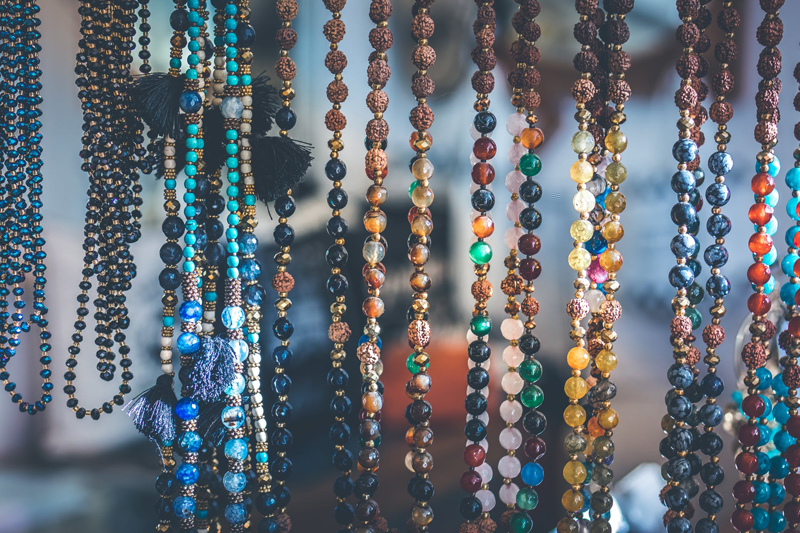 There are many different brands and sizes of beading needles, and it can be somewhat confusing to choose the right needles for a beginner. As you improve as a beader, you find the needles your most comfortable with. If you have friends who bead, they may recommend needles or give you needles to try.

Choosing the right kind of needle for your project can mean the difference between enjoying what your doing and finding it a chore. My first beaded project, I used beading needles from the craft store I bought my beads at, the beads were irregular and the eye of the needle was too big for a lot of the beads. It was frustrating and ended with me swearing I'd never use seed beads again. Fortunately, I did try again, with better beads and better needles.

Needles come in several types.
Twisted wire needles made with fine wire twisted with a small loop at the end are meant mostly as single use needles. The wire loop collapses around the thread as you pull it through beads. These needles work best for special purposes like stringing pearls on silk thread.

For regular needle types, popular brands include John James needles which are very well made and imported from England, Colonial Brand, and Pony.

Needles marked as beading needles are usually long, at least 2 inches long. The best ones will have different sizes. The longer needles tend to bend easily with a few exceptions. A lot of people really prefer them for almost all off-loom beading and they are the best needles for fringe. They aren't as good for embroidery because the needles can bend quite a bit going through the base your beading on.

Sharps and bead embroidery needles are shorter and less flexible. They are easy to maneuver for small tight areas of beading and go through fabric better. Bead embroidery needles sometimes will say "Tapestry Point"- that means that the tip of the needle is a ball point. Ball point needles will push fibers aside rather than piercing them. If you've done a lot of home sewing, you've probably used ball point needles on your machine when you've sewn knits. Sharps have a sharp point. Both have their place, tapestry points work well on loose woven fabrics like Aida, and on felt and felt like backings. They are also wonderful for off-loom techniques because they are less likely to split the thread from a previous thread path.Sharps work well with leather and tighter woven fabrics. Both will work with popular mediums like Lacy's Stiff Stuff.

Needle sizing is expressed in numbers. The higher the number, the finer the needle. The finer needles also limit your thread choices. For most beading, I like using a size 12 needle. It can be threaded with Fireline, Silamide, Nymo and SoNo easily and works with most stitches and bead types.

Picking the needle also depends on the type of work you're doing. The needle needs to be able to go through the bead even when the hole has multiple thread passes through it. If you're doing square stitch with size 15 beads, you'll want a finer needle and finer thread. Bead types also plays a role. While size 12 needles go through Japanese beads well in peyote, brick stitch and square stitch, they don't work as well for seed beads made in the Czech Republic like charlottes. Beads made in the Czech Republic have finer holes and can be more inconsistent.

The type of beadwork is also important to consider. If you're doing beadwork on a deerskin backing for example, you'll want to use a needle that won't bend too much. A size 10 is ideal, a size 12 will work. Any finer than that, and it may bend too much. So in that, the needle you can use with your beading method also limits the type of bead you can use.

The exception to longer beading needles bending more easily are the Japanese beading needles. Japanese beads have fairly large holes, especially the cylinder beads like Delicas. Because of that, Japanese longer needles are about equivalent to a size 10 needle, and very rigid.

Some beaders will round the tips of their needles for off-loom bead weaving. This helps prevent splitting thread or piercing your self with the needle. You can do this by snipping off the tip with wire snips, then running it on emery board until it's smooth and slightly rounded.

When you thread a needle, there are lots of tricks people use. For things like Fireline or Sono, you can flatten the tip of the thread with smooth jawed pliers to make it easier to thread. For twisted threads like Silamide, you can moisten the tip with your finger tips. I've known beading who wear lip balm when beading just to use on the thread. Instead of trying to put the thread through the eye, try to put the eye on the thread. Use good light, and magnification if necessary. My mom had a great threading tip: Have your teenager with good eyes thread the needle! I used to thread lots of needles for her so they were ready to go.

You can find beading needles at any good beading store, online or off.



Related Articles
Editor's Picks Articles
Top Ten Articles
Previous Features
Site Map



Follow @shala%5Fbeads
Tweet





Content copyright © 2019 by Shala Kerrigan. All rights reserved.
This content was written by Shala Kerrigan. If you wish to use this content in any manner, you need written permission. Contact Shala Kerrigan for details.