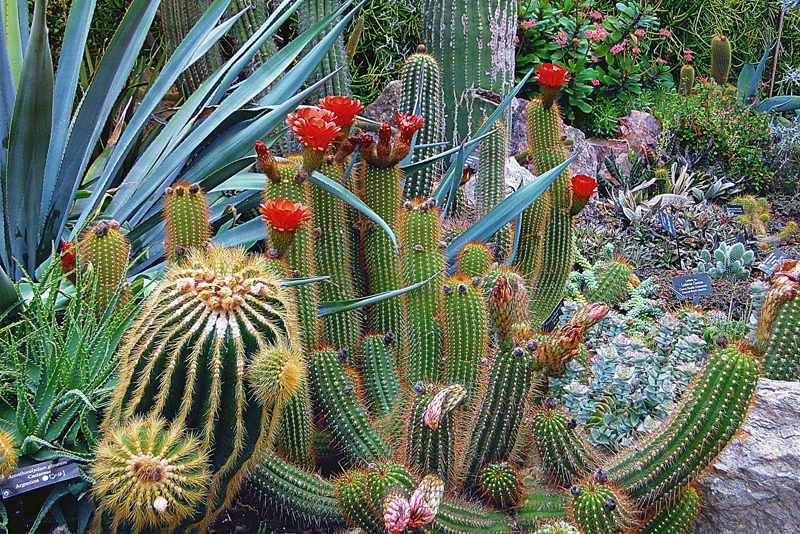 Last year I planted a collection of aloes in an old hibachi, artfully arranging the dark green light green and reddish hues to make a balanced composition. In the following months the sun shifted, the patio cover came down and my aloes were all red. What happened?

Succulents can be many shades of green, blue-green or gray. Some have red edged leaves or are a dark bronze color. Sometimes though, succulents such as aloes, crassulas, aeoniums and euphorbias change color when they are stressed by changes in temperature or moisture. The hot summer sun not only crisps the edges of leaves and turns them brown, it can make a green tinged plant turn red.

Chloroplasts contain chlorophyll, which is responsible for the green color in plants. Chloroplasts are also the plants food factory, using sunlight to make food for the plants. When a normally green aloe is exposed to strong sunlight, other plant chemicals similar to anthocyanins (think blueberries) build up in the cells. The red color of this plant chemical absorbs the excess light and protects the plant.

If your once-green succulent has turned red, try moving it to a place where it gets filtered sun. The color should return to normal. If you have neglected watering for a while, flush the plant with water until it comes out the bottom of the pot. Let it dry before watering again.

Lack of sun can make a reddish plant revert to green. The pencil plant (sticks on fire) that looked like it was on fire in the nursery may turn green on your kitchen counter because it needs more light to maintain a red color. Aeonium Zwartkop can turn rusty brown in high heat, but will revert back to its dark color when temperatures are more temperate.

How can you tell what color your plant is supposed to be? Check your local nursery, visit a botanical garden, search the internet, or browse through a book. Some color change can be a plant's normal response to seasonal fluctuations in temperature and moisture. If your plant is stressed, you will eventually see other signs, such as shriveling of leaves or dark spots.

I moved my hibachi of aloes to a shadier spot, and after a few weeks they returned to their original colors. Some are still red because that is their natural color when healthy. There are many variations in color with succulents, which makes them so interesting to collect. If yours doesn't look quite right, give it a change of scenery and it may perk right up.

This site needs an editor - click to learn more!


Related Articles
Editor's Picks Articles
Top Ten Articles
Previous Features
Site Map





Content copyright © 2022 by Linda Genis. All rights reserved.
This content was written by Linda Genis. If you wish to use this content in any manner, you need written permission. Contact BellaOnline Administration for details.