Aloisius is an angel,
"ein Muenchner im Himmel"
, who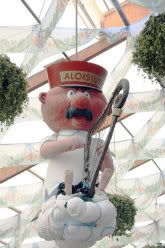 has taken "leave of absence" from heaven. Preferring to stay in Munich's Hofbraehaus sitting at his "Stammtisch", rather than live on a cloud playing a harp and singing "Hosianna" all day.
During Oktoberfest he spends his time in the Hofbraeu Festzelt, which is the
"party till you drop tent"
, sitting on a cloud suspended high above the tables from where he can enjoy the scene, and act as a benign influence on those beneath him.
Although, despite the fact he is an "Angel", he often has to be freed from beer soaked clothes thrown at him by revelers. One of those traditions of which no one seems to know the origins.
The Oktoberfest in Munich opens at 12 noon on Saturday when the "Oberbuergermeister", Lord Mayor, of the city taps the first keg of beer and shouts "O'zapft is", Bavarian dialect for
It's tapped
. The embarrassing record for which of Munich's Mayors needed the most "taps" goes to Thomas Wimmer back in 1950, he took 19 strokes to finally "crack it". However as he was also the first Mayor to have to tap the keg that probably had some influence.
While the biggest "blooper" during the opening ceremony was in 1978, when instead of
"O'zapft is"
, meaning "it's tapped" and Bairisch for "Es ist angezapft" the mayor of the time, Erich Kiesl, shouted out
"I'zapt os"
. And this was before any beer had been consumed.
As a Bavarian tourist highlight with around seven million visitors each year, any
Oktoberfest
reveler should be aware there is a "right way" to hold a Mass, which holds a liter of beer, about 2 pints.
To prevent fingers ending up
crushed, bruised
or even
broken
when the inevitable, and frequent, "clashing" of glasses for a "Prost" or during a "sing along" takes place, all four fingers must grip the handle from the outside curling inside. The thumb remains outside and over the top of the handle. At the same time, as no part of a warm hand touches the glass, this helps the beer stay cooler longer.
And don't be surprised if the server takes away your Mass when there is still a little beer remaining. A Muenchener will never empty a glass, however this is not simply "tradition in Germany" but because the beer will have become warm and stale.
With thousands of guests in each tent those serving the
beer have to carry as many Mass as possible at one time, 12 is not unusual, and the world record for the moment is 23 full Mass carried through an Oktoberfest tent for 150 yards.
Probably the most popular song heard throughout Munich's Oktoberfest weeks is the
"The Wies'n Anthem"
- "Ein Prosit der Gemuetlichkeit".....
"Oanss, zwoa, drei.....Gsuffa!"
, "One, two, three, drink!". A rough translation is "Cheers, here's to - friendliness, cosiness, happiness" etc. However the song doesn't originate in Bavaria and had no connection with Oktoberfest, composed by Bernhard Dittrich from Saxony nevertheless it has been an Oktoberfest favorite since 1912.
Film, sport and business celebrities usually head for the Hippodrom tent, but since 1956 beginning at 10 AM on the first Thursday of Oktoberfest an "Oktoberfest Church Service",
Schausteller-Gottesdienst
, has been held there for the traveling show and market people. Always packed full it feels a world away from the noise, bright lights and cotton candy of the beer festival, and is where the "Fest" families children are baptized and confirmed.
For generations Bavarians have called the Oktoberfest "The Wiesn" from "Theresienwiese", Theresa's Fields, for Princess Theresa whose marriage to Crown Prince Ludwig of Bavaria brought about the first "Oktoberfest". Which was a horse race with no connection to beer, but really was an October celebration as it took place on October 17, 1810. However the date was later changed because of the better weather in September, and it was held for sixteen days until the first Sunday in October.
After German reunification this was modified, so now if the first Sunday in October falls on the 1st or 2nd the festival continues until the Sunday after German Unity Day, which is October 3. After that it really is
"Aus is!"
Two traditional processions pass through the city's streets to the "Wiesn", the
Einzug der Festwirte
, "Grand entry of the Oktoberfest Landlords and Breweries", on the first day and the
Trachten und Schuetzenumzug
, "Costume and Riflemen's Procession", on the second day.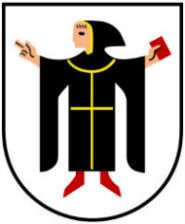 Both processions are led by Munich's city mascot for the last 800 years,
Munchener Kindl
, who was originally portrayed as one of the monks believed to have been the first inhabitants of Munich. "Muenchen", the city's name in German, means
"Of Monks"
.
However these days "Oktoberfest Muenchener Kindl" is a young woman from the Munich area, her costume is based on a monk's habit and invariably she is well connected to a leading Oktoberfest family.
Another young woman also has to be a Muenchener in order to qualify for a post, and she is the annual "Munich Oktoberfest Playmate". There is no nepotism involved this time, and Playboy magazine's choice not only appears in print much as other "Playmates", but also has to fit a Dirndl in all the right places.
Dirndl
originally described a young woman or a girl in Bavarian dialect, now it is mostly used for the traditional dress.
The special Wiesn beer has a high alcohol content which seems to come as a surprise to many, and the Bavarian Red Cross are not only kept very busy with "Bierleichen", Beer Corpses, they also supply paper underwear etc., so no one, who sometime during the day decided it was fun to decorate
"Aloisius the Angel"
, has to leave the Wiesn in a state of undress.
Aloisius who should be "Ein Muenchner im Himmel", but is floating on a cloud in the Hofbraeu Festzelt - personal collection....."Carrying 12 Mass on one trip", courtesy 20min.ch.....Munich's City Coat of Arms, a Monk in habit, via de.Wikipedia
For topics in the news

And you can follow German Culture on Facebook
Exactly like the ones at the Munich Oktoberfest, this is a genuine 1 Liter HB "Hofbraeuhaus Munchen" Dimpled Glass Beer Stein
And here you will find the Oktoberfest "Masskrug" or Mass krug with the traditional Hacker-Pschorr logo, 1 Liter Hacker-Pschorr Glass Beer Stein
These are the only two original brewers who remain from the days of King Ludwig I.
All the Songs Together With the Atmosphere of Oktoberfest In München. Great for your collection or just to enjoy, it cannot be bettered.