Germany's Ceremonial Mountain Cattle Drives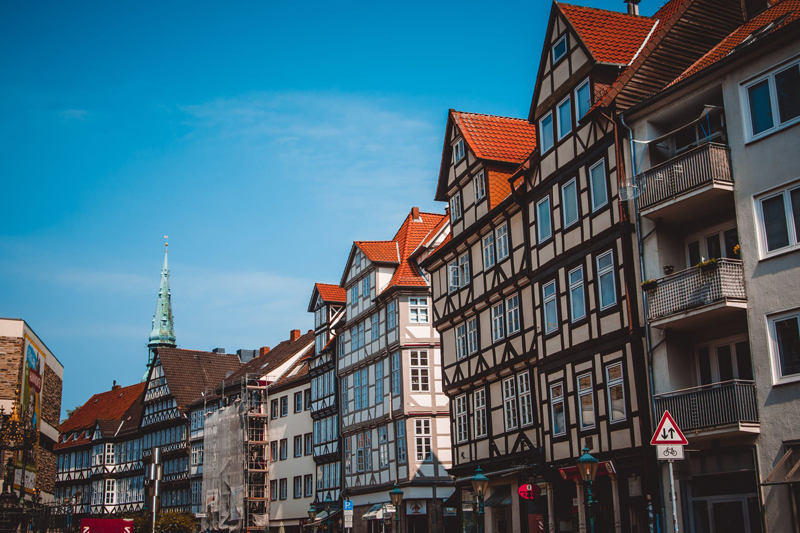 Ceremonial mountain cattle drives,
Almabtrieb
, have had a permanent place in the farming life of Europe's alpine regions for centuries. During the last golden days of summer and early autumn, in many Austrian, Bavarian and Swiss villages, processions of festively decorated cows create cow bell symphonies as they come
down from their summer pastures high up on the mountains, and make their way to winter quarters.
Accompanied by traditional music and villagers wearing regional
Tracht
, for example Lederhosen for men and Dirndls for women, cattle from different herds follow garlanded lead cows, one for each herd, to the Scheidplatz. Literally a "parting place" where they are claimed by their farmers.
With not enough meadow land available in the mountain valleys to both feed the cattle and grow hay for the winter, for generations cattle have been driven up to the Alpine pastures as soon as these are free from snow. This is usually during June, and there the herds are looked after by
Senner
or
Sennerinnen
, Alpine herdsmen or herdswomen, as they spend the summer months feasting on meadow grass. Its flowers and mountain herbs increasing the quality of their milk, while the terrain and mountain air has a positive effect on their health and fitness.
At the same time it is important for the mountain ecosystem that grass is "mowed", as if it remains long winter snow will cling and the weight can pull out the entire plant, including roots, leading to the erosion of the mountain-side.
Farmers usually have several huts at different altitudes, which may have small hay fields alongside for growing additional winter fodder, while the cattle live in fenced off areas that are gradually moved around to fresh grazing.
Although despite the fencing there are nearly always some who fall off the grassy slopes.
Milked twice a day with a mobile milking parlor, on the lower levels their milk is taken down to the village while at higher levels it is often turned into cheese; such as the famous
Allgaeuer Bergkaese
, mountain cheese from the Allgaeu region of Bavaria.
Although the prospect of early snow can bring the date forward, the arrival of summer's last days normally herald the time to prepare the cows for the journey down from their alpine pastures.
For the Almabtrieb, which means "Drive from the mountain pasture", cattle
grazing in different areas are rounded up so they can return to the valley, while cow herders and milkmaids spend days making beautiful, and complicated, headdresses. Fuikln. These are "constructed" with small evergreen branches, flowers, garlands, ribbons, bells and wooden ornaments, colored wooden rosettes, shavings and crosses.

"Daxnbuschn" and " Latschenboschn" are less complicated. Worn usually by cattle that are young or small, they are branches of greenery formed into a shape, perhaps a cross, or left as a branch, then decorated with bows etc. made from natural material.
Each region has a different style of Fuikl and cows are fitted with their headdresses, some of which can be a meter or more high, the day before the drive. The only exception is if there has been a fatal accident in the herd during the summer, or a death in the family, the cows in that herd will stay undecorated.
In some areas as the cows are driven towards their winter stalls the milkmaids have a traditional call:
"In God's name move on, my cow, in health and joy; St. Anthony will herd you!"
.
A blessing that is repeated three times along with the Lord's Prayer.
St. Anthony is a patron saint of animals, harvests and pig farmers amongst other things, and pigs are often taken up to the cheese making areas as they eat, and benefit from, the whey and other by-products from cheese making that if left as waste would damage the ecosystem.
The Almabtrieb is followed by the ceremonial Viehscheid, "cattle separation", and village Folk Fair festivities: with brass bands, beer, food, dancing, traditional farmers markets and displays from blacksmiths, woodcarvers and other artisans.
And these celebrations continue well into the alpine night.
One cattle-drive is quite different from all the others as, after coming down from their summer stay in Berchtesgaden's mountains, these herds must cross Lake Koenigssee.
With no road around the lake the cows are driven onto large flat bottomed transport vessels, Landauer transport, by the
cow herders, who for centuries rowed them across the lake. Now there are electric motors, although paddles are still to be seen, and it is not until they have reached the other side that the lead cows are decorated with their garlands and bells so celebrations can begin.
Taking place in October this is the final Almabtrieb of the year. In the previous weeks all the other cattle that had spent months grazing on lush alpine pastures will have been safely transported back to their winter quarters, and there they will stay until next summer when the last traces of snow have disappeared from the mountains.
All photographs courtesy Berchtesgadener Land Tourismus GmbH and Alpbachtal-Seenland-Tourismus.
You Should Also Read:
Bavaria, A Winter Wonderland
A Beef Rollups Recipe
St. Martin's Day, November 11


Related Articles
Editor's Picks Articles
Top Ten Articles
Previous Features
Site Map



Follow @GermanKultur
Tweet





Content copyright © 2018 by Francine McKenna-Klein. All rights reserved.
This content was written by Francine McKenna-Klein. If you wish to use this content in any manner, you need written permission. Contact Francine A. McKenna for details.