Hohenschwangau Castle, Schloss Hohenschwangau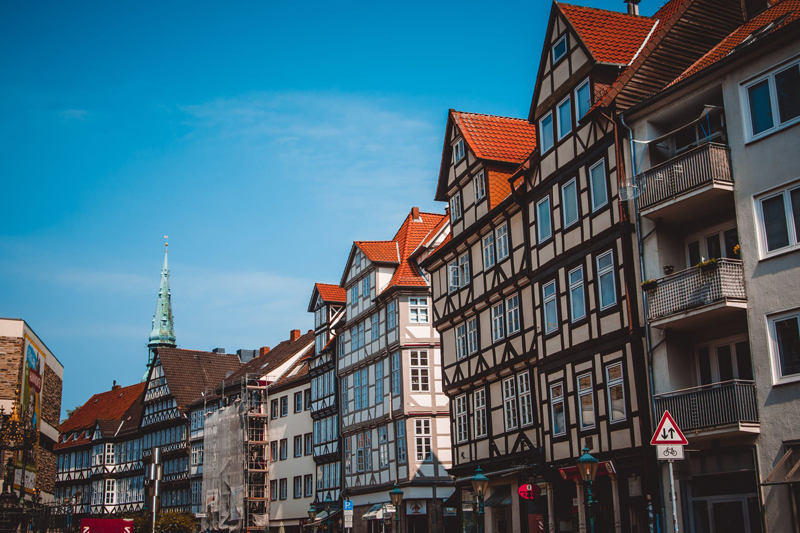 Schloss Hohenschwangau, High Swan County Palace, was the ruins of what had originally been a 12th century fortress, Schwanstein, literally Swan Stone, when Crown Prince Maximilian of Bavaria came across it while making a walking tour in April 1829.
Originally it belonged to an aristocratic family, the Knights of Schwangau which is a southern Bavarian town near the border with Austria, but their line had died out in the 16th century and the castle fell into decay after having had several owners, and being the victim of various wars.
The area encircling the ruins was stunning, set against a background of mountains and surrounded with wild and romantic scenery, so twenty one year old Prince Maximilian decided to buy the ruins in 1832, and have the castle rebuilt exactly to its original plans.
The reconstruction began in February 1833 and was completed by 1837, although various additions continued to be made until 1855, and Hohenschwangau Castle became Maximilian's official summer and hunting residence, and later that of his wife Marie of Prussia, whom he married in 1842, and their young sons.
The princes, Ludwig, who later became King Ludwig II of Bavaria and built the fantasy castle "Neuschwanstein" less than a mile (1 km) away, and Otto, (Bavaria's King Otto I in name only as he had psychiatric problems), spent much of their youth at the castle. Although they stayed in its annex while their parents lived in the main building.
Crown Prince Maximilian became King Maximilian II in March 1848 when his father Ludwig, whose wedding to Therese of Saxe-Hildburghausen was the original reason for the first
Oktoberfest
, had to abdicate.
Always studious Maximillian was educated and accomplished, and rather than surround himself with the frivolities of court sought out artists and intellectuals while he studied science and history, which shows itself in the way he had Hohenschwangau reconstructed.
Three architects were responsible for the design and completion of its Neo-Gothic sandy colored exterior, including one who had been his art teacher as well as an architect and theater set designer, Domenico Quaglio.
While Queen Marie gathered plants from all over the alps to create an alpine garden, and in the castle courtyard is a pool set in the middle of a circular flowerbed with a swan as its fountain.
The swan was the heraldic animal of the Counts of Schwangau, and Maximilian II made the swan a central theme for Hohenschwangau, so his idealization of the medieval age was combined with local tradition.
The interior of Hohenschwangau castle is an amazing sight.
Rooms are furnished with original 19th century "Biedermeier" furnishings, and filled by over 90 frescoes featuring everything from German fairy tales, sagas, medieval legends including that of The Swan Knight "Lohengrin", and poetry, to portrayals of the family and their ancestors. And it was a famous Austrian painter and artist, Moritz von Schwind who, together with his pupils, was responsible for most of the murals.
One room alone takes up the castle's entire width, the banqueting hall, Festsaal. Known as "The Hall of Heroes and Knights" it has some beautiful ceiling paintings portraying different scenes of Dietrich von Bern, a 9th century German folk hero, "in action".
While an exotic Oriental Room was furnished by Maximilian after he was inspired by his journeys through Greece and Turkey in 1832 and 1833, and this was later used as a bedroom by his wife Queen Marie.
Hohenschwangau suffered no damage during either of the world wars and remains as it was when reconstructed in the early 19th century, but although it perhaps doesn't have the fantasy castle allure of its close neighbor Neuschwanstein it has a much richer history.
Lying at one end of Germany's
Romantic Road
, the castle is now in the hands of a state foundation set up to administer the property of the former Bavarian ruling house, and like Ludwig's Neuschwanstein it is a Bavarian masterpiece in a stunning position.
But surrounded by nature with mountains as a backdrop, set alongside two blue alpine lakes and with its own Schwanseepark, this is a castle which, despite being filled with art and all types of treasures, feels more like a home than a museum.
You Should Also Read:
Oktoberfest in Munich
Bavaria, A Winter Wonderland
Germany's Romantic Road


Related Articles
Editor's Picks Articles
Top Ten Articles
Previous Features
Site Map



Follow @GermanKultur
Tweet





Content copyright © 2019 by Francine McKenna-Klein. All rights reserved.
This content was written by Francine McKenna-Klein. If you wish to use this content in any manner, you need written permission. Contact Francine A. McKenna for details.