This is a
Paradiesapfel
, a German Weihnachten tradition which originally had a religious background. The evergreen fir tree has symbolized
Hope
and
Life
during dark winters since pre-Christian times, and for generations in our homes too, at least until the needles
begin to fall, and sitting amongst the branches of many Christmas Trees in Germany will be a red apple, the Paradise Apple.
For the whole of
Heiligeabend
, Christmas Eve, the tradition is that the red apple will bring those who see it nearer to 'Paradise', perhaps even to a paradise lost. It symbolizes the promise to help find what might have been lost, a person, love, faith, whatever it is, or to find the way onto a new path. Opening a door to paradise, and to 'Hope'.
During the Middle Ages tales showing the history of creation, called 'Games of Paradise', were enacted in front of churches on Christmas Eve, and a fir tree was the
Paradiesbaeume
, Tree of Paradise, decorated with red apples harvested in autumn but which keep fresh throughout a northern European winter.
On the early Christian calendar December 24 was 'Adam and Eve's Day', and in medieval times this type of play was used to teach the Bible to a population who were in the main illiterate
It was based on the story of the 'lost paradise' in the book of Genesis, when Eve persuaded Adam to eat some of the the forbidden fruit from "the tree of the knowledge of good and evil" that she had picked and tried, which led to them being thrown out of paradise.
Although the fruit wasn't specifically named as an apple, it could just have easily have been figs, grapes, lemons, pomegranate or perhaps even a quince.
For Christians Jesus birth gave hope once more that there could be a Paradise for which to aim, and they combined this with the northern European pre-Christian traditions for the Winter Solstice, when evergreen branches and fire were used to symbolize life's victory and continuation over cold and darkness.
It is sometimes said German merchants erected the original Christmas tree in Riga, Latvia, in the 16th century, but the first confirmed sighting of a 'Christmas Tree' had already happened in Freiburg during the 15th century, and they were seen later in Alsace in the 16th century. A region which is now part of France but has spent a great deal of the last centuries belonging to either France or Germany,
By the 17th century Christmas trees decorated with apples were to be found throughout Germany, although they were more likely to stand outside than inside, and it was much later that oranges and other ornaments joined them, which is also around the time they began to be brought into the home. There is a legend that as there had been a drought apples were difficult to find one mid 19th century Christmas, so Meisenthal glass workers blew apple shapes from glass and these became the original Christmas baubles.
Hundreds of years after they were originally used for Weihnachten, apples are still very much a part of the German Christmas tradition including with the so called 'Weihnachts Apfel'. Baked after being cored and crammed full with Raisins, Nuts, Almonds, Ginger or Marzipan, mounted on sticks and candied with a bright red coating, or used as ingredient in anything from cakes and punch to herring salad and stuffing for a goose, apples are everywhere.
The 'Paradiesapfel' in the Christmas tree is an old Weihnachten tradition in memory of a 'paradise' perhaps lost, but filled with the hope and promise that it can be re-found even if at the time this seems impossible, and showing something to work for, to aim towards.
It is a custom followed by many today who have no religious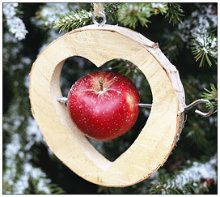 affiliations, while the apple itself, as they are often fresh, is together with
Lebkuchen
, chocolates, candies and nuts amongst the Christbaumschmuck, Christmas ornaments, children enjoy 'plundering' from the tree at Epiphany, the end of the twelve days of Christmas.
Although it could also be that it ends up as a treat for the local wildlife to enjoy on a January day, so for them also it is a
Paradiesapfel
.
For topics in the news

And you can follow German Culture on Facebook
This is an absolutely beautiful book, and not only for children. 'Christmas Around the World: A Pop-Up Book' includes Germany, is interactive and not only filled with background stories and information but could qualify as a work of art. A book to treasure and bring out every year.
For young and old, to bring the atmosphere of a Frohliche Weihnachten both for those who have experienced one and those who would like to. Filled with Songs, Traditions and Stories, this German Book & Audio CD Edition has easy to follow translations throughout