Twelve midnight in Germany on New Year's Eve
, immediately the sky fills with multicolored stars from rockets and every other type of large and loud firework imaginable.
Noise at Silvester is crucial to the celebrations, and accompanying the deafening bangs, cracks and whistles echoing through the night air countless church bells ring in a New Year.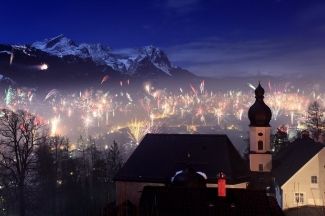 If a
Christmas
in Germany is a time of contemplation and quiet enjoyment then a German New Year is one of noise and exuberance.
Usually it is spent with family and friends but revelers fill the streets, firework displays are everywhere, from small groups to the over one million people, many of them tourists, at the largest New Year's celebration in Europe. Alongside the Brandenburg Gate in Germany's capital Berlin.
An old year has come to an end and a new year begun.
December 31st is
Silvester
, New Years Eve, in Germany, the feast day for Saint Sylvester, a Pope who died in Rome on 31st December 335, and in the days and hours leading up to midnight on
Silversterabend
Germans will wish each other
Einen guten Rutsch
, 'A Good Slide' into the New Year.
As the clock strikes twelve this becomes
10..9..8..7..6..5..4..3..2..1 "Prosit Neujahr!"
, "Cheers to the New Year!", and even when out and about setting off the fireworks which welcome the New Year there will be a bottle and glasses of champagne, or sparkling wine, close at hand.
At once the greeting changes to
"Ein glueckliches neues Jahr"
, 'A Happy New Year', and will be used whenever seeing people for the first time in the new year.
Traditions in Germany are enjoyed and treasured, and those for celebrating
'Silvester und das neue Jahr'
are no exception.
Several customs can be traced to the
Rauhnaechte
, 'Rough Nights', rituals which pagan Germanic tribes followed for twelve days of winter from 25th December until 5th January. Then, when the Gregorian calendar was reformed in 1582 making December 31st the last day of the year for most of Europe, this coincided with what became New Year's Eve. As well as linking to the twelve days of Christmas.
Although it was not adopted by Germany's Protestant regions until 1700.
As the boundaries between 'Spirit' and 'Real' world were thought to be weakened during the twelve 'Rauhnaechte', fires and loud noise were used to drive away evil spirits, while it was believed mystical abilities such as forecasting the future became possible.
Prediction remains a favorite old Silvester custom with
Bleigiessen,
'Lead Pouring'. A form of fortune telling when small pieces of lead,
in various shapes, used to be melted in a spoon and poured into cold water where they hardened into forms 'important' for the next year.
A
flower
shape means new friendships in the coming year for example, a
ring
or
circle
a wedding, a
fish
brings luck while a
rocket
signifies a journey into the unknown.
As lead is poisonous the sets have recently been banned in Germany, and 'Bleigiessen fans', which is most Germans, have for some years before the ban been urged to use pure wax, bees wax for example, or tin to continue with their annual tradition. This they do, can't give up
Bleigiessen
.
Another tradition rarely missed is a fourteen minute black and white TV program
A Dinner For One
, an obscure 1963 German production of a 1920's British slapstick comedy which most Britons know nothing about but, subtitled and in English, is cult New Year's Eve viewing in Germany.
With its catch phrases
"The same procedure as last year, Madam?"
, and
"The same procedure as every year, James"
, festivities come to a halt for eighteen minutes, while everyone watches a ninetieth birthday dinner party set in an old English mansion. A slight problem being that the four guests who used to attend every year have passed on.
The Butler not only serves but takes the place of all of them, becoming steadily more 'wobbly' with each toast as the dinner proceeds and 'the guest's' wine disappears. And here it is so you can see it for yourself
'Dinner For One'
,
Feuerzangenbowle
, Fire Tongs Punch which is a
Gluehwein
, mulled wine, but one with a definite 'fiery kick', joins sparkling wine as a favorite New Year's Eve drink, and the evening meal is usually shared with family or friends as eating in the company of those closest symbolized protection from demons in times gone by.
While of course 'Food' also has its share of traditions. There is the obligatory
'Lucky' Jelly Donut
after midnight, but that is just one of many customs.
And a few of the others are:
Leaving a little of everything eaten on the plate until midnight has passed should ensure a year with enough to eat, while some things should not find their way onto a New Years Eve or New Year's Day table.
Including anything that once had feathers.
An old superstition says that the year's good luck and happiness will fly away from anyone who eats poultry, although those living in the Rhineland ignore this as one of their favorite meals is 'Neuejahrsgans', which is much like
Cologne Roast Goose
a specialty of their largest city.
Eating fish of any type, cooked in what ever way, is a time honored tradition and if it is Carp, 'Silvesterkarpfen', then one of the carp's fish scales hidden in a wallet for the entire year is supposed to bring wealth to its owner, while scales hidden throughout home boost the bank balances of everyone who lives there.
Pea, Bean, Lentil
or
Carrot
soup brings blessings and wealth in the New Year. As does eating
Sauerkraut
, the custom being that the guests wish each other as much happiness and money as there are strips of cabbage in the dish of Sauerkraut.
Nevertheless whether made from almond paste, chocolate or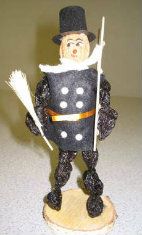 brass with a cent fixed upon it, or served as Schnitzel, Pork Roast, or sausages, Wurstchen, it is the
Glueck Sweine
, a 'Good Luck Pig', in all its forms that is believed to bring most luck and good fortune in the coming year.
While the typical New Year gift of a
Four Leaf Clover Plant
has an overload of good luck symbols. It usually shares its pot with a
Glueckspilz
- a red toadstool with white spots - a
small pig
, a
'lucky' ladybird
, a
horseshoe,
and of course a
Chimney Sweep
to attract good luck while his broom sweeps away the old year.
However, unless the prospect of having nightmares and sleeping poorly for the entire year is something worth risking, it is apparently a very bad idea to get up late on New Years Day, instead a bright and early start to the year is a must.
Besides it is time to start working on all those New Years resolutions.
New Year Fireworks in a village near Garmisch Partenkirchen, Bleigiessen, photographer Micha L. Riese, 'Lucky' Plum Chimney Sweep, courtesy de.Wikipedia
For topics in the news

And you can follow German Culture on Facebook