Sweet and Sour Pork II Recipe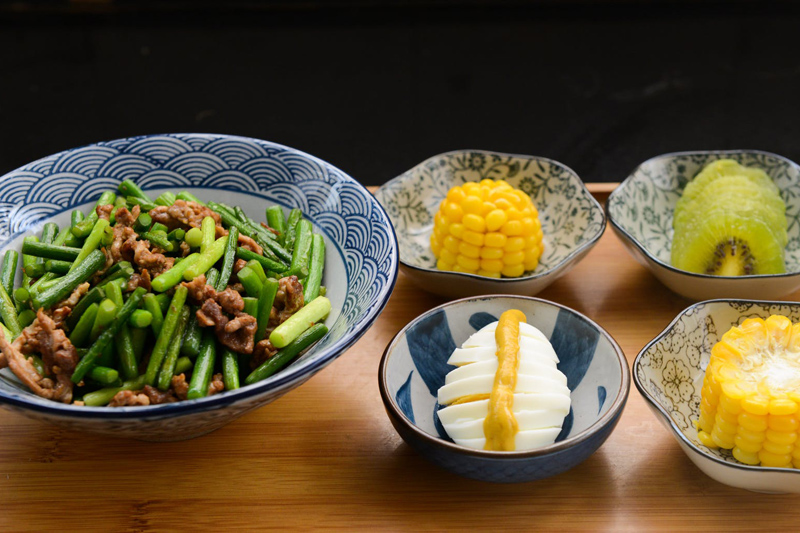 Sweet and sour pork is a popular Chinese take away dish with several variations. The recipe here has delicious deep fried pieces of pork that are tossed with peppers and onions in a tangy sweet and sour sauce. There is also a healthy version of this recipe in which the pork is boiled rather than fried which can be found
here.
3 boneless pork chops (about 1.5 lbs.)
1 large red bell pepper
1 large green bell pepper
1 medium onion
2 to 3 cups peanut oil
Marinade:
¼ tsp salt
2 tsp sherry
1 tbsp soy sauce
1 egg white
1 ½ tbsp cornstarch
Sauce:
1/3 cup white sugar
1/3 cup white vinegar
2 tbsp ketchup
¼ tsp ginger
1 tsp soy sauce
Remove all of the fat from the pork and then slice it into thin strips about and in or so in length. Then place these pork pieces in a bowl.


Add the marinade starting with the salt, sherry and soy sauce. Mix these in thoroughly using your hand so that each piece is evenly coated.


Then carefully add the egg white making sure not to over mix it. We don't want the egg white to become frothy; otherwise the coating of the meat will become hard.


Finally add the cornstarch, mixing it in and distributing it evenly. Then let the pork marinate at room temperature for 20 to 30 minutes while preparing the other ingredients.


Cut out the stem and core of each of the peppers. Then cut them in half, remove all of the inner white meat, and rinse them under cold running water. Dry the halves thoroughly and then cut them into 1 inch squares.


Place these pepper squares in a large microwave safe bowl. Cover them with hot water and microwave them for 2 to 3 minutes, or just until they are crisp- tender. Then drain them thoroughly and set them aside. You can also par boil them in a pot on the stove as well.


Remove the peel from the onion and cut it into ½ inch to 1 inch squares and set them aside.


Next in a large cup mix together all of the ingredients for the sweet and sour sauce.


Then in a smaller cup mix the cornstarch with a little water so that it completely dissolves.


Now it's time to start cooking the pork. Heat the peanut oil in a large pot or wok on high.


When the oil is hot carefully add just half of the pork pieces making sure that they don't stick together and let them cook for 1 to 2 minutes, or until light brown. Then remove them with a slotted spoon or mesh sieve draining off the excess oil and set them aside.


Cook the remaining pork pieces the same way then remove the oil from the wok except for 2 tablespoons.


Heat this again on high and add the onion pieces. Let them cook for about 2 minutes, or just until they are soft.


Then add the bell peppers and stir fry everything for 1 minute.


Then add the pork and the sauce and let the sauce come to a boil. Just as it starts to boil, add the cornstarch mixture and stir until the sauce thickens and coats the pork and vegetables. Then it is ready to serve, this makes 3 to 4 servings and is great with a side of fried rice.
To watch a step-by-step video of how to make this sweet and sour pork recipe click
here.


Related Articles
Editor's Picks Articles
Top Ten Articles
Previous Features
Site Map





Content copyright © 2019 by Lila Voo. All rights reserved.
This content was written by Lila Voo. If you wish to use this content in any manner, you need written permission. Contact Lila Voo for details.